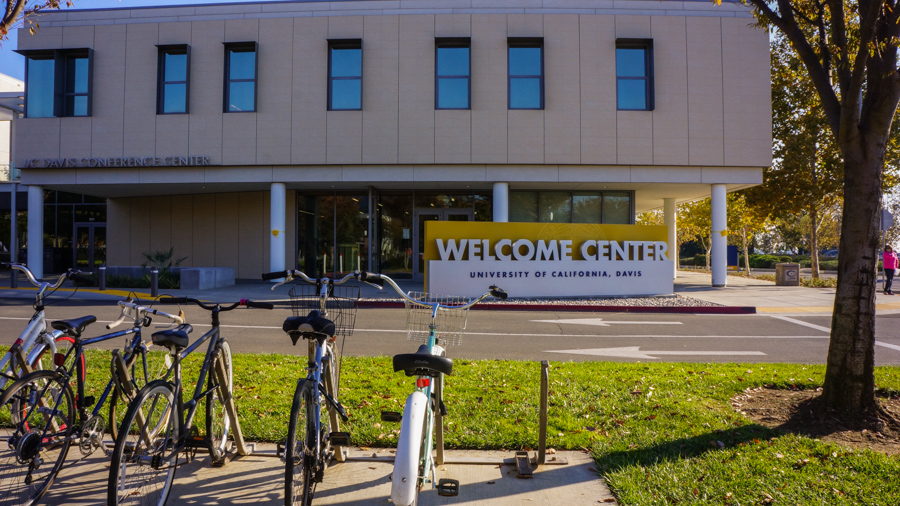 New Employee Program provides newly hired staff a space to get to know UC Davis
On Oct. 20, 80 new UC Davis employees attended the university's first New Employee Program (NEW) at the UC Davis Conference Center.
Organized by Staff Development and Professional Services, the quarterly welcome event was created to provide new university employees a space to warm up to other staff members and the university. The event included a breakfast buffet, a resource fair, an optional campus tour and a two-hour formal program consisting of various presentations.
NEW was created by Provost and Executive Vice Chancellor Ralph J. Hexter, who also produced the Front Door website, a comprehensive resource developed for new or potential employees.
"This new event is designed to offer a truly warm welcome and help employees understand how their daily work contributes to the mission of the university," Hexter said. "We want them to get a sense of just what a special place to work this is."
Paul Hasson, a new physical therapist in Occupational Health Services and a UC Davis alum attended the first NEW event. He expressed his positive feelings toward the program, stating how helpful he believes this program was for new employees like him.
"It was great to have all the resources available to us in a relaxed setting," Hasson said. "As an ex-Aggie football player I may be a bit biased, but after the program it was really obvious how committed the university is to the success of its employees. I feel very fortunate to again be a part of this great community."
During the program, Maureen Stanton, vice provost of Academic Affairs and a professor of evolution and ecology, gave NEW's first welcome presentation. Following Stanton, a group of representatives from the Office of Campus Community Relations spoke about diversity and introduced the Principles of Community through interactive exercises.
Afterward, Associate Executive Vice Chancellor Rahim Reed led a delegation on the Office of Campus Community Relations. Reed was accompanied by Vickie Gomez, director of campus and community engagement, and Mikael Villalobos, associate chief diversity officer.
Assistant Vice Chancellor Bob Segar spoke about the history of UC Davis, its current state and what the campus hopes for its facilities in the future. Segar believes a program like NEW will help new employees get a better feel of the UC Davis community.
"UC Davis is a great community to be a part of, but it's a big, complex place and it can take a while to learn your way around," Segar said. "The New Employee Program establishes some common ground about the culture of the campus that helps new employees get started."
NEW will be held every quarter, including both summer sessions.
Written by: Demi Caceres – campus@theaggie.org