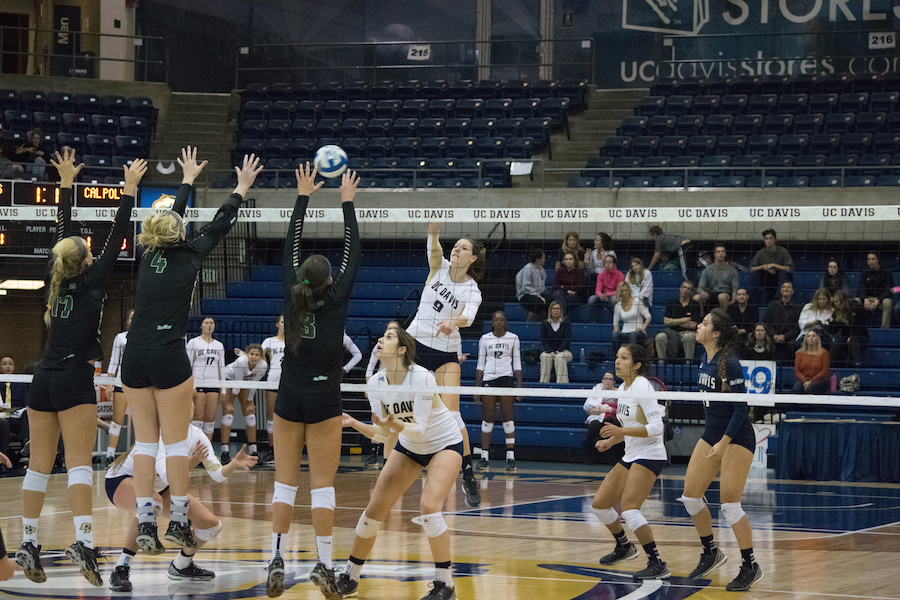 Women's volleyball beats Cal Poly in final game of season.
The victory against Cal Poly was a sweet ending to an emotionally charged Senior Night, which celebrated outside hitter Kaylin Squyres and middle blocker Jillian Johnson. In front of the biggest crowd of the season, the Aggies battled it out for a final score of 23-25, 25-11, 25-22 and 25-22.
It was a night of big numbers, as redshirt freshman middle blocker Kelechi Ohiri matched her career-high of 12 blocks and junior outside hitter Kendall Walbrecht and freshman opposite Nicola Moore made a combined 25 kills.
Coming off of Senior Night festivities, the Aggies started off the first set more tense than usual. Cal Poly was able to find open spots on the court to attack, leaving their opponents scrambling after the ball and inhibiting their ability to play their usual offensive game. Squyres made two kills to even out the score in the middle of the first set, but the Mustangs created a lead at the last second and finished the set with 23-25.
"We had a lead, and we backed off a little bit, and so [after the set] we talked about settling down and playing our style of game," Head Coach Dan Conners said.
That worked well for the Aggies, and in the second set they anticipated the Mustangs' moves and hit an attack average of 0.481. The Aggie lead was set by Moore at the start of the game with three consecutive kills, all assisted by junior setter Sophia Mar, and stayed consistent until the end. At one point, Johnson came in as a substitute and played her last set as an Aggie.
Set three kept the entire arena at the edge of their seats, with 11 lead changes and long points that could have been won by either team. However, junior outside hitter Allie Wegener made three aces in a row while Moore and Walbrecht dominated the defense on the right side of the court to get a lead. Ohiri came in with a well-aimed block to clock in another set for the Aggies.
Ohiri was instrumental in the fourth set, making all five kills and cutting potentially messy rallies short. To finish the game, the Aggies earned match point with a kill from Ohiri. Squyres made the last kill of the match, the cherry-on-top to her illustrious volleyball career.
"It feels awesome to get one last kill and leave my final mark on the program," Squyres said. "But I'm also excited for the future of this team. Kendall Walbrecht, Allie Wagner, Sophia Mar [and] Aima Eichie are going to do such great jobs leading as seniors next year."
The Aggies closed out their season with a 10-6 record in Big West Conference play and 15-15 overall.
Written by: Julia Wu – sports@theaggie.org