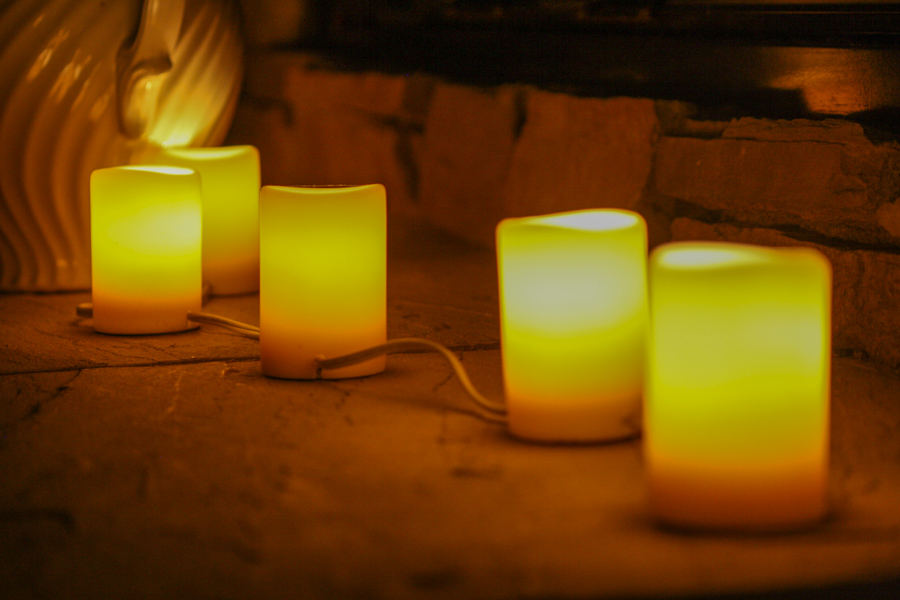 10 holiday decorations that will impress both your friends and bank account
It can be hard to get into the holiday spirit with finals right around the corner and the quarter's remaining budget running tight. Just in time to boost you through finals week and into winter break, here are 10 easy and guiltless decorations that won't empty your wallet.
Bow Wreath
What you'll need:
-14-inch straw wreath
-Large packet of gift bows
Leave the plastic wrap on the wreath. Simply unpeel each bow and stick them onto the wreath until the surface is completely covered. Use glue if necessary. Unravel the top bow (you'll want to reinforce this one with glue) and use the loosened ribbon to tie the wreath to your door.
Candy Mint Cones
What you'll need:
-Styrofoam cone from the Dollar Store
-Red and green swirled mints
-Glue
Here's a quick way to get rid of those restaurant mints you've accumulated in jacket pockets and car cup-holders. Add a dab of glue to each unwrapped mint and stick them around the cone, starting in a line at the bottom and working your way up, alternating colors. This also works with an inverted funnel. Shape a cone from aluminum foil and use the funnel for support inside the cone. Glue the mints to the foil in the same way as above.
Strung Holiday Cards
What you'll need:
-String
-Holiday Cards
-Hole puncher
If you're someone who can't bear throwing away old greeting cards (or don't know where to put your new ones), here's a great way to turn them into a holiday decoration. Simply gather together a collection of holiday cards, hole punch the top left corners and thread string through to make a chain of cards. Knot and loop the ends and pushpin the chain over a doorway.
Candy Cane Bowl
What you'll need:
-Candy Canes
-Long glass bowl from Dollar Store
-Glue
-Ribbon
Take advantage of the candy canes you receive from friends this holiday season! Glue each cane to the outside of the bowl, working around until the surface is covered. Tie a ribbon just beneath the curved surface of the candy canes. If it's a vase, you can leave it as is or add flowers inside for the full effect!
Layered Vase
What you'll need:
-Small pinecones
-Red berries
-Glitter
-Evergreen branches
-Vase from Dollar Store
This one is mostly an outside exploration. Prepare your vase by layering pinecones, berries and small branches and leaves inside. Dust glitter throughout to finish.
Holiday Candles
What you'll need:
-One scented candle from the Dollar Store (cinnamon, vanilla, brown sugar or forest scent)
-A few tea lights
-A few transparent, colored bowls in holiday colors
This is for those who like candles but don't enjoy too overwhelming of a scent. Set the scented candle in the center of your table. Set up the bowls around the center candle and light the tea lights inside them. Sprinkle some sparkles, if desired.
Decorative Branches in a Vase
What you'll need:
-A handful of evergreen branches
-White or sparkly spray paint
-Vase from Dollar Store
Collect some branches and spray the ends with white or sparkly spray paint in a well-ventilated area. Lay them separately to dry. When they're dry, gather them together and stuff them into the vase, painted ends up. Pull the ends so the branches fan out.
Paper Plate Angels
What you'll need:
-Paper plates
-Scissors
-Tape
Cut from the outside rim of the plate to the center. Fold the plate into a cone shape. Tape the cone shape closed. Make another cone from a second plate and stack it on top. Use two quarters of another plate as wings, and fashion small cones from the remaining material for arms. Cut a circle for the face. Tape all the pieces together to form your angel. If desired, decorate the wings by adding glitter or interestingly shaped hole punches.
Fancy Pine Cones
What you'll need:
-Pinecones
-Spray paint or glitter
Collect several large pinecones. Spray with gold or silver spray paint, or coat with clear glue and dust on sparkles. When they're dry, add them to corners of tables and shelves for a subtle holiday feel.
Holiday Jars
What you'll need:
-Glass jars of any size
-Cotton balls
-Sparkles
-Thread
-Paper
-Glue or tape
Use a leftover pasta sauce jar or pickle jar and peel off the labeling. Add layers of cotton balls and dust with sparkles. Cut small snowflakes from paper and tape to various lengths of thread. Tape the threads to the inside of the jar lid. Screw the lid back on, and you should have dangling snowflakes over your snowy landscape. Coat the outside of the lid with glue and add sparkles around the edge and cotton balls to the top.
Written by: NEHA MANNIKAR – features@theaggie.org