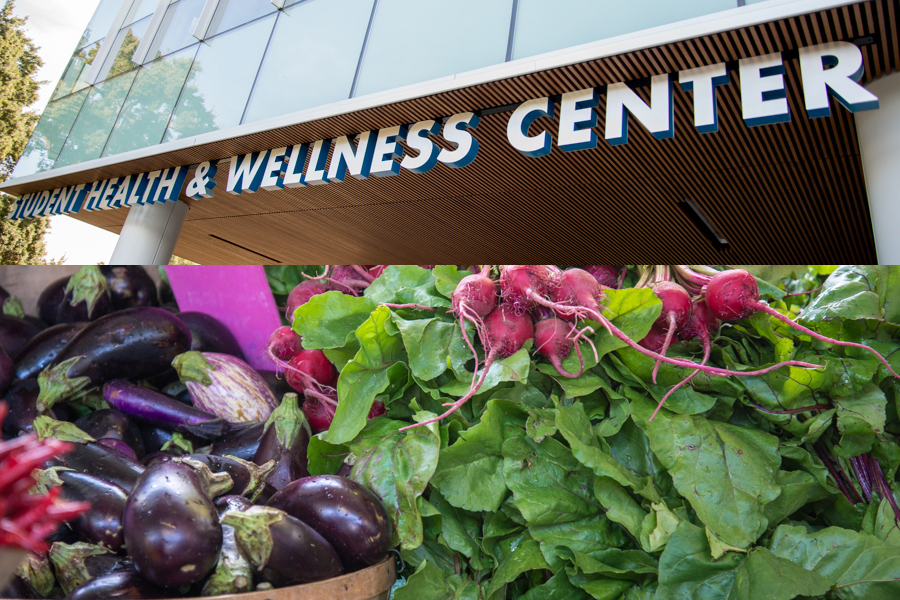 Center joins The Pantry as another free food resource to students on campus
Through the new Fruit and Veggie Up program, UC Davis students can now receive free fresh produce at the Student Health and Wellness Center by simply showing their university ID cards.
The program, which began this summer, is funded through the Global Food Initiative, a UC-wide effort to help individuals and communities access affordable and nutritious food through sustainable means.
Aria Wexler, a fourth-year clinical nutrition major, works as a food access and nutrition student assistant for Fruit and Veggie Up.
"There's always a line starting at noon for students to get produce," Wexter said. "All students can receive fresh produce."
The program works in collaboration with Nugget Markets, which provides the program with produce that would normally be cleared out. The produce that Fruit and Veggie Up receives is measured in pounds and then evenly distributed to students.
The program is also working on building its nutrition education by teaching students how to cook meals with the fresh produce.
Currently, the Fruit and Veggie Up program receives two shipments per week. The Pantry, an ASUCD unit that also provides free food for students on campus, will be receiving a weekly shipment of produce from Nugget Market beginning next quarter.
The Pantry is a completely student-run organization whose goal is to provide non-perishable food and basic necessities to students. The Pantry opened on Oct. 21, 2011 and helps about 40 to 50 students a day.
Erika Hapa, a fourth-year human development major and the director of The Pantry, explained how there is a real necessity for food resources in Davis.
"The Pantry is a welcoming place where you can come and get food. People shouldn't be embarrassed of whatever situation they're in," Hapa said. "We're really just trying to address the need on campus because recently we found out one in three students are skipping meals."
The Pantry uses a point system where any student with a valid UC Davis ID card can receive three points a day. Each item has a designated food point depending on the product. Points can be exchanged for food items and toiletries in Lower Freeborn Hall. Most of the goods in The Pantry are donations from drives that are held every year.
Hungry students can also access CalFresh, a federal program that provides nutrition assistance through monthly benefits. Students who qualify for CalFresh receive up to $194 monthly in order to purchase healthy and nutritious food. The CalFresh program has representatives at both The Pantry and at Fruit and Veggie Up location.
Carlos Bermudez-Ramirez, a CalFresh eligibility expert, explained how important CalFresh is to Davis.
"Students, in general, are considered low income because, for the most part, they're not working and usually living off [of] financial aid," Ramirez said. "The county sends me here because we know that in Davis, there is a big need for people to be in this program."
The Fruit and Veggie Up program is open on Tuesdays from noon to 2 p.m. on the third floor of the Student Health and Wellness Center.
The Pantry is open from Monday through Friday from 10 a.m. to 1 p.m. and Monday through Thursday from 4 to 6 p.m. in Room 21 in Lower Freeborn Hall.
Written by: Jackie Carmaz – campus@theaggie.org