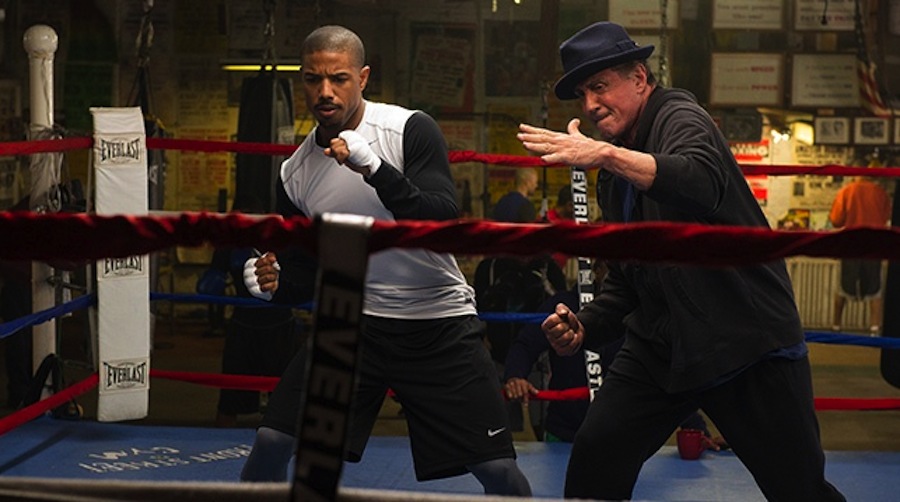 Michael B. Jordan continues to impress with his new performance in Creed.
In the new movie Creed, the young duo of director Ryan Coogler (Fruitvale Station) and up-and-coming actor Michael B. Jordan have been tasked with a tall order: to link the bridge between old and new Rocky fans. Just like in the Rocky movies, the odds are stacked against Coogler and Jordan. The two, however, overcome those odds and continue to make a name for themselves, delivering a refined piece of mainstream cinema that do the original movies justice, while setting a franchise of their own in motion.
Creed follows the life of Adonis "Donny" Johnson (Michael B. Jordan), the son of the late boxing legend and former champion Apollo Creed. As Donny was moved around from foster care to juvenile hall and then to his adopted home, one thing always stayed consistent – his ability to be a fighter. Knowing that boxing is in his blood, Donny quits his job and travels across the country to Philadelphia to seek out his deceased father's famous rival and friend, Rocky Balboa (Sylvester Stallone). Despite insisting that he is out of the boxing game altogether, Rocky agrees to come out of retirement and train the young boxer after seeing the same tenacity and fight he had once known in Apollo. As word spreads that Rocky is in his corner, Donny lands the biggest fight of his short career and squares off against "Pretty" Ricky Conlan (Tony Bellew), the current title holder. Balancing between training, Rocky's health and his love life, Donny's true strength and resolution is tested as he sees if he will indeed live up to his father's name.
It's surprising that such a young and rather new director landed the responsibility of continuing and, in a sense, rebranding the famed Rocky franchise. Coogler, however, proves that he is the man for the job. His film has a mix of scenes that both pay homage to the old movies, evoking nostalgia for the older fans, while also creating an intriguing new storyline set to draw in newer moviegoers. Like in Fruitvale Station, Coogler's Creed covers a specific theme that is both relevant and timely to American culture: the hardships that may come with being a young black male. Coogler masterfully illustrates these hardships through the film's central character, Donny, as he struggles to step out of the shadow of society's perceived image of him.
While not all viewers can relate directly to the issues of race that Donny faces, Coogler's graceful and focused plot development effectively grabs hold of audience's emotions and connects with fans, developing a sense of empathy for Donny's struggles. The one major flaw of the movie is that Donny's love life with Bianca (Tessa Thompson) appear to be a bit forced and unnecessary. But Coogler gets the movie back on track in the final fight scene, which is electrifying due to the dramatic cinematography. As young as he may be, it's clear that Coogler is the real deal and is capable of throwing a few haymakers of his own.
Creed is yet another steppingstone on Jordan's path to superstardom. Reunited with Coogler, Jordan is phenomenal once again and it's clear these two have incredible cinematic chemistry. His consistently spectacular performances will soon place him among the Hollywood elite. Though his tough guy persona as Donny may be off-putting at first, Jordan's ability to portray his character's growth, from a young lost fighter to a boxer who's found purpose, will soon have you falling in love with him. Simply put, Jordan is a knockout. As far as Stallone's performance goes, I've often heard complaints that he is a bad actor. But in Creed, Stallone put his critics to rest with a phenomenal performance that will force even the most skeptical viewers to consider him as a serious actor and more than just an action movie star.
In short, Creed would make any Rocky fan proud. It pays respect to the original franchise but in a subtle enough way that the Rocky legacy does not have an overwhelming sense of control over the film. Its gripping narrative, convincing acting and compelling storyline makes it a winner.
WRITTEN BY: David Park – arts@theaggie.org