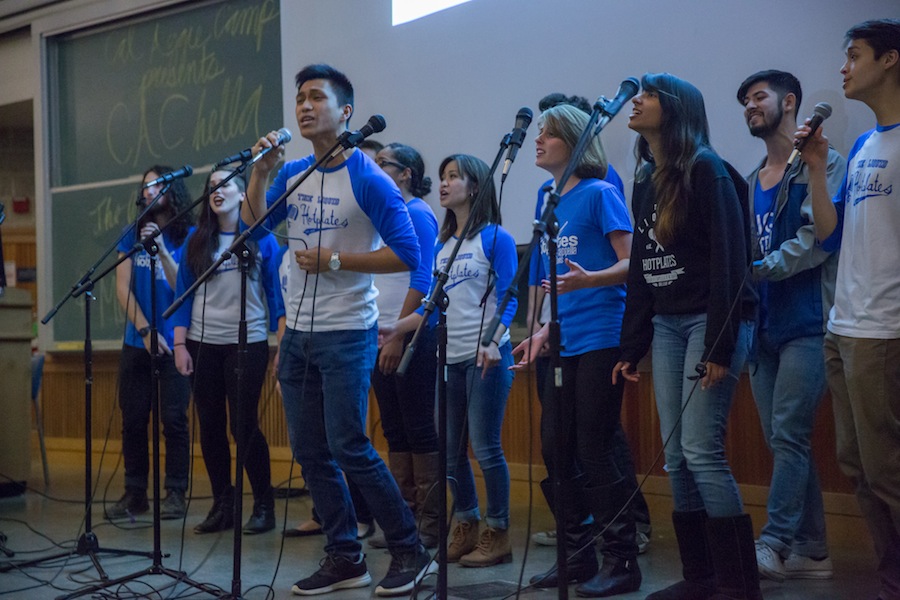 Winter a cappella concert to feature holiday music, contemporary hits and more.
This Friday, Dec. 4, the a cappella groups of Davis will be coming together for AlottaCappella, hosted by the Liquid Hotplates. The concert will be held in 123 Science Lecture Hall at 8:30 p.m. and promises to be a night of music-filled fun. The Spokes, the Lounge Lizards, Davis Chamber Choir, the Afterglow and Cleftomaniacs will be joining the Liquid Hotplates to put on a performance that will have something to please every music fan.
ALottaCappella will be the first college performance for Bailey Cooke, a first-year music major and a member of the Davis Chamber Choir.
"I'm very excited, [and] I'm sure it'll be a great crowd," Cooke said. "I think [the] SciLec will be a cool place to perform."
Cooke also said that the Davis Chamber Choir has kept the holidays in mind when picking songs for the concert.
"We're performing three songs, and one of our songs will be a holiday classic," Cooke said. "We're also doing a collaboration of sorts with another a cappella group, but it's a bit of surprise."
Sarah Poplack, a second-year undeclared major and the business manager for the Lounge Lizards, said in an email interview that her group will also be performing three songs: "Barton Hallow" by the Civil Wars, "Big Yellow Taxi" by Joni Mitchell and "Marvin Gaye" by Charlie Puth.
"I am really excited for 'Barton Hallow' because it is such a powerful yet eerie song," Poplack said. "I feel like our group really comes together when we sing it and that's what a cappella is all about."
As far as collaboration goes, Poplack said that the Lizards are not planning on doing a song with another group but reflected on last spring quarter's LocalTones concert, which featured all the Davis a cappella groups joining together to perform one song.
"Last year we all sang 'Still Haven't Found What I'm Looking For.' Almost every a cappella group on campus performed the song and it was such a blast," Poplack said.
Henry Le, the social media director for the Afterglow and a third-year English and computer science double major, appreciates the supportive community at Davis.
"My favorite performances are the ones we do at Davis because the students tend to have a lot of support for us," Le said. "We just got a new beatboxer and we have some higher voices [this year]. We're really excited to see all the new fresh faces [in the a cappella community]."
Nathan Halbur, a fourth-year physics and history double major and musical director of the Davis Chamber Choir, also feels that getting so many a cappella groups together for one concert makes for a particularly dynamic performance.
"[The Davis Chamber Choir] puts on our own small concert at the end of the quarter so it's pretty exciting to be able to perform with all the other groups for five hundred people in SciLec," Halbur said.
So whether you're a fan of pop or rock or jazz, ALottaCappella promises to entertain.
"Even if you've never heard a cappella music, I'd say give [the concert] a shot because it's going to be a really fun atmosphere," Cooke said. "You'll see more traditional a cappella singing, some holiday classics and a choral aspect from our group. [The show] often sells out so I'd make sure to get the tickets soon."
Tickets are $7 pre-sale and $10 at the door. Pre-sale tickets will be available at the Memorial Union and online.
WRITTEN BY: Amanda Ong – arts@theaggie.org