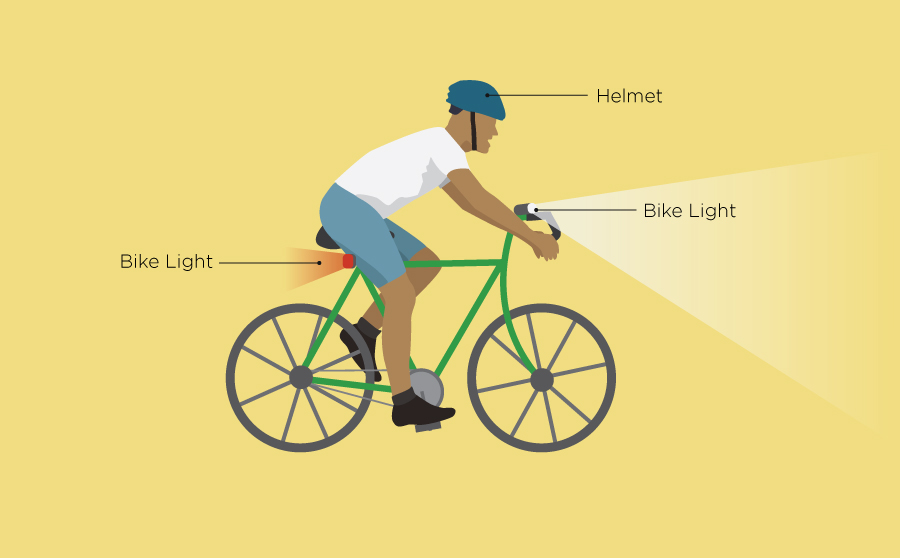 Davis residents consider safety of city bike lanes.
The City of Davis has grown from having a single bike lane to over 50 miles of bike paths in almost 50 years, attracting one of the highest population of cyclists in the United States. This has created an increased need for bike safety.
Jennifer Donofrio, City of Davis bike and pedestrian coordinator, explains that it is important for cyclists to consider safe routes and to find alternate routes where they are most comfortable. She indicates that the roads people drive on may not be the safest for bikes.
According to the American Community Survey Reports, 18.6 percent of the Davis population commutes by bike, making it one of the top cycling cities in the country.
Davis has flourished as a cycling town since the first bicycle lane in America was built in Davis in July 1967 on the portion of 8th Street between A Street and Sycamore Lane. The legislation to allow this construction was signed by the California governor, Ronald Reagan. Before this time, there were bike paths, but this was the first time a part of the road was recognized just for bikes.
Shortly after, bike lanes were constructed on Sycamore Lane, J Street and 3rd Street. Today, there are bike lanes all over Davis and commuters depend on them to get to work and class safely.
Christopher Hart, a fifth-year materials science and engineering major, feels that the high volume of bicycles in Davis is not always a positive thing for commuters. He appreciates that campus has roads that are closed to most vehicles, but cars are not always the problem for cyclists.
Hart was near the Bike Barn on campus two years ago on his way to class when he was passed by an overly confident cyclist who proceeded to hit the curb and crash. According to Hart, the cyclist appeared to try to correct the mistake but still caused a bicycle accident.
"I was in an on-campus crash in Davis in which another rider fell directly in front of me, and I hit them," Hart said. "I got a bruise on my head from my bike flipping over and a coffee stain on my shirt because he was carrying Starbucks."
Hart also had a close encounter with a car while on his bike. He was making a left turn and a car in his lane decided to change out of that lane illegally in order to continue straight instead of turning left. As the woman driving began to move out of the lane, the front corner of the car hit Hart on his thigh.
"I leaned into the hit as the car hit its brakes and did a bunny hop to the right," Hart said. "This allowed me to stay on two wheels and I continued while looking at the driver hoping for an apology."
Katelyn Peterson, a recent alumna of UC Davis and Davis resident, shares Hart's sentiments in the dangers of commuting to class safely. She feels that biking to campus became increasingly less safe over the course of her time in Davis because of the increase in students, as evidenced by the decreasing number of available bike parking spots.
"Even though the bike lanes seemed to work well, they became terrifying at peak hours," Peterson said. "It's always scary downtown because there's so many stops and some cars try to wave you on and others try to cut you off so you get confused."
Chris Stastny and Aaron Curtin, employees at Davis Wheelworks bicycle shop, usually have to help about one to two cyclists a month who are involved in non-racing related bicycle accidents in Davis. Curtin indicates that the most common damage to the bike is either the wheel being tacoed, meaning bent or broken, or the frame being cracked.
"There was a guy in here just last week who came in to buy a whole new bike after being hit by a car driven by a man under the influence of drugs," Stastny said.
According to Stastny, the cyclist believed the driver to be under the influence of drugs, however it has not been confirmed.
Stastny worries that there is not much cyclists can do if a car is going to hit them. He cautions cyclists to try to avoid roads with heavier car traffic and remain aware of their surroundings while riding.
Hart believes there is a major problem with the La Rue Road and Russell Boulevard intersection, specifically on the south side. He suggests removing the turn-only lanes for cars, installing stop signs or even creating a bridge so as not to inconvenience cars.
According to Donofrio, the City of Davis and UC Davis applied for a grant to improve the intersection at Anderson Road, La Rue Road and Russell Boulevard but it was not funded. Donofrio explains that the city still hopes to slow right-turning traffic onto Russell Boulevard from La Rue Road by moving a traffic signal pole but are currently hindered by financial barriers.
Donofrio believes that the city was able to reallocate part of 5th Street for buffered bike lanes on each side of the road in August 2014.
Hart acknowledges that most roads have bike lanes in Davis, including the green paint indicating the lane specifically for cyclists on 5th Street. He believes this is a positive improvement to the road.
"I appreciate the effort the city and university are putting in to make sure Davis is bike- friendly," Hart said.
Written By: RIVA BALLIS – city@theaggie.org