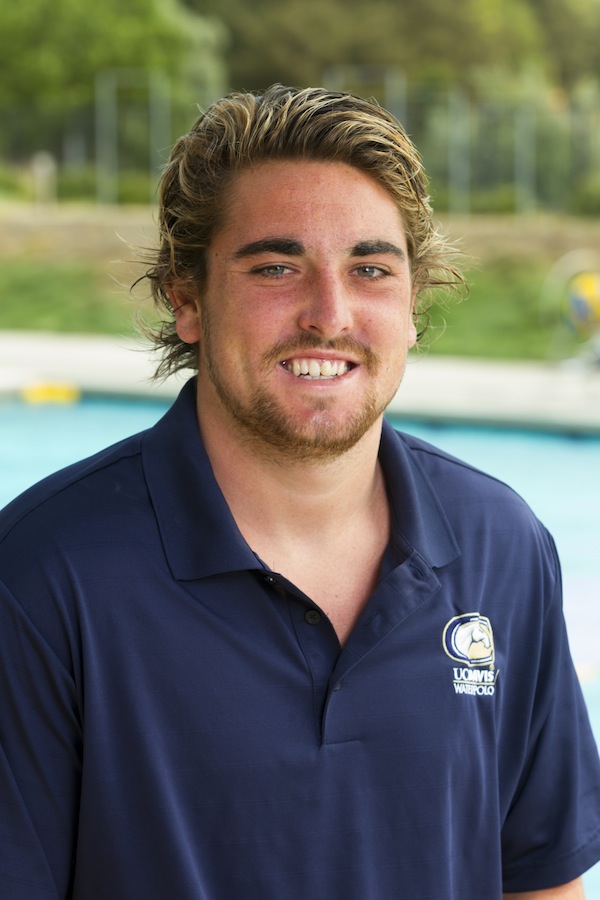 Senior utility Sean Grab, a second-year transfer student and communications major from South Pasadena, Calif., has made waves throughout the Aggie men's water polo program in his short time at UC Davis. After having an all-star senior year in the pool, Grab does not seem to be slowing down and seeks to be involved in water polo in the future.
This season was not the first time Grab's work has been noticed. In his first year at UC Davis, Grab joined the team in a huge way. The only non-senior to play in every single game, Grab led the team in both goals scored and assists, with 64 and 43, respectively. Furthermore, Grab was named to All-WWPA Second Team, and tied Chris Richardson for the most season steals with 33.
After attending Golden West College for two years and being an integral part of the water polo team there, Grab wanted more. He had been recruited by UC San Diego; however, two main factors drew Grab into becoming an Aggie.
An old teammate and one of Grab's best friends, Evan McCarthy, ended up being a deciding factor in his decision to join UC Davis.
The other was the head coach of the water polo program, Daniel Leyson.
"[Daniel Leyson] is one of the brightest minds I've ever [encountered] in the game," Grab said.
This season, Grab helped lead the Aggies to an undefeated conference record. Grab tallied 44 goals and was an integral part in bringing the Aggies to their second WWPA title game in Leyson's three years at UC Davis. The Aggies closed out the season 18-8.
"We brought UC Davis water polo [to the forefront], at least in this conference," Grab said.
Yet for all of his personal success, Grab maintains an air of humility about him. In many ways, his team's success means more to him than any personal success.
"I hear my name called, WWPA Player of the Year: Sean Grab," Grab said. "Man, I wanted to take that plaque and I wanted to throw it in the pool."
Grab could not share his personal success with his team in the ways that he wanted to.
"It's kind of hard actually, to receive this award knowing that everybody else doesn't get one," Grab said. "I wouldn't be nearly the player that I am, nearly the person I am or in the position that I'm in, if it wasn't for the people on this team."
Grab has demonstrated that he has what it takes to motivate and help his team reach their own high marks, as well as the skills and mentality to continue his personal successes. Furthermore, Grab will continue playing water polo post-graduation, as he has been contacted by a Sacramento team that competes on the national level.
Over the next few years, expect to hear more about Grab's feats in and around the pool deck, for when it comes to quitting water polo, Sean Grab says it best:
"The time will come, but it's not yet."
Written by: Aaron Sellers – sports@theaggie.org