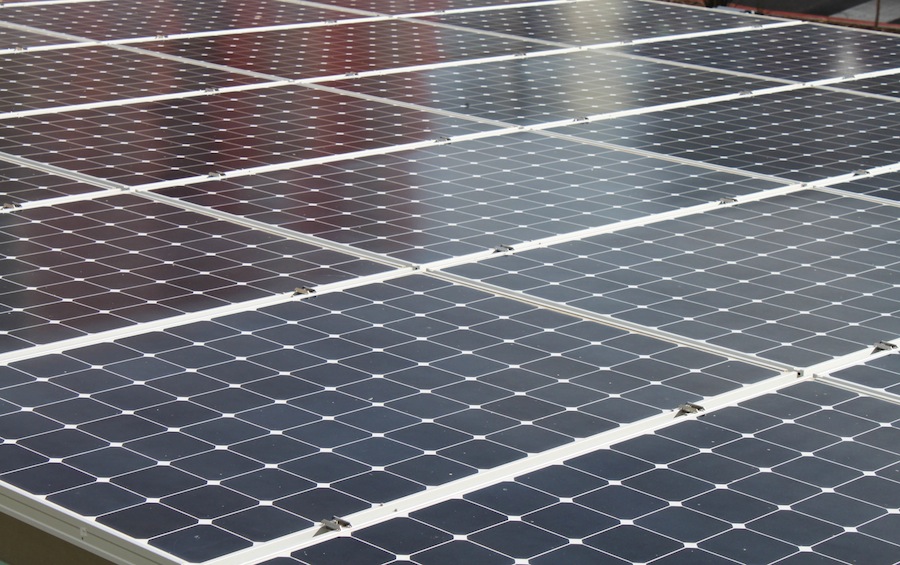 Plant to provide 14 percent of the university's electrical needs.
On Nov. 20, UC Davis and renewable energy company SunPower Corporation announced the completion of a 16.3-megawatt solar power plant. The project, which started in fall 2014, will provide 14 percent of the campus' electrical needs and is the largest solar power plant on a U.S. college campus.
"This is a compelling example of how, with partners such as SunPower, we at UC Davis are reducing our carbon footprint," said Chancellor Linda P.B. Katehi in a press release. "By taking steps to aggressively reduce our carbon emissions, we can set an example to the nation and the world of what can be achieved when we combine political will with science and innovation."
The plant is located on a 62-acres of land on the south side of Interstate 80 and is owned and operated by SunPower, who sells the energy to UC Davis. Along with the solar and hydroelectric energy the university already uses, the plant is part of UC Davis' plan to acquire 60 percent of its energy from renewable and carbon-free sources by 2017.
The installation is part of a commitment by the University of California and UC President Janet Napolitano to reduce carbon emissions to zero by 2025, starting with a plan last year to buy 200,000 megawatt hours of solar energy every year to power the UC campuses.
"As a national leader in sustainability, the University of California is taking on bold, new goals and transforming our approach to procuring and using energy in more sustainable ways," Napolitano said in a press release.
SunPower installed a power block that tracks the sun throughout the day on a single-axis, increasing energy capture by 25 percent. The system also has a robotic panel with a cleaning capability designed to reduce water use by 75 percent from traditional cleaning methods and possibly improve the system's performance by 15 percent.
The project is estimated to reduce the campus' carbon footprint by about nine percent through producing only 33 million kilowatt-hours of electricity every year. In comparison, the campus used 238 million kilowatt-hours of electricity in the 2013-2014 school year alone.
"This SunPower solar power system is generating 14 percent of the campus' total electricity needs," said SunPower Senior Manager Bob Redlinger in an email interview. "It is reducing the university's carbon footprint by an estimated nine percent, which contributes to cleaner air and water and reduces our dependence on carbon-emitting sources of power."
The completion of the plant signals the second time the university has worked with SunPower to improve its energy efficiency. In 2011, UC Davis partnered with SunPower to develop West Village into a zero-net energy community. UC Davis also produces solar power energy through multiple installations located throughout the campus.
"SunPower's first project on the UC Davis campus included the design and construction of four megawatts of high-efficiency SunPower technology to power the UC Davis West Village neighborhood, the nation's largest net-zero community," said SunPower president Howard Wenger in a press release. "The university's bold vision to integrate cost-effective, sustainable energy solutions is unparalleled, and is further advanced today by this milestone commitment to build the nation's largest solar plant to offset electricity demand of a university campus."
Written by: Amanda Cruz and Ivan Valenzuela – campus@theaggie.org