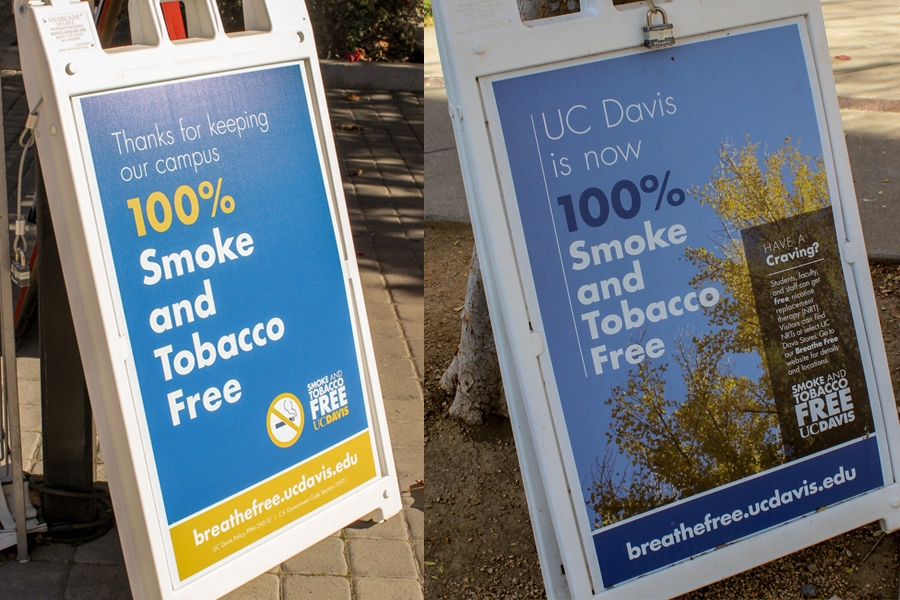 New app helps UC Davis students quit smoking
Since the emergence of the smoke and tobacco free policy on campus in January 2014, UC Davis has seen a shift to a healthier environment for students. After almost two years since the policy's implementation, a new app called "This Is Quitting" has been created to help any struggling students quit their unhealthy habits.
"It was basically up to each campus whether or not they were going to enforce [the policy] and how they were going to do [it]," said Keavagh Clift, coordinator of the Smoke and Tobacco Free Policy and health promotion specialist of Occupational Health Services. "[For us, it includes] informing the campus community about the policy and encouraging an environment of voluntary compliance; that's placing signage everywhere and encouraging supervisors to speak with their employees about their policy."
All ten of the University of California campuses joined in on the policy, which extends its reach to every UC owned, leased or rented property. However, since its inception, the policy has caused both increases and decreases in student smoking habits. According to Clift, it is common for non-enforced programs to turn out this way.
"Initially they may work, because you have the signage and more communication about it, but gradually when people realize that there aren't going to be held accountable for smoking on campus, rates just start to go back up. It usually takes about two to five years [to settle]," Clift said. "There are resources, but [they] are not publicized enough, because if people don't know [what's available], that's something that we really need to work on, and that's why we're working with [This Is Quitting]."
This Is Quitting is a free app backed by The Truth Initiative which is available for iPhones and Android phones. The app was created in order for college-age students to express their frustrations with kicking the habit, while also gaining support from a network of peers. It uses social media to give young adults resources for smoking cessation.
"This is what quitting really looks like," said Megan Jacobs, Lead of Integrated Product Design for the Truth Initiative. "[The app is] a part of the tobacco free campus initiative. [It's not just about preventing smoking on campus,] it's about helping people who currently smoke, and giving them resources to stay smoke free and to try quitting."
With features such as anonymous posts, training tools and options for direct text messaging, smokers can get the psychological support they need to quit by linking different forms of social media to the app. Once linked to a user's Twitter or other social media account, the app still gives the option to remain anonymous.
Though it is available across the country, UC Davis students can access specific versions of the app through using their UC Davis email. Once linking it to a student account, it provides resources to combat the stress that comes with specific times of the school year.
"We have a new training pack coming up […] about staying smoke free during finals week," Jacobs said. "We know that finals are a really stressful time, it's hard to quit smoking or stay smoke-free during that period. We are constantly coming up with training packs inspired […] and co-written by quitters who use the app, to give you strategies or tips to stay smoke-free in different situations."
Campuses' ability to utilize the app in order to customize information for their students is just one of the unique ways that This Is Smoking contributes to hopes for healthier future generations of students.
"What we've learned […] is that a lot of young adult smokers and people who are trying to quit didn't feel like there were any quitting resources for them that address their unique needs and circumstance," Jacobs said. "They aren't experiencing the same health effects as older adult quitters…[and] don't have that same motivation — they have different kinds of social support. Our goal is to put that social support in your hand, so you don't have to go find them yourself. We bring the quitters to you."
The new app, combined with the already-implemented tobacco-free policy on campus, is helping to bring more awareness to the resources available to smokers on campus, in addition to online. Stephanie Lake, coordinator for the Alcohol Tobacco and Other Drug Prevention Service for the Student Health and Wellness Center, conducts regular meetings with clients who are trying is to quit their nicotine addiction.
"We're able to give [students] replacement therapies, either one month of the patch  or one month of the lozenges or one month of gum," Lake said. "They do follow up appointments about two weeks later, until they feel like it's time that they're feeling great… [from there we] help them to remain tobacco free."
This resource's aim is to create a support system that leaves students with both physical and psychological encouragement.
"I can say that since the policy has been in place, my smoking cessation numbers have gone way up," Lake said. "If they relapse, they can come back and start the process over, and I can give them more nicotine replacements; I don't want them to feel [like they're failing]. Unfortunately, nicotine is the hardest drug to quit, and most people have to quit from four to seven times before they quit successfully. "
According to Clift, it is possible that a future of more serious enforcement for the tobacco-free policy may be required to ensure the positive effects that the UC system was hoping to see back in 2014.
"From a lot of people's perspectives this policy is working, and yes maybe it is, but research shows [that] smoke and  tobacco free policies without clearly defined enforcement are really ineffective," Clift said. "[Within a progress report,] we looked at what people's  experiences were with the policy thus far, to see if there was any appetite for enforcement, and for the most part [about] 80 percent were supported some kind of enforcement, which is why we're moving on with the proposal."
With the new cessation app in full swing, the Smoke and Tobacco Free Steering Committee is keeping a realistic approach to their actions on campus.
"There isn't a specific date [where we want the campus to be completely smoke-free]. It's just keeping the policy relevant — it's just [the goal of] bringing more attention to the policy," Clift said. "This policy is not requiring anyone to quit smoking, it's just encouraging them to comply with the policy and not smoke on campus. We're not trying to dictate anyone's behavior."
Written by: Emilie DeFazio – features@theaggie.org