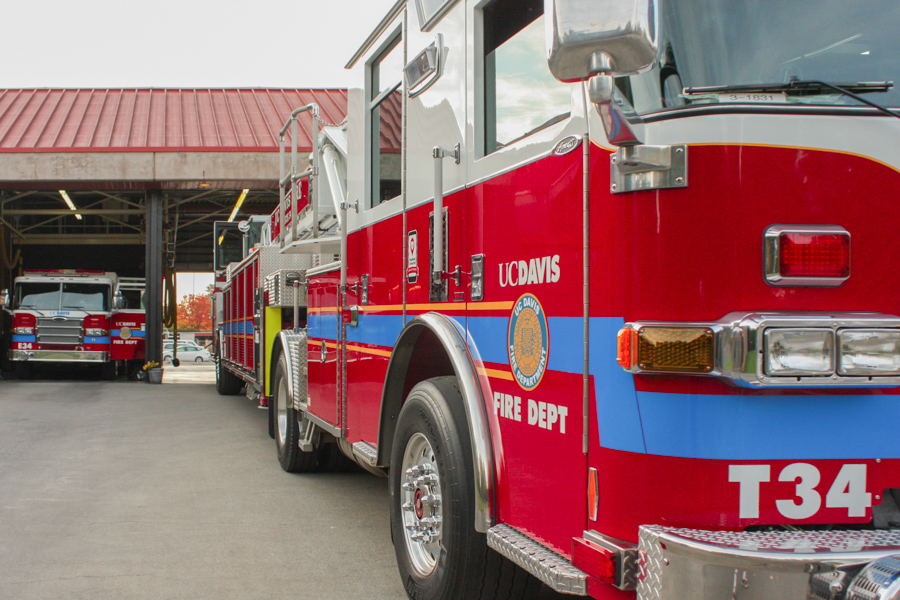 Student resident firefighters describe a day in the life.
Since 1949, UC Davis has been home to the only Student Resident Firefighting Program (SFRP) in the continental United States. The on-campus program at Station 34 trains, houses and provides life-changing experiences for potential firefighters.
"There's only one other one like us that has a residence portion of [the program], and that's in Fairbanks, Alaska," said Captain Cess Mercado, program coordinator of the SFRP.
In addition to being exposed to hazardous materials and items (HazMat), EMT and decontamination certified, the students in the program get fire-science experience in order to protect the campus and provide the firehouse with a connection to the UC Davis population.
"[Since it's UC Davis], not only are we getting young, physically strong candidates, but we're also getting the most intelligent ones too," Mercado said. "[The program] is an awesome way for the fire department to engage the campus community. We have a constantly rotating, very young population, so to have that connection with the student population improves our mission."
When it comes to recruiting potential student firefighters, Mercado said that not everyone who is accepted into SRFP is looking specifically toward a career in the field; his own experience as a student resident firefighter at UC Davis proves that. Until he approached someone recruiting on the quad, he did not know the program existed.
"We do have some people that come specifically to be a part of this program," Mercado said. "But a majority of them just apply and end up being accepted as one of our student firefighters and end up going on to become firefighters."
One current student who did not intend to ever become a firefighter is Griffin Barnes, a fourth-year international relations major. When he first heard about it, he decided applying on a whim was the best course of action.
"I heard about it going into Davis, but that they only hire every two years, so it was kind of in the back of my head," Barnes said. "Then when the opportunity came around, I [went] for it and kind of hoped for the best. I got really lucky. [At first,] I didn't know what to expect, [but now] I would hate to be where I am and not to have heard of this."
Now, after a full year of residency, Barnes is motivated to become a full-time firefighter after graduation. With regard to his experience at the station, Barnes said that the captains want to see self-motivation from the students, rather than simply a response to direct orders.
"They don't make you do a lot of things, they expect you to want to do it," Barnes said.  "Hopefully [the people who come in] are constantly wanting to improve [their] skills. Not many students have the opportunity to really potentially save people or property while they're in college."
According to Mercado, the most unique aspect of the program is the opportunity to work and live in a firehouse, something that not many other college programs offer to their students, as immersion is a huge advantage when looking at future careers.
"[They get] the culture and the life of a firefighter, so they interact with the crew, they hear the tones go off for emergency calls, they hear the dispatches, they go on these calls," Mercado said. "When they graduate and are looking for a professional job, they fit in so well into any other municipality because they've been around it for a couple years. The social component of being able to function within the culture is really the hard part [of the job], and we give them that here."
In the community, the idea of each firehouse having the "same personalities but different faces," as Mercado said, is common to describe the type of recruits who are considered career material. Fourth-year neurobiology, physiology and behavior major and two-year resident firefighter Matthew Petro agrees that the comradery necessary for a cohesive team can be found in Station 34.
"There's a family aspect around our station here, especially upstairs amongst the students, [who all] went through the academy together," Petro said. "There's a lot of respect for each other, [and] for the career firefighters who spend time teaching us through training and running calls with us, so there's definitely a culture of mutual respect."
Petro said that SRFP community gets along well due to the commonality of self-motivation.
"[Those with] a desire to learn and get better [who] want to improve themselves and [get] job experience are definitely [the kind of people] we see here often," Petro said.
According to Mercado, these similar personality traits are what shape the students into becoming successful firefighters, who can handle anything thrown at them.
"It's not for the faint of heart, we're in very stressful situations," Mercado said. "They're there, they're witnessing and they're experiencing all this alongside with us. They have to work hard to earn my trust, and that's the kind of personality that perseveres here to make sure people are successful."
Part of the stressful work that the students must experience is the five 14 and 24-hour shifts they must pick up each month. Fourth-year neurobiology, physiology and behavior major Cole Stauffer explained the checklist assigned to each shift, including training, dinner prep and intermittent calls. To begin the 14-hour shift, starting at 5 p.m. and ending at 7 a.m., all the equipment must be checked.
"After that we spend an hour training at the station, which can range from throwing ladders, to practicing medical scenarios, to practicing cutting holes in the roof with a chainsaw," Stauffer said. "At any time between 5 p.m. and 7 a.m., any calls that come in—medical aid, traffic accident, hazardous materials, fires—we get to respond to those […] and make sure we're out of [the station] in less than two minutes."
A similar organization of time goes for the 24-hour shift, with additional station cleaning and weekly equipment checks. As an aspiring health professional, Stauffer learns how to balance academics and work in preparation for his future.
"Trying to balance sleep is more of a challenge. I can be working a 14-hour shift with sometimes no sleep, [and] have a midterm coming up or a lot of homework I've got to do," Stauffer said. "At first, it was a hurdle, but you quickly adapt and learn how to manage your time."
Mercado said that balancing life with living at the firehouse is what makes the program especially beneficial, particularly on a college campus.
"They can go from a stressful three-vehicle accident on Interstate 80, to being in a communications class taking notes, [and] literally ride home and jump right back on the fire engine to someone who had just had a seizure," Mercado said. "It's a very unique situation."
This February, the Campus Fire Department begins recruiting members for the upcoming school year. Recruitment includes a written exam, physical abilities test, an interview and a competitive two-month training program. At the end of each recruitment period, Mercado said that he is thankful for each student resident he brings in, because it means more experience for the student in addition to help for the station.
"With the student firefighters we can have five people on a fire engine and six people on a truck; we've doubled what we can do easily while we're waiting for all our local neighbors to come help us [on a call]," Mercado said. "They're hands on, they're right next to us. They get experience [and] we get the extra hands."
Written by: Emilie DeFazio – features@theaggie.org