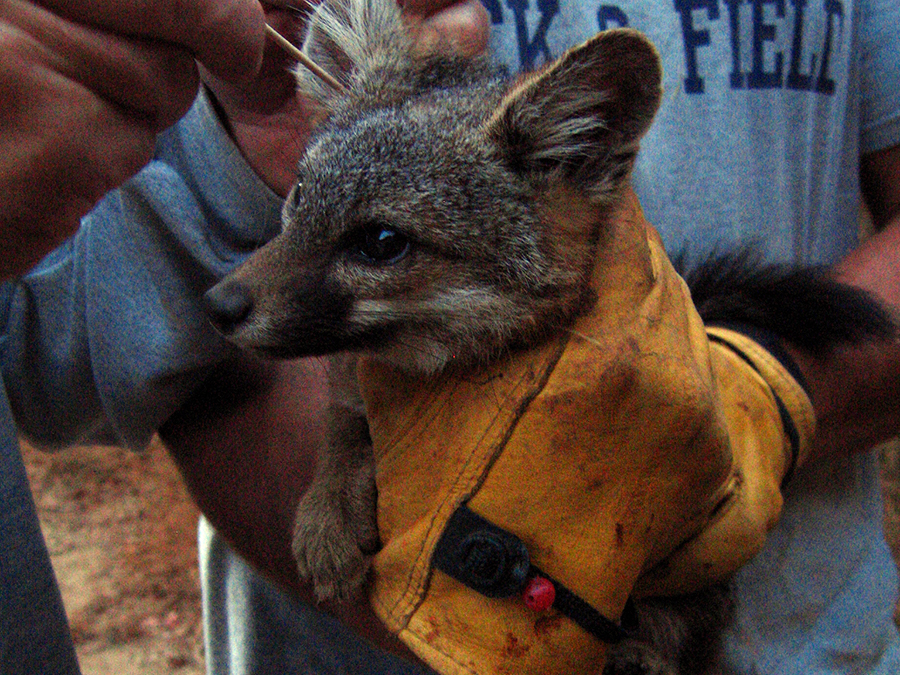 Catalina Island fox population recover from ear tumor infestation caused by ear mites.
Over the past few years, scientists from the UC Davis Veterinary School of Medicine (UCDVSM) have helped an endangered island fox species on California's Catalina Island recover from a prevalence of ear tumors unique to that population.
The tumors, which developed from an inflammation caused by ear mites, were found in half of all adult foxes studied on the island from 2001 to 2008, with two-thirds of them being malignant, according to the UC Davis study.
Winston Vickers, an associate veterinarian with the UC Davis Wildlife Health Center at UCDVSM, is the lead author of the study, which identified the ubiquity of the tumors and spent years studying the prevalence of the cancer on the islands.
"Over time, I examined hundreds and hundreds of foxes over all six of the islands and determined at the time that the only place I was seeing these tumors was on Catalina," Vickers said. "It was pretty quickly apparent that Catalina Island was unique, or their foxes were unique in this regard, and we wondered why."
Megan Moriarty, who was a graduate student at UC Davis when she worked on the study, said that there is something unique to the prevalence of cancer in this species of Catalina Island foxes, considering the presence of ear mites in other species of animals in the surrounding area.
"Several other Channel Island foxes have ear mite infestations, but we haven't found any ear tumors on any of the other species so it's definitely interesting," Moriarty said. "There's something specific to the Catalina foxes that we have not yet uncovered."
In 2009, treatment with acaricide, a common chemical agent used to treat ear mites in dogs and cats, was found to dramatically reduce the prevalence of ear mites in treated foxes from 98 percent to 10 percent during a six-month period.
With help from the Catalina Island Conservancy and the Institute for Wildlife Studies, scientists continue to administer the ear treatment, especially in adult foxes, who seem to transfer the ear mites to their pups. Before the treatment started in 2009, 90 percent of all pups examined had ear mites, but by 2015, the number dropped to 10 percent of all new pups.
The population of the foxes has grown significantly as well. Their numbers have grown to 1,717, compared to the approximately 150 endangered foxes that were left in 1999.
As Dr. Vickers notes, the cancer hasn't had any effect in the foxes ability to reproduce.
"It turned out that the cancer, because it would tend to strike the animals in their mid-years and later, does not appear to have a big effect on their reproductive capacity and the population is recovering nicely," Vickers said. "It's a pretty pleasing outcome in the end."
Scientists have yet to determine why the prevalence of ear mites has led to the high rate of ear tumors in these specific foxes, but as the genetics testing begins, Moriarty hopes that scientists on the Island can find an answer.
"That's one piece of information that we really hope to get from the genetics work that is being initiated right now," Moriarty said. "The ear mites are certainly one part of the story, but we think there might also be a genetic predisposition to these foxes getting tumors."
Kat Kerlin, a spokesperson for UC Davis, finds the work done on Catalina Island to be a great example of the university's commitment to these animals.
"I find it to be a very hopeful story," Kerlin said. "It's a great example of how UC Davis veterinarians can look for problems, think of solutions and try to act on them, and in this case, so far it appears to be working quite well."
As the treatment continues to be administered, Moriarty said she is satisfied with what scientists have been able to do for the population of foxes.
"Certainly the fact that it was a successful study is also really gratifying," Moriarty said of the field work. "All around we just feel very good that we are able to do something concrete and positive for the population and it was a collaborative effort. A lot of people really care about these animals."
Written by: IVAN VALENZUELA – campus@theaggie.org