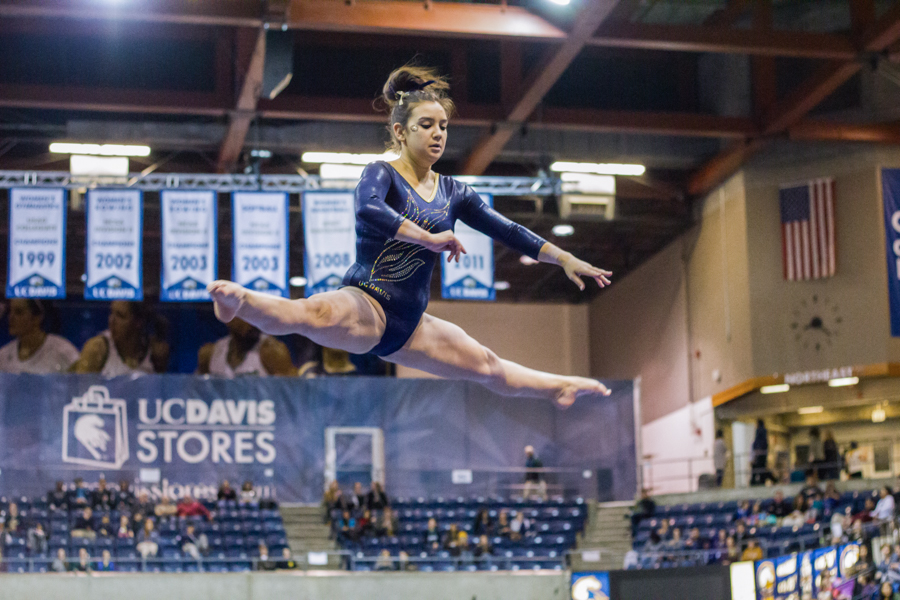 The UC Davis gymnastics team opened their first home meet by welcoming competitors Boise State and Division II team Seattle Pacific to the ARC Pavilion on Friday, Jan. 15. The Aggies received a combined score of 194.325, which put them in second place behind the Boise State Broncos, who had a score of 195.700, and ahead of the Seattle Pacific Falcons.
"I don't think that we've ever done 194 [in week two of the season]," Head Coach John Lavallee said.
Now at his tenth year of coaching the gymnastics team at UC Davis, Lavallee is confident in his team's potential to succeed.
"You should be looking out for all of these girls this coming season," Lavallee said. "Any one of them can come out with an amazing performance."
There were certainly standouts on Friday night. Senior Stephanie Stamates led the Aggie sweep on the individual beam event with a score of 9.850, while freshman Kara Jones, sophomore Alexis Brown and junior Katy Nogaki all scored 9.800. The total score combined for the beam was 49.025, a rousing success for the Aggies.
"We changed our approach today and it was about going in and being aggressive, and knowing what we were doing," Stamates said.
The vault event was highlighted by Brown's performance of 9.700 and Nogaki's 9.750. The combined score for UC Davis was 48.375.
On the uneven bars, senior Dani Judal placed third with a score of 9.800, while junior Yonni Michovska scored 9.775 and Brown scored a 9.700, contributing to the total score of 48.325.
The final event of the night was the floor routine, and despite some minor hiccups the Aggies stuck their landings and performed well overall.
Freshman Yasmine Yektaparast led with a score of 9.800, an impressive achievement for her second collegiate meet.
"As a freshman, [Yektaparast's] tumbling passes are world class," Lavallee said. "Once she really gets comfortable in this environment, she is
really going to raise the roof."
Sophomores Miranda Holder and Amanda Presswood followed with scores of 9.775 and 9.750. The total score for floor was 48.600.
"We hope to get back to the ranking of 34th in the nation this year," Lavallee said.
With such a promising start early on in the season, the Aggies have their eyes set on climbing to the top.
The Aggies will be heading to Provo, Utah to compete against Boise State and Brigham Young on Jan. 22.
Written by Julia Wu – sports@theaggie.org