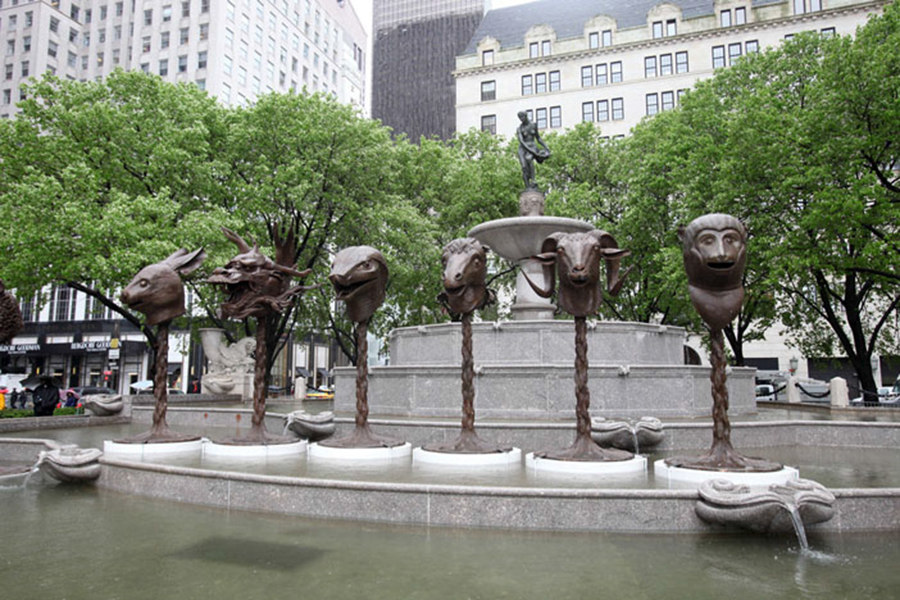 Renowned artist's 'Circle of Animals/Zodiac Heads: Bronze' will be on display at Sacramento museum.
For those unfamiliar with Ai Weiwei and his provocative art, the next five months may be the perfect time to acquaint yourself to the brilliance of this Chinese artist. From Jan. 24 to May 1, the Crocker Art Museum in Sacramento will be displaying Ai's sculpture collection, Circle of Animals/Zodiac Heads: Bronze.
Much of Ai's work is political in nature and his latest installment is no exception. During the Qing Dynasty, European Jesuits designed sculptures of 12 animal zodiac heads that functioned as a water clock-fountain. Ai's Circle of Animals/Zodiac Heads: Bronze is a recreation of these sculptures.
The 12 sculptures, each about 10 feet high and weighing 1,600 pounds each, will be displayed near the museum's exterior courtyard. The courtyard is between the historic and new buildings of the museum, which is fitting since this exhibit will present a rejuvenated version of these ancient sculptures. The deep history behind these sculptures is definitely reason enough to visit the collection.
Associate Director and Chief Curator at the Crocker Art Museum, Scott Shields, has been working closely with Ai's team in New York for the past 18 months.
"I hope visitors really like and engage with these sculptures," Shields said. "[The sculptures] are large and incredible to look at, but they also have an important story behind them that I hope people will take the time to learn."
Ai is well-known for his elaborate and daring designs. He was the mastermind behind the striking Beijing National Stadium, also known as the Bird's Nest, where the 2008 Beijing Olympics took place.
His influence can even be felt on campus in some classes. Emily Gomez, a second-year managerial economics major, remembers taking Art History 1D: Arts of Asia and studying Ai's work.
"I remember learning a little about his art and watching a documentary he made about what he thought was wrong with the Chinese government and how that influenced [his] art," Gomez said.
Ai is as renowned for his political activism as he is for his art. There have been times when Ai's outspoken opinions landed him in trouble with authorities, such as when he was held at Beijing Capital International Airport on allegations of "economic crimes."
Students who are not as familiar with Ai Weiwei, like fourth-year chemistry major Dustin Williams, are still positive the exhibit will be a success.
"I don't know anything about his [art], but anybody who gets into trouble that much probably has a lot to show through art," Williams said.
Shields hopes this exhibition will allow guests to gain a better grasp of Ai's work and activism.
"[I hope people will get] a sense of the artist and especially his art, which is compelling, beautiful and thought-provoking," Shields said.
Circle of Animals/Zodiac Heads: Bronze will be held at the Crocker Art Museum on 216 O St., Sacramento from Jan. 24 to May 1. For more information, visit the Crocker Art Museum website.