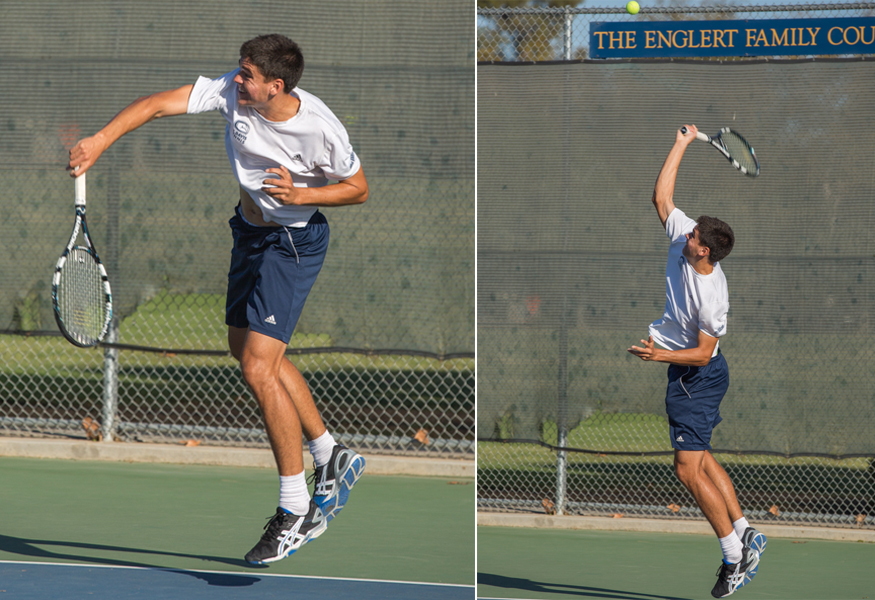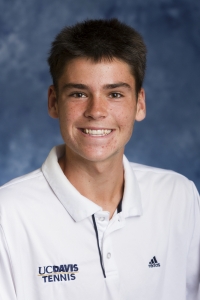 This week, The California Aggie sat down with junior Alec Adamson, a quiet and humble team player who recently made history for the UC Davis tennis program. In his third year as an Aggie, Adamson ranks in at 38th in the nation in singles competition and looks to lead his team to a successful season.
When did you first start playing tennis and why?
I started playing tennis when I was about eight years old. I played a lot of different sports growing up: basketball, baseball, soccer, but I really liked tennis. My mom had played it so I guess that's how I got into it. But [I] have just always enjoyed the game.
What's an average week look like for you?
I go to class in the mornings and then have practice every day from 1 [p.m.] to 4:30 p.m. And then I have class at nights and [the team has] study hall two nights a week and weights two times a week at [2 p.m.].
You made the finals at Battle in the Bay, how did the tournament prep you for the upcoming season?
I think the fall tournaments are good preparation for the season, just getting matches and getting experience against some good players. I think it was great for our team, that tournament, and I think it's also going to prepare me personally [for] playing a lot of challenging ranked opponents.
How did it feel to upset a couple top opponents?
It felt great. I thought I had a good preparation this summer. [I] played a lot before the fall and I think it should give me good momentum going to the season, confidence-wise and just good preparation.
You're the first Aggie singles player to be nationally ranked in Division I, how's that feel?
Yeah, it's definitely an honor. There have been some good tennis players here at UC Davis, so to be the first one is great. But I also think it's a good milestone for the team. Last year we got ranked for the first time as a team and now we have the first singles player to be ranked. So I think it's just another good milestone that shows the hard work the team put in.
What are your goals as the season starts back up?
For this season, our team's main goal is to win the Big West Championship. We've never done that before. Last year, we were the co-champions for the regular season, so I think [the goal is] to do well in Big West play. We have a tough schedule against Stanford, USC and some good, ranked teams. I think just maybe to knock off some of those teams.
In your opinion, what's the best part of your game?
I would probably say my serve and my backhand are the strengths of my game.
What do you need to work on?
Right now I've been working a lot on my forehand and my approach. Kind of working to get up to the net more. I use my height and reach more and just am being more aggressive. Working on that kind of game.
How fast do you serve?
Fastest I think I ever got clocked is 115 [mph].
What do you do as a student-athlete advisory committee (SAAC) officer?
For SAAC officer, we meet three times a quarter as a group. Kind of with all the different SAAC reps as a team. And we want to get a better kind of camaraderie between all the different athletes. We put on different social events every quarter — we have the Big West coin drive starting up the beginning of February. Any issues athletes have, they bring them to the SAAC officers and we relay them to administration. I think we're kind of just the middle man between the student-athletes and the administration.
What's the most rewarding experience you've had serving the community?
I'd say the Thanksgiving dinner for the homeless is one of the best events I've been a part of. It's been really great. This last year we had over 40 homeless people come to the event and we were able to serve them and give them food to take home. SAAC also put on a drive with socks and gloves [and] hand sanitizer. Just all these personal items. It was really rewarding to see how thankful they were for what we were doing for them.
If you had won the $1.3 billion Powerball, what would you have done with the money?
I think I would have given some money to my family and friends. And then also would have donated some because I don't need that much money.
Michael Martinez can be reached at sports@theaggie.org