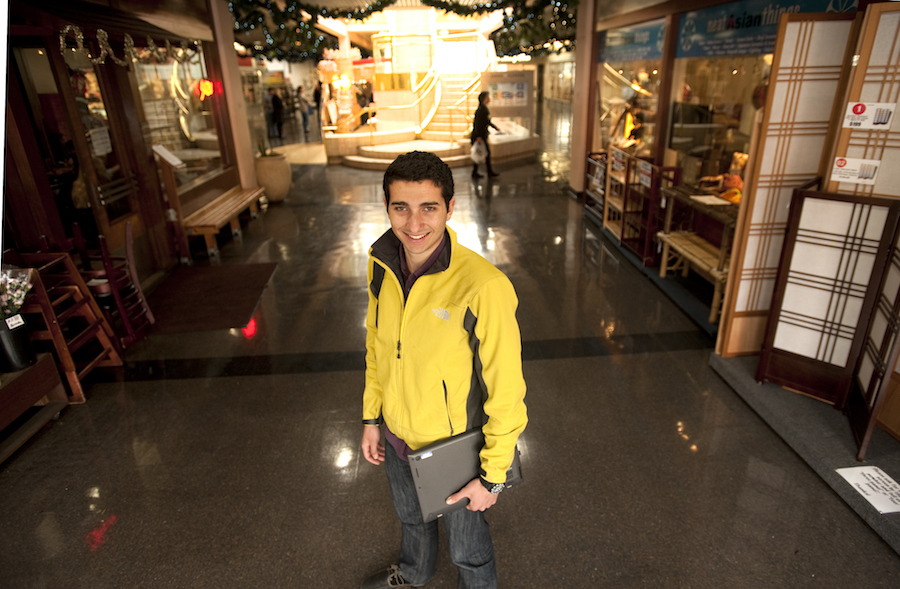 Alumni James Rizzo wins scholarship to spend year studying in China.
Out of over 3,000 applicants worldwide, recent UC Davis graduate James Rizzo won the Schwarzman Scholarship, becoming one of the 111 members of the inaugural class of Schwarzman Scholars to study abroad in China next year.
Started by The Blackstone Group co-founder Stephen A. Schwarzman, Schwarzman Scholars is a year-long master's degree program at Tsinghua University in Beijing. This year, the program consists of scholars from 32 countries and 75 universities who will study public policy, international studies and economics and business.
"We want to build, over time, a global network of people who have deep knowledge of China, […] of the changing role that China is playing in the world and very importantly for this program, direct contact and relationships with each other," said Schwarzman Scholars Global Director of Admissions Robert Garris. "It really is very much about ensuring that the next generation of political leaders, business leaders, experts in the environment, health and energy actually know each other across the boundaries of China through their experience at Schwarzman Scholars."
With a bachelor's degree in political science from UC Davis, Rizzo looked at a number of fellowships for his master's degree before finding the Schwarzman Scholarship. According to Rizzo, the scholarship stood out to him because of its focus on leadership in 21st century China.
"I'm someone who is really interested in the way technology and public policy intersect," Rizzo said. "I see China kind of playing an increasingly prominent role in both of those areas which […] led to me wanting to gain a better understanding of that through my graduate studies."
Though each applicant is accepted into the program for their own academic reasons, Garris said what connects the scholars together is their capacity for leadership. According to Garris, there are various characteristics that the applicants are reviewed for.
"One of them is intellectual agility and we're very careful in talking about that to not just focus on classroom performance," Garris said. "We're looking for people who have a kind of mindset that lets them question what's going on in the world around them, look for emerging trends and understand solutions and opportunities to either counter those trends or take advantage of them."
Another characteristic has to do with the candidate's ability to persuade others to join in on creating change in the world.
"If you use your intellectual agility to identify something that needs to be tackled, you then also need to be able to build a team and inspire people to join you in creating that change," Garris said.
The program provides scholars with exceptional learning opportunities from leaders in China and across the world through high-level interactions at lectures, an internship program, a mentors network and intensive travel seminars. Its curriculum strives to connect the academic and professional world in order to educate students about leadership and about China's expanding role in the world.
"I think I'm going to learn a lot and grow a lot as a person through spending the year with these people," Rizzo said. "I'm really looking forward to kind of building those relationships, taking classes together, traveling together and just gaining their perspective. They come from all different sorts of backgrounds; they come from all around the world. One thing I think everybody has in common is that they're all some of the best of the best."
According to Rizzo, the main aspect he hopes to take away from his study in China is the ability to see the world and global issues from China's perspective.
"I think throughout the course of my career that's going to be increasingly valuable," Rizzo said. "To really understand China's motivations and acting in an X, Y, Z manner — to get that gut feeling about what China's perspective is."
Currently, Rizzo works at a software company called Intuit, as part of their rotational development program. The first part of the program was in Tucson, AZ, but he is currently working in San Francisco, CA.
Rizzo credits much of his success to Prestigious Scholarship Advisor Scott Palmer from the Undergraduate and Prestigious Scholarships office.
As the Prestigious Scholarship Advisor, Palmer first informs students about scholarship programs. Then, when students express interest in a certain scholarship program, Palmer makes sure students receive all the information and advice they need.
"As much as a program will allow me, I will go ahead and assist students in basically how to approach a program, how to work on it, what kind of things they need in order to apply, what types of things they need to understand consider about the scholarship foundation in order to be a strong applicant," Palmer said.
For cases like the Schwarzman Scholarship, in which a smaller group of finalists are chosen for an interview, a panel of faculty might be gathered together to conduct a mock interview for the finalist, or connect the finalist with someone who previously interviewed for a major scholarship in order to discuss the process.
"I will also just usually try to talk through strategy with them a little bit to help them know and understand what to expect and how to approach things," Palmer said.
Rizzo said the most preparation for this new chapter of his life took the form of his study abroad experience. In Spring 2015, Rizzo studied abroad in Madrid for his last quarter at UC Davis.
"It kind of helped me develop my expectations of some of the things I want to do over there and some of the things I want to experience and how I want to spend my time," Rizzo said. "I've already kind of been through it once on a much smaller scale. But living in a foreign environment, learning a foreign language, taking classes. I've done it once so I think [I'm] prepared to go forward and do it again on a much grander scale."
Written by: Jacqueline Chu – features@theaggie.org