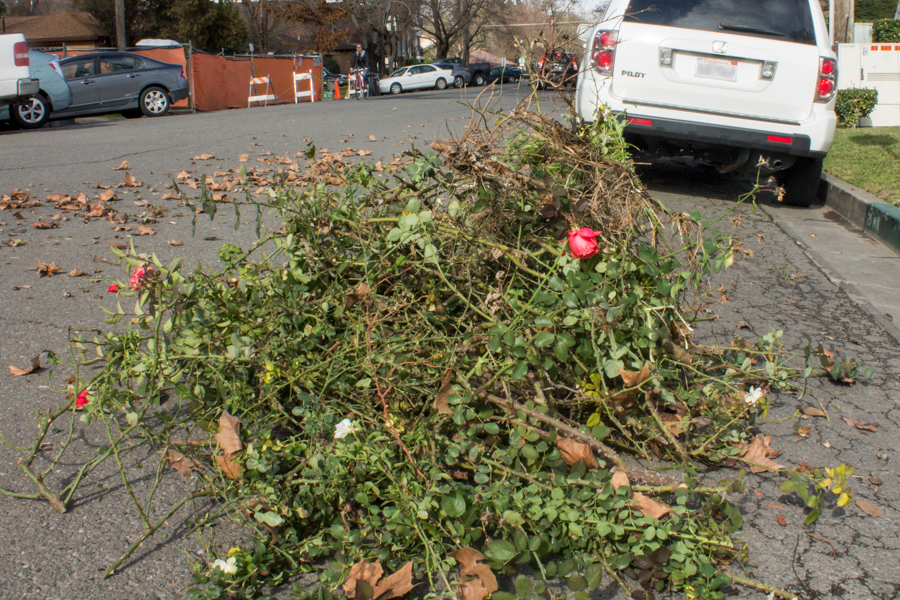 Program supports city effort to reduce landfill waste
This July, the City of Davis will commence its new organic waste-cart initiative which will prevent organic items from being placed in the landfill when they can be composted.
According to Jennifer Gilbert, conservation coordinator at the Davis Public Works Department, the organics program will help the city reach its goal to compost or recycle 75 percent of its waste.
"All customers will receive an organics cart for food scraps, food-soiled paper and yard materials […] you'll have the garbage cart, the recycling cart and then the organics waste cart," Gilbert said.
Gilbert explains that some Davis residents are concerned about how there will be fewer collections for yard materials through the program. However, Gilbert stressed that despite the reduction in collections for yard material, residents will be allowed to leave their yard materials on the street five days before collection.
"Right now, we have two containers: one for regular trash and one for recyclables. The idea is that we will collect the organic waste so that it doesn't have to go to the normal landfill," councilmember Brett Lee said. "The green waste [organic] container [will be] picked up on a weekly basis; it will travel to a different place than the normal landfill and they will […] reuse [the material] for compost uses. It is part of the city [and] state's goal to reduce the amount of waste we generate."
The 75 Percent Initiative, a statewide recycling goal run by CalRecycle, is at the forefront of California's massive effort to reduce the waste that goes to the landfill. The program aims to have 75 percent of all waste recycled, reused or composted by 2020 and has been responsible for pushing new legislation to help the state achieve this goal.
"The 75 Percent Initiative is a statewide goal and not a mandate […] California already leads the nation when it comes to environmentalism and sustainability, so we're just trying to solidify our dedication to this effort," said Lance Klug, public information officer in the Office of Public Affairs at CalRecycle. "We're [also] going to pass other policies, and have passed other policies, that help us get closer to that goal."
In setting up organic waste-carts, the City of Davis is taking yet another step to become greener and more sustainable for the future, getting closer to its goal of 75 percent waste reduction.
"Currently we are at 64 percent waste reduction so we've got an additional 11 percent to achieve our goal," Gilbert said.
Written By: JUNO BHARDWAJ-SHAH – city@theaggie.org