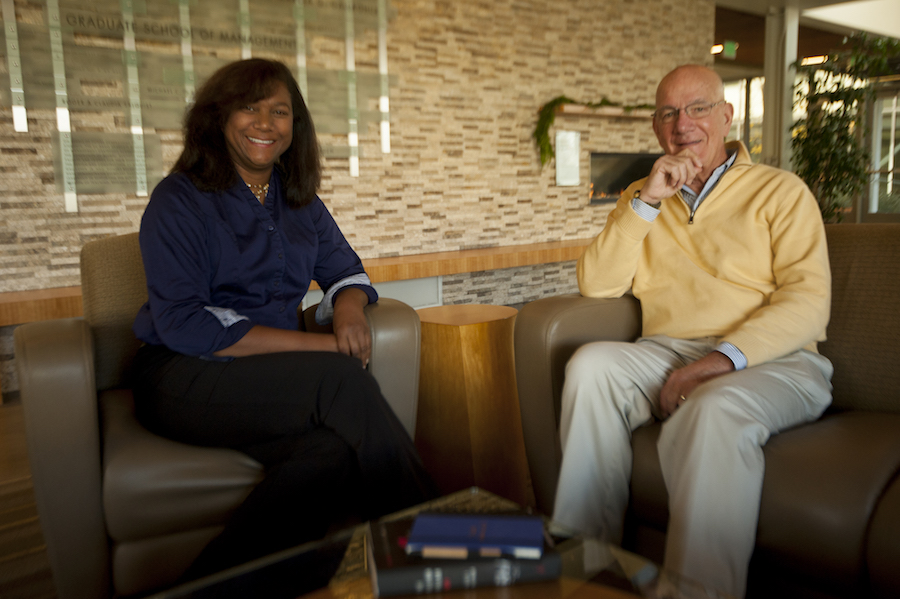 New breast cancer test will only require urine sample to detect cancer.
Angela Courtney, a UC Davis postdoctoral graduate in integrative pathobiology, recently developed a new breast cancer test that could help women detect breast cancer earlier, while delivering personalized results.
This new test can determine the presence of breast cancer and be conducted during routine doctor's visits.
"It's super easy from the patient's standpoint," Courtney said.
According to Courtney, a patient will have to provide a urine sample that will be sent to a lab for testing. Once the urine sample is sent, the lab will identify patterns of protein and genomic material to determine if they match a breast cancer positive or a breast cancer negative pattern.
"But here's the beauty of this test over time: Say you take it now, when you're young, you're healthy and you don't have breast cancer. [N]ow, this is your personal pattern of negative and normal," Courtney said. "So down the road, you're actually comparing you to you."
When Courtney originally started working on her postdoctorate, she was interested in researching infectious diseases. However, during the first year of her postdoctoral program, Courtney, along with three other family members, developed breast cancer.
"I went from breast cancer being nowhere in my world, nowhere on my radar, to suddenly [being] the most important thing in my life," Courtney said.
It was this moment that Courtney decided to change her research focus to breast cancer. When Courtney began her journey to find a cure for cancer, she turned to the source many researchers had looked to before for answers – blood. One day, it then dawned on her that urine is actually filtered plasma.
"We think of it as a waste product, but in reality it […] is filtered plasma," Courtney said. "And so that is actually giving you a look at what is truly in the blood stream."
According to Courtney, the difference with this urine test is that it does not just look at DNA, which gives people their probability of developing breast cancer. Rather, it looks at the different protein changes and whether the controllers of the DNA are present or not.
"Right now, women who have genetic mutations […] in their DNA code have to make a choice," Courtney said. "They have to decide, 'Okay, if I have an 89 percent probability of developing breast cancer, am I just going to take the wait-and-see approach – in which case what they have to monitor is mammograms, which you can only do once a year every two years – or continue to do self exams and hope I can feel it when it's really small.' That's really scary, and that's why a lot of them choose to have a double mastectomy because there's really no other way to monitor."
However, with Courtney's urine test, women will have a way to monitor themselves for breast cancer.
"A test like this actually gives a way to monitor [it], and because it's not a blood draw, it's not invasive; you can actually monitor as often as your doctor and you feel necessary," Courtney said. "So if you want to take a look every month, you can because there's no harm to you to actually do the test, and that's pretty incredible. It's an option that women who are genetically positive just don't have right now."
The creation of this new breast cancer test caught the attention of fourth-year NPB major Nisha Patel, the primary leader of Colleges Against Cancer at UC Davis. As the daughter organization of the American Cancer Society, this club shares a similar mission to eliminate cancer.
"A urine test like this only encourages us to continue to fundraise for patient and caregiver support services and advocate for more funds to be put towards cancer research," Patel said. "It is wonderful to see fellow Aggies continue to help us with the fight against cancer, and with Courtney being a cancer survivor herself, a personalized medicine approach like this becomes even more meaningful."
In addition, Courtney said this test will allow the spectra of women who have gone through the full double mastectomy, radiation and chemotherapy to monitor themselves.
"Once the double mastectomy is done, there is nothing to do a mammogram on," Courtney said. "So basically they are hoping that this thing doesn't come back, because if it does, the only way you're going to know is when it has severely compromised wherever it has metastasized to, and that is usually bone marrow, the liver, the brain – the huge organs that you don't know there's a problem, until there's a really bad problem."
Courtney partnered with Michael Gilson, a UC Davis alumnus with a bachelor's in political science, to found Adrastia Biotech, where they have started working to develop a commercial platform for the urine test.
Courtney met Gilson in 2014 during a business competition called "Big Bang!," which was sponsored by the Child Family Institute at the UC Davis Graduate School of Management. For the competition, Gilson was assigned to be Courtney's mentor.
"I met this remarkable scientist by the name of Dr. Angela Courtney, and the idea of possibly finding a way to save lives through a diagnostic process for breast cancer, I couldn't walk away from it," Gilson said. "And when we won one of the prizes in Big Bang! it sure was an affirmation."
Gilson, a graduate of the Wharton School of Business at the University of Pennsylvania, provides the business expertise behind Adrastia Biotech, but he too has been affected by breast cancer.
"I had a friend who was in her early 30s when she was diagnosed with breast cancer," Gilson said. "I read enough to know that women who are now under 45 are really caught in this dilemma that there's no recommendation from any important source like the American Cancer Society that says, 'What do you do if you're under 45?'"
According to Courtney, the problem with being under 45 years of age when diagnosed with breast cancer is that if these women want to have children one day, they may have to harvest their eggs prior to undergoing chemotherapy, because the chemotherapy could shut down their fertility forever.
"Our goal is really to try to make it so that this type of cancer [breast cancer], basically gets diagnosed early enough that a biopsy is removing that mass, and you're done," Courtney said. "There would be no chemo, no radiation, no double mastectomy, no loss of child-bearing, if we can just have a way to know that it's there when it just starts."
Adrastia Biotech is still in the beginning stages of developing its breast cancer test, but if they receive the funding they need at a high level, Courtney hopes their test will be able to hit the market by the end of 2017 or early 2018.
"Adrastia Biotech is a prime example of how UC Davis is helping to make the world better by empowering our brilliant students through unique and effective programs like the Big Bang! Business Competition," said AJ Cheline, director of marketing and communication at the UC Davis Office of Research. "It is inspiring to see people like [Courtney] take such a great challenge and turn it into an opportunity to help others."
While research can be both a rewarding and an arduous process, Courtney has some advice for researchers out there who are working to make a discovery.
"Don't follow the herd. Look in the places where other people aren't looking, and look in the obvious places," Courtney said. "Because sometimes, something that can seem so obvious just because no one's looked there before, doesn't mean that there isn't something to find – like I tell my children all the time, in the words of Audrey Hepburn, 'Nothing is impossible; even the word says 'I am' possible.'"
    Written by: Jennifer Puza – campus@theaggie.org