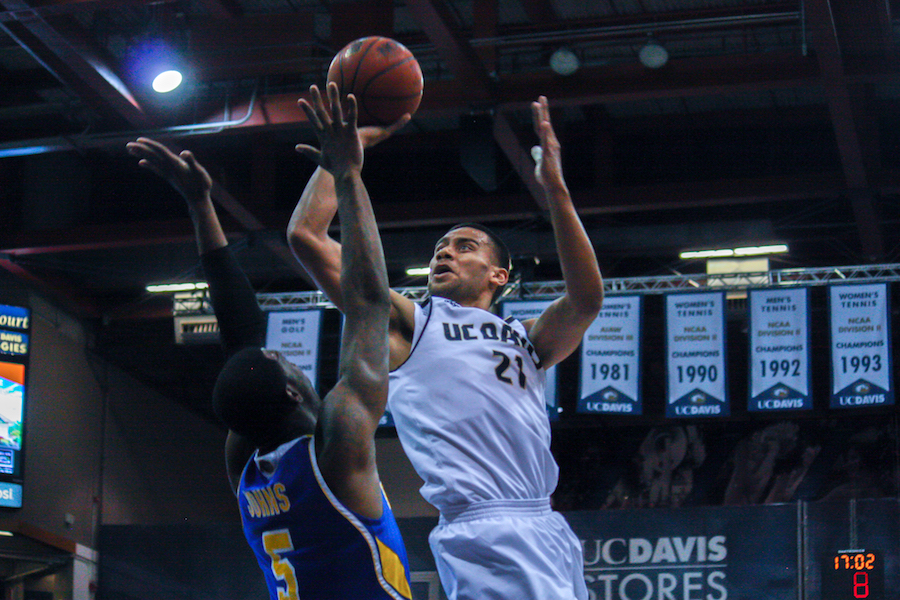 Aggies motivated to win against Titans after road loss against Hawai'i
UC Davis vs. UC Riverside (W, 58-55)
Hearts were racing this season for the UC Davis men's basketball team as the Aggies gained another last minute win last Thursday against UC Riverside, 58-55.
Junior guard Darius Graham lead the team with a season-high 21 points, confidently making four of six three-point shots. His last shot was a game saver to give the Aggies the lead after trailing the Highlanders at the two minute warning.
"Darius was awesome," Head Coach Jim Les said. "I told him, 'Hey, I just got done watching you hit a huge shot [after rewatching previous games against UC Riverside]' and he said, 'Well I'm ready to do it again,' and sure enough, he prophesied it."
Graham and senior forward Josh Fox, who scored 20 points, were the two dominating members on the court; no other member on the team made more than six points.
"They didn't hang their head," Les said. "These guys were really defendant."
In order to match the fast paced Highlanders, the Aggies played defensively as junior center Neal Monson led the team with nine rebounds.
Fox was also reunited with a hometown friend from Daly City, Calif. Taylor Johns, who played only 15 minutes for the Highlanders, was unable to handle the constant pressure put on him during the game.
"Part of a good defensive scheme is making their better offensive players defend," Les said. "I thought […] Josh Fox was really aggressive."
UC Davis at Hawai'i (L, 78-62)
Two days later, the Aggies arrived at Hawai'i holding a 2-2 Big West Conference record, 7-10 overall, with goals to match the intensity of Thursday's game and return home with a road win. Unfortunately, the Rainbow Warriors picked up their game in the second half to beat the Aggies 78-62.
However, the night on the island was not a huge disappointment, as Fox set a career-high 25 points and junior guard Brynton Lemar turned it on in the second half, where he made 10 of his 12 total points. The win advanced Hawai'i to a 5-0 conference record, which maintains their first place standing in the Big West Conference. UC Davis holds the sixth place slot.
Today, the Aggies will welcome Cal State Fullerton at 7 p.m., and will remain at home for a game against Cal Poly on Jan. 30 at 5:30 p.m.
Written by Veronica Vargo – sports@theaggie.org