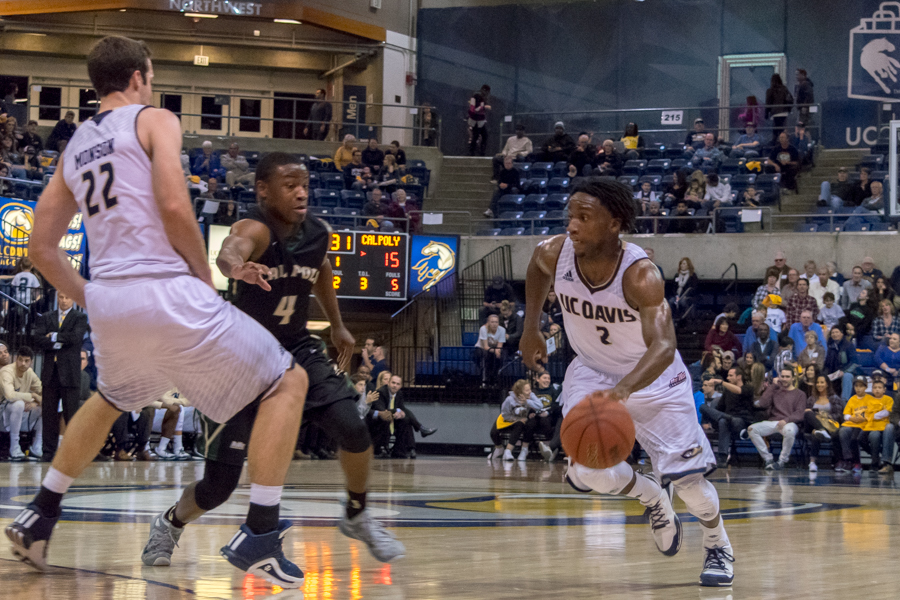 Aggies buck Cal Poly before setting off for double road games
When players step off the court, they are just like everyone else. But when they step on, it's a whole different ball game.
In a 66-52 Aggie win on Saturday, the combination of the seven players who saw playing time was enough to set Cal Poly on a desperate quest to distract the Aggies with aggressive play.
"It was physical," said senior forward Josh Fox. "A lot of the guys, we know each other so it gets kind of heated on the court. We don't want to admit it, but we kind of don't like each other."
Yet the Aggies remained on their feet while the Mustangs flew — literally. Freshman guard Siler Schneider landed a nasty foul on a Cal Poly guard in pursuit of a rebound, who was examined on the court for any signs of concussion before being allowed to sit on the bench.
Freshman forward Garrison Goode played predominantly defense, matching Cal Poly's game, and Fox had a double-double with 10 rebounds and 18 points.
Junior center Neal Monson attributed most of the Aggies' success at home to the balance between offense and defense.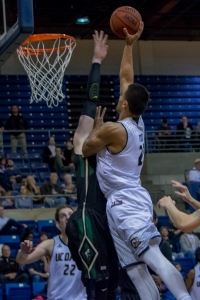 "The defense has been a focus the entire year," Monson said. "Especially coming off of last year where we had such offensive firepower and so many people who could score the ball, we knew that this year we were going to be more limited so we have to rely more on our defense […] it kept us in a lot of games."
Head Coach Jim Les also noticed his team's big defensive presence on the court.
"We talked about defense being the difference," Les said. "I thought the key was the second half defense. We held [Cal Poly] to 37 percent from the floor 11 percent from three […] which was the difference and those were the hustle plays."
Challenging Cal State Fullerton and UC Riverside this week will be a test for the UC Davis men's basketball team as they manage to pull away at home and head out on the road. Regardless of their 4-3 Big West Conference record, Les still values the mentality of his team.
"What I like about the maturity of this team is when the shot doesn't go in or something doesn't happen or go right offensively, they are not taking it to the defensive end," Les said. "They're turning the page and sticking to what is really working and that's a good solid [four] guys: disciplined, energetic, intense [and] defense."
Written by Veronica Vargo — sports@theaggie.com