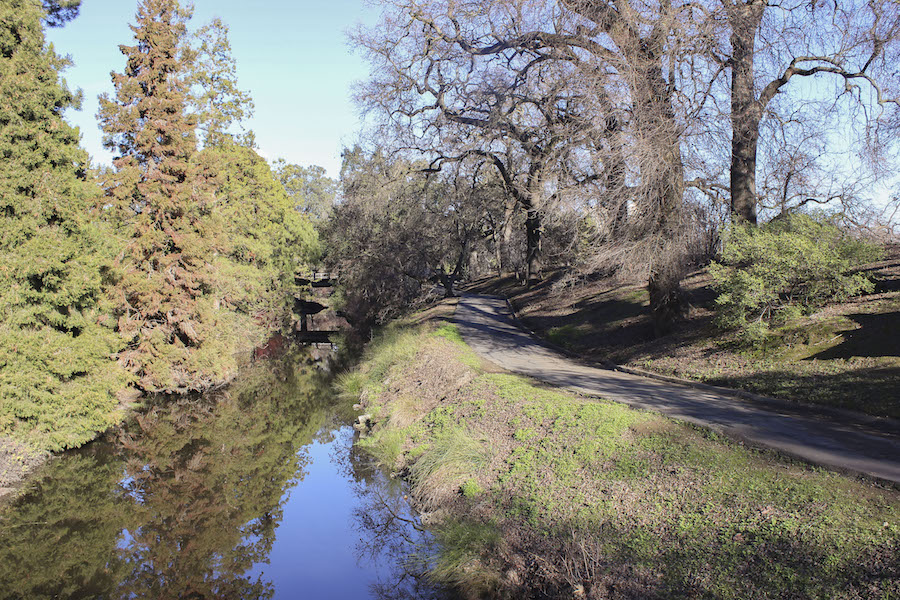 "A Walk in the Park with Chemistry" exhibit in the Arboretum is an example of art, science fusion on campus.
From a distance, the thirteen fist-sized molecules that are scattered throughout the UC Davis Arboretum look like strange fungi that have inexplicably attached themselves to small metal rods.
Each molecule is stationed near the plant that produces it. With no more than three sentences, a few pictures and a Quick Response (QR) code, the display is just a detail that is easily dwarfed by the surrounding oak and walnut trees that line the hundred-acre Arboretum.
Nhu Nguyen, a UC Davis Chemistry PhD candidate and the self-proclaimed mastermind behind the "Walk in the Park with Chemistry" exhibit, never intended to teach a big lesson. Instead, she hoped the exhibit would act as a tiny window into the vast work done in campus labs.
"We think [molecules] are really interesting, but [non-scientists] don't always see how they're connected to daily life," said Nguyen.
Professor Dean Tantillo, Nguyen's advisor and head of the Tantillo theoretical group on campus hopes that someone who comes across the molecules might start to wonder about the chemistry of trees and the significance of their 3D shapes.
Outreach projects, unlike science, are often executed in uncontrolled environments. Research goes into exposing the exhibits to specific target audiences, but once the pieces are in place, those involved can only rely on a hope that people will take notice — that they will connect to the project.
The exhibit tries to connect science to the everyday by focusing on what might be of relevance to non-scientists: wine, the smell of perfume and Alzheimer's treatment are just a few examples. Though they were attempting to connect with the general population, to actually make the project come to life, the group mimicked the collaborative work they do in their actual labs.
Part of Dr. Tantillo and Nguyen's work on campus involves collaborating with experimental synthesis groups in order to bridge the gap between experimental and theoretical chemistry. In order to actually locate the trees of interest for the exhibit, extract the relevant compound mixtures and model the molecules, the two reached out to Professor Philipe Zerbe, a UC Davis plant biologist, who provided a certain level of expertise.
"Philip knows what trees have molecules that might have interesting uses. He helped us narrow down the list [of plants], which would take me forever," said Nguyen. "And, without our modeling there wasn't going to be 3D compounds and the catalyzation input for the 3D models."
The exhibit lies a bit outside the realm of pure science, but it gives the scientists an excuse to indulge in their interests outside of the lab. In fact, this project didn't even start with outreach in mind, but instead with a piece of cover art and a painting.
"There is always this idea that when you do science you have to look professional and spend all of your time in the lab," said Nguyen. "But it helps my research to do something that is not chemistry. I think I would go crazy if I just kept doing chemistry. Art really helps."
Both Tantillo and Nguyen paint in their spare time, and Tantillo often incorporates these paintings and photos into scientific articles. The cover art provides a metaphor for the more abstract scientific concepts covered in the literature. In the cover art that inspired "A Walk in the Park with Chemistry," an image from Tantillo's family trip to Yosemite conveys the essence of the chemistry in the article.
"The photo shows a natural barrier, a fallen tree in this case," said Tantillo. "And the article had a lot to do with the energetic barriers to chemical reactions that occur in trees."
Nguyen noticed her advisor's affinity for this particular cover, and, in need of a subject to paint herself, she decided to base a painting off this cover piece, which she later submitted to an Art / Science fusion event held on campus, "The Art of Science." It is there where she and Tantillo met Elaine Fingerett, the academic advisor of the Arboretum, and the idea for an experiential chemistry exhibit began.
"We weren't sure where to start, it was a very broad idea," said Nguyen. "But that's how you start everything, you have this idea and then you start to nail down what you want to do."
That is where Fingerett came in. The Arboretum, where she works, focuses on exhibits that look at science in an artistic way, and art in a scientific way. The work spans from natural ceramics to plant installations to scientific murals.
"When people come to campus they aren't necessarily going into the labs," said Fingerett. "The exhibits connect to people who might not necessarily see themselves as scientists, but they provide a portal into science, and that might speak to some aspect of their own experience."
Fingerett considers museums a type of science experiment themselves. Alongside volunteers, she places mock signs in the Arboretum that detail possible future exhibits and document the reactions of those who pass by. Her team uses stopwatches to quantify the length of time people remain interested in an exhibit, and jot down observable reactions in order to gauge general interest. Though this is perhaps a technical approach to what many consider a non-technical activity, Fingerett, who was originally trained as a botanist and is active in the Art / Science Fusion Program, does not see the two approaches as mutually exclusive.
"I'm one person who has, in my lifetime, explored both areas — not one or the other," said Fingerett. "I see science informing art and art informing science, not a tension between the artist and the scientist."
Of course, not everyone is going to seek out the science displays when they walk through the Arboretum. In fact, many don't even know these exhibits exist —The Arboretum is, after all, very big, and the exhibits, very small. But regardless of an individual's intent when walking through the park, Fingerett says she seeks to capture what she calls the "authentic moment" for an individual interacting with exhibits.
"Maybe someone is jogging through the park, and though they don't see themselves as a scientist, through the exhibit they find a portal into science through the art, which speaks to some aspect of themselves," said Fingerett.
The Arboretum provides volunteer, internship and exhibit opportunities. For more information you can visit the Arboretum website.
Written by: Anna Nestel — features@theaggie.org