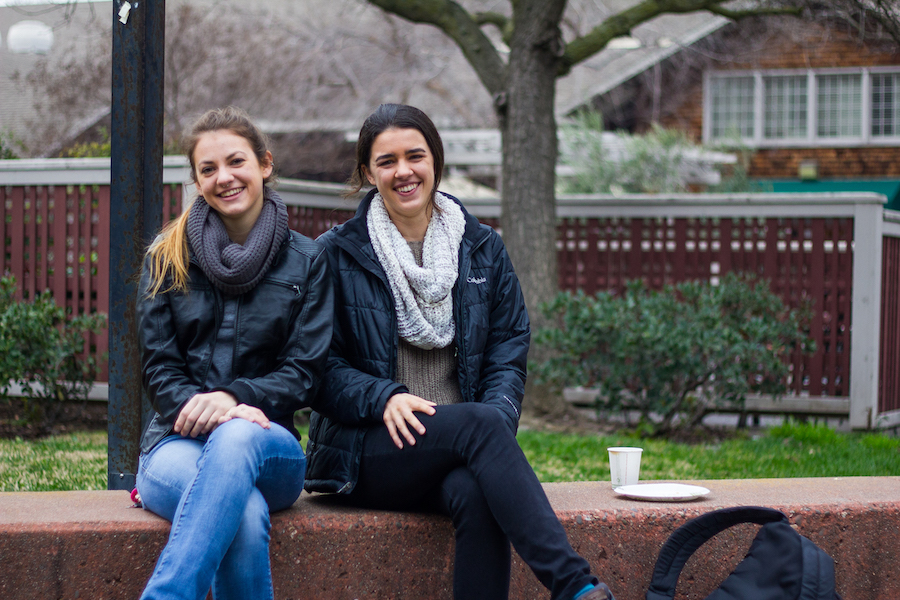 Keeping things simple.
Being a student can be stressful enough without the added pressure of trying to look fashionable or keeping up with the latest trends. Sometimes, it's best to adopt the "less is more" mentality and stick with simple yet polished outfits. Elyse Wudeck and Paige Mundy, both first-year graduate students in molecular, cellular and integrative physiology, adopt a versatile and comfortable style that will carry them through stresses of graduate school.
ASW: Could you describe your styles?
Mundy: Convenient and comfortable. Simple. Black, lots of black and neutral colors.
Wudeck: My mom says I should wear more colors.
ASW: What do you think fashion should be?
Wudeck: I think above all it should be flattering. That's why the nineties are a bad time for fashion.
ASW: So I take it you're not a fan of the nineties coming back?
Wudeck: Not a fan. My fashion is thrifty with mixed results. And no ironing please.
Mundy: I don't think I've ironed anything since I've moved here.
ASW: What do you think of the fashion at Davis?
Wudeck: It's definitely different to see the different kind of fashion in Davis. Where I come from [Texas], people would wear Nike shoes and pastel T-shirts. People here try to look good.
Mundy: I've seen some people bike with heels on.
ASW: Are there any trends that you find extremely overrated?
Wudeck: High-waisted jeans. I think it depends on your build. For my build, it's not flattering. I don't think the majority of people look good in them.
Mundy: Sneakers that have heels.
Wudeck: One [trend] that I like is scarves.
Mundy: They're functional and [make it] look like I've tried a little bit.
ASW: Do either of you have advice for college students who are on a budget but still want to look put together?
Wudeck: Secondhand stores. They're good for things like basic T-shirts.
Mundy: Keeping it simple.
ASW: Last question — did you plan to match today?
Wudeck: No, this just happened.
Mundy: We see each other every day.
WRITTEN BY: Dimitra Loumiotis – arts@theaggie.org