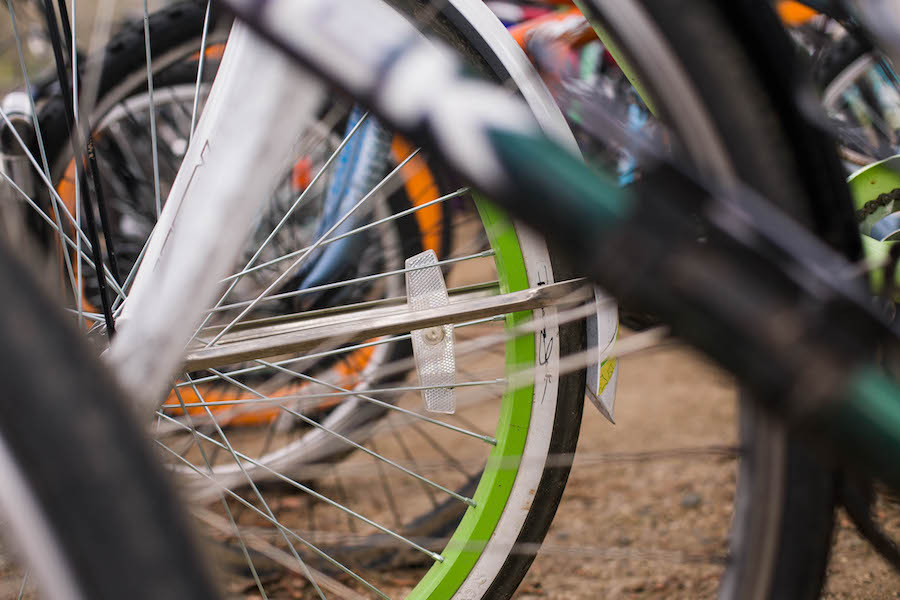 Woodland-based Bike Campaign and Garage offers free repairs and bicycle safety education.

In April 2012, the Bike Campaign and Bike Garage were founded by Maria Tebbutt with the goal of spreading the importance and beauty of biking while simultaneously educating citizens on its positive environmental and health factors.
"Our number one objective is to reduce car trips to schools and work," Tebutt said.  "We're the only place in the area selling street-legal refurbished bikes for under $200. People need bikes, money is one of the only things keeping people from using them.  What we ask for is for individuals to pay $20 and they receive a helmet, bike lock and bike lights as well as 45 minutes of bike ownership training."
Located behind Douglas Middle School in Woodland, the bike garage offers free safety inspections and adjustments, teaching customers how to fix flat tires as well as how to keep their bikes safe and dependable. The garage also offers low-cost refurbished bikes for those who need a bike but cannot afford a new one. Open Wednesdays from 2 to 5 p.m. and Saturdays 9 a.m. to noon, the garage offers adult bike riding classes as well as loaner bikes.
Bicycle education is a major concern for Tebutt and for this reason, the Bike Campaign encourages the Bicycle Education and Enforcement Program (BEEP) created by the UC Davis Transportation and Parking Services (TAPS). Tebutt believes simple bicycle education would provide the Davis community with a new respect for bicycle safety.
With the UC Davis campus having a pro-biking society, the Bike Garage is an affordable and educational place for bike safety and repair.
"This is an amazing idea. So many students on campus may know how to ride a bike, but know nothing about bike safety or how to repair simple breakdowns," said second-year political science major Rita Baljian. "The bike garage sounds great and I feel more students need to know about it."
Free repairs and adjustments are extremely convenient, but Tebbutt stresses that the main objective of the Bike Campaign and Garage is to get the word out about the importance of knowing the limitations and responsibility involved with bicycling.
"When we give you a bike without any instruction, it's as if we gave you a Great Dane puppy and told you to take care of it," Tebbutt said. "Most people may not be clear on the many rules of biking, and due to the numbers of bikers, these rules must be emphasized."
The UC Davis Police Department has tried to be effective in encouraging bike knowledge and safety rules for citizens as well. Referring many to the BEEP program, bicycle officers are working closely with the city to educate citizens on rules of the road when biking.
"I see cops giving out tickets all the time to bikers. I don't know if [bikers] don't know the laws, or if the bikers just don't care. I think the Bike Campaign, if it works, will do wonders for this city," said Davis resident Carter Anderson. "I see bikers weaving in and out of traffic, blowing stop signs, biking on sidewalks. People just don't know the rules, and being someone who lives here and loves this city, I believe everyone should do each other a favor and learn and follow bike laws."
Tebbutt encourages anyone who is interested to visit the Bike Campaign's website to get more involved in bike safety in the area.
"We need to encourage a program that emphasizes not just the usefulness, but also the beauty of cycling," Tebbutt said.
Written by: Tristen Thalhuber– city@theaggie.org