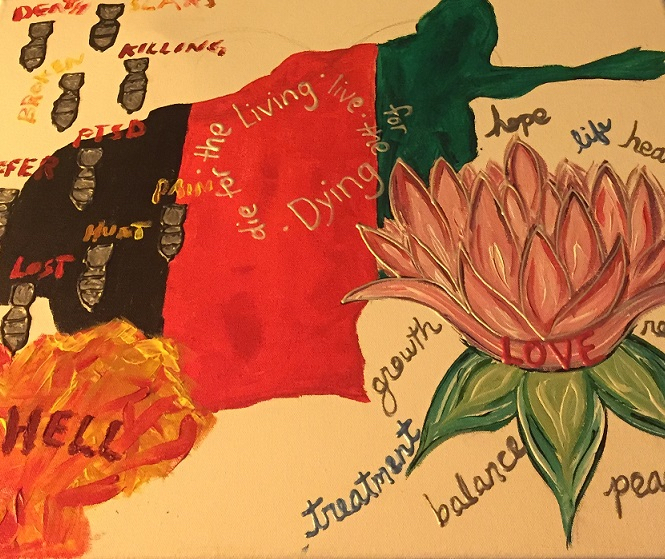 Veterans use the power of art to convey the struggles they have faced.
Positive Reflections: From Combat to Community, an art exhibit featuring work by veterans who served during World War II, the Korean War, the Vietnam War and the wars in Iraq and Afghanistan, will be opening on Feb. 5 at Gallery 625 in Woodland. The exhibit is a chance for former soldiers to present their battlefield experiences through art and is made possible by Veterans Initiative in the Arts (VIA), a pilot grant program of the California Arts Council.
A substantial number of former soldiers suffer from homelessness, including many who will be participating in this exhibit, and art is a way to draw attention to the issues veterans face.
Janice Purnell, the special projects manager at YoloArts, coordinated this exhibit and believes it is imperative for people to see a visual representation of the brutality of war.
"The artists each approach their struggle differently and use the art to discover ways of healing," Purnell said. "Either they find through the process of art a way to access their emotions or they find an image that reflects the inner turmoil that they are to resolve."
The show will also feature work by artists who did not serve in combat but have other connections to war, such as Nina Thi Strom. Strom's mother was a refugee who fled from Vietnam during the Fall of Saigon.
"Our human experience and collective suffering as well as celebration, is vital to our survival," Strom said. "This show is a way to acknowledge the bravery [of refugees]."
An astounding number of veterans face a multitude of hardships upon finishing their duties, such as high rates of post-traumatic stress disorder (PTSD) and unemployment. The exhibit hopes to bring these issues to light through the artists' renditions.
Fourth-year statistics major Greg Griffin has an older brother who served in the Army and was stationed in Basra, Iraq. According to Griffin, his brother witnessed many of his fellow soldiers suffer from PTSD and struggle to readapt to civilian life.
"I think it's really unfair how people volunteer to fight for their country and come back only to be neglected," Griffin said. "This [exhibition] will be a good way for people to realize how terrible war is and how much attention veterans need once they come back."
Positive Reflections: From Combat to Community will open with an artists reception held from 5:30 to 8:30 p.m. on Feb. 5 at Gallery 625 at 625 Court St. in Woodland.
The exhibition will also be traveling to Davis in March and West Sacramento in April. Dr. Andy Jones, a UC Davis professor and Davis poet laureate, will be reciting a poem at each of the exhibitions. For more information, please contact Janice Purnell at specialprojects@yoloarts.org.
WRITTEN BY: Krishan Mithal – arts@theaggie.org