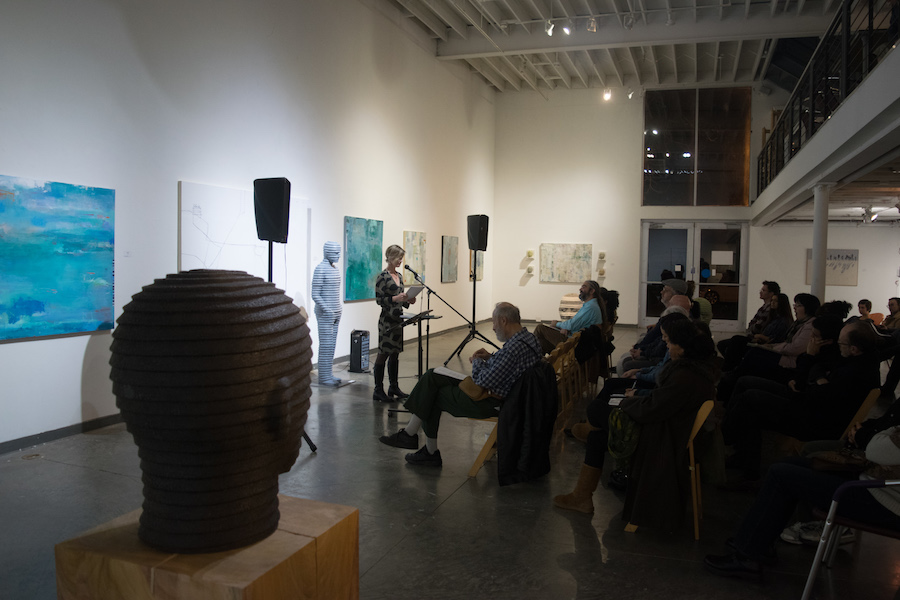 Poetry reading, open mic at the John Natsoulas Gallery.
On the first and third Thursday of every month, the John Natsoulas Gallery opens its doors to the Poetry Night Reading Series, hosted by Dr. Andy Jones, a university writing program and English professor at UC Davis and poet laureate of Davis. Beginning at 8 p.m., two poets will read a poem of their choice (this week features Matthew Woodman and Marit MacArthur), followed by an open mic at 9 p.m. and an afterparty at 10 p.m.
Jones and his colleague Brad Henderson started the poetry nights 10 years ago and began hosting in the Natsoulas Gallery, which is located on First Street in Downtown Davis, around five years ago. Jones, who now runs the series alone, saw a need for literature events in Davis.
"I felt that, growing up in Boston and studying in London, there were always so many literature events, which Davis didn't have," Jones said. "The English department would have occasional visiting writers, but nothing regular."
Joey Van Buskirk, a third-year English major and intern with Jones, helps to organize and publicize the events, writing press releases and creating Facebook events. He said that one of the major benefits of his internship is that it forces him to be creative.
"It keeps me writing, as I'm not always doing a creative writing class," Van Buskirk said. "I try and perform something every open mic night."
Joshua Clover, an English professor at UC Davis and regular performer at poetry nights, is torn about whether or not he enjoys doing the reading series, as he finds it both embarrassing and sometimes unrewarding.
"Some nights I can get inside the poem and it feels like you're figuring stuff out and understanding and capturing things, and that's great," Clover said. "Some nights you can't, and it's just a poem on a page and I'm saying the words and I don't enjoy that."
Clover and Van Buskirk are just two examples of the types of people who perform at the open mic nights.
"It's usually a mix of town and gown," Jones said. "More undergraduate than graduate students, and we have some music too. We also have short fiction and nonfiction performances."
The poets who read prior to the open mic are also very varied in both location and reach, and one of Jones' main tasks is to attempt to bring poets that will draw the biggest crowds.
"Some people come because they trust that we will recruit good poets, and others come for specific people," Jones said.
There are also no limits on what can be performed at poetry nights, which many find liberating.
"I think the great thing about this event is you can go and see this vast spectrum of poetry," Van Buskirk said. "There's a common conception that poetry is Shakspeare, and it has this rhyme scheme and so on, when poetry is so much more."
Clover himself had a hard time when asked to classify his genre of poetry, stating that no one can describe their own poetry, that poetry was first and foremost a social phenomenon.
""If I was to pigeonhole my poetry, I'd say it was militant communist poetry. For me, poetry is an interesting, transformative and sometimes effective way to look at particular problems in the world, and that's what comes first," Clover said. "I'm not a poet, I'm a person who has a set of concerns about the world and poetry is one of the ways I try and deal with them."
Clover concluded his interview by musing on what poetry means to him.
"I think of poetry as a social phenomenon, a way that communities come together and try to think about poetry and the subjects in poetry," Clover said. "The way I can define my poetry is by its political or social interests and relations to the world we live in."
The open mic is operated on a first come first serve basis, so those intending to perform are encouraged to arrive early to sign up. For more information, please visit the Facebook event page, and the Poetry in Davis Facebook group.
WRITTEN BY: Kate Snowdon – arts@theaggie.org