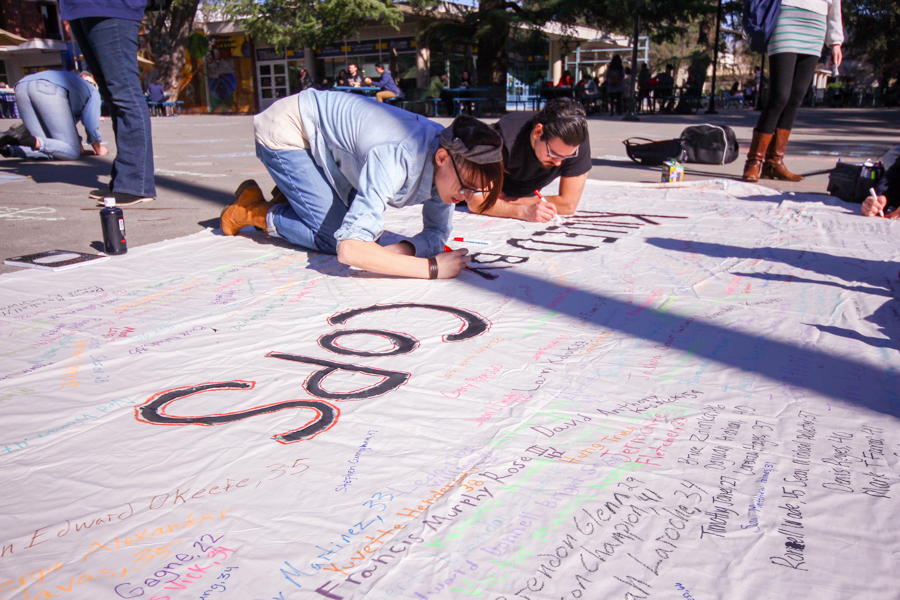 Davis Stands with Ferguson responds to UC Davis' erasure of victims' names last fall.
On Jan. 27, Davis Stands with Ferguson, an extension group of Black Lives Matter on the UC Davis campus, held a protest called "Say Their Name" at the Memorial Union (MU) in honor of the 1,200 people killed by police brutality in 2015. The students who participated wrote all 1,200 names on the patio of the MU in chalk and on a blanket in case the names were removed.
During Fall Quarter, a similar protest was held. However, due to a mistake by the university and some UC Davis employees, all of the names were erased.
After last quarter's incident, Dave Lawlor, vice chancellor and chief financial officer of UC Davis, apologized on behalf of the university in an email sent to the entire student body. The email then went on to list the names and ages of every single person killed by police in 2015 if information was available.
"I am deeply sorry that university employees erased the names of more than 1,000 people who were killed by police," Lawlor said in the email. "Please know that erasing the names was a mistake, and it was fundamentally wrong. As the lead for the university's finances, operations and administration, I take full responsibility for these actions. I sign this letter in the spirit of respect and in support of the Black Lives Matter movement, which also has the full support of UC Davis leadership. We welcome an opportunity to meet with students and learn how we can be helpful in moving forward."
The administration reached out to Davis Stands with Ferguson about this incident, and the students decided to rewrite the names at the original location and ensure the names would not be erased again.
Among the demonstrators was Alisha Rodriguez, a second-year psychology student, who was upset when she found out that the university erased the names of all the people that had been killed in 2015, partially due to the fact that one of the victims of police brutality last year was her cousin Ryan Rodriguez.
"We wanted to remember the people that left us," Rodriguez said. "My cousin actually passed away. He got shot last year, and it was important for me to have his name written just to remember what happened and to have justice for him. And, to have his name erased just felt really bad."
According to Kyla Burke, a fifth-year environmental science and management major and co-organizer of the "Say Their Name" protest, none of the students was particularly upset with the university for erasing the names. However, she was a bit skeptical of how much the university truly supports the Black Lives Matter movement.
"There is no animosity [toward the university], but in their apology, they said that they support Black Lives Matter, but to actually do that on campus would involve a lot of change, and we would like to see more of that support," Burke said.
Burke went on to say that the protest was to commemorate the lives of the over 1,200 people who were killed in 2015 due to police violence. The larger goal for this group, according to Burke, is to end systemic racism and police brutality against people of color. She said that while this is the larger goal of the Black Lives Matter movement, Davis Stands with Ferguson focuses more on the UC Davis campus and has a particular set of demands to make UC Davis a more inclusive environment.
Some of those demands include the disarmament of campus police, an ethnic studies requirement for all students, the hiring of more black faculty members across all academic disciplines and a UC Davis Afro-House for black students who are in need of affordable housing or a safe space.
According to Vice Chancellor of Student Affairs Milton Lang, UC Davis supports and continues to support Black Lives Matter and Davis Stands with Ferguson in creating a more inclusive and diverse community. Although several campuses across the country, like Purdue and Oberlin, have been more skeptical of supporting Black Lives Matter due to the recent events at the University of Missouri, Lang ensured that UC Davis will continue to give support to Black Lives Matter on campus and defend the students' First Amendment right to free speech. He also said that UC Davis will continue to work with Davis Stands with Ferguson and their set of demands.
"If those (list of demands) are concerns of our students, I think we should sit down at the table and talk about those concerns and address them in ways that will allow us to move forward as a community […] and work in partnership with our students," Lang said.
Written by: Sangeetha Ramamurthy – campus@theaggie.org