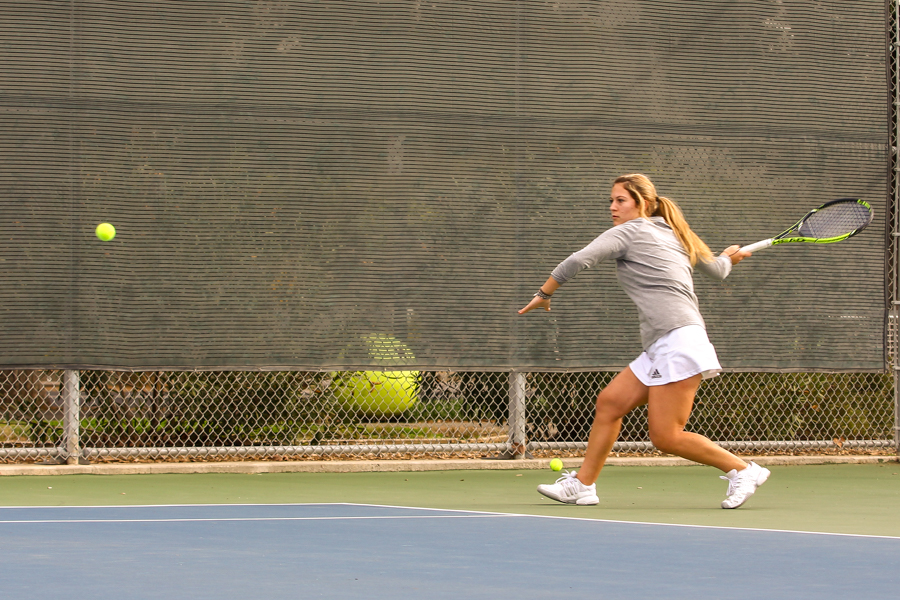 UC Davis women's tennis falls 6-1 to Santa Clara in Saturday match.
Due to uncooperative weather, the Aggies moved their first official home match on Friday, Jan. 29, to an indoor tennis facility in Sacramento. The following day, with weather on their side, the Aggies played at the Marya Welch Tennis Courts against Santa Clara University. Despite the late nights, the Aggies showed no signs of fatigue and played to their fullest capabilities, though ultimately lost 6-1.
Facing the offensively tough Santa Clara, the Aggies showed their true colors through resilient defense and long rallies. Sophomore Kristy Jorgensen won her first singles set 6-0, but fell 6-4 in the second set. In the third, she played to her opponent's weakness, setting up long rallies through lobs and strategically placed corner shots that changed the pace of the game. Jorgensen came back from 5-2 to 5-4 in just a few minutes, but she made a couple of unforced errors into the net and lost 6-0, 4-6, 4-6.
"Kristy Jorgensen is very talented. Winning the first set 6-0 […] she is unbeatable when she is on fire," said Head Coach Bill Maze. "She's working on dealing with those times when she's not on fire as much, but I just love how hard she fought in the match."
Senior Tiffany Pham won her match in straight sets, 6-2, 6-0, and won the only singles point for the Aggies. Santa Clara took the other five singles matches, but the score in no way reflected the Aggie's overall performance and skill level. Sophomore Lani-Rae Green was up 3-0 in the second set, but was overtaken and lost 6-3,6-4.
Juniors Kamila Kecki and Frederique Sleiffer took the sole Aggie win in doubles. They went on to play tight singles matches, but both fell 6-3, 6-3, to their respective opponents.
"We need to work on our aggressiveness as well as being […] defensive. You [have] to have offense and defense and smarts, so we are working on all three of those things," Maze said.
The Aggies have four away games in the following weeks, starting with San Diego State on Saturday, Feb, 6.
Written by: Julia Wu – sports@theaggie.org