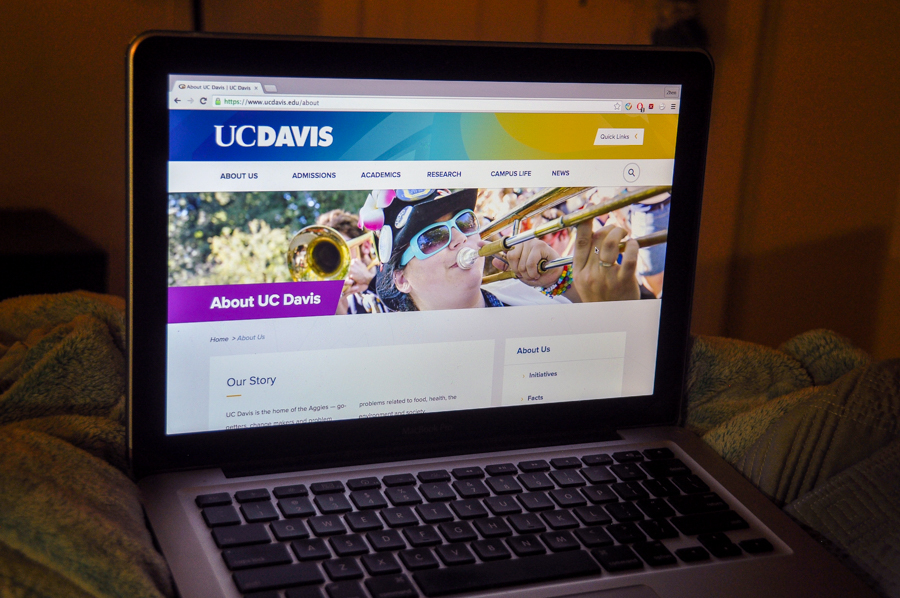 Updated website adds information on admissions, educational programs, campus life to homepage
On Jan. 19, UC Davis launched its redesigned website, which provides easier navigation and more content for current and prospective students as well as parents and staff.
Staff from departments including strategic communications, information and educational technology, undergraduate admissions, student affairs marketing and communications spent 18 months working on the redesign. They asked prospective and current students what updates they would like to see to the website, and watched how students used the original site to determine what changes would be made.
The team working on the website reviewed the old site to see what was popular and looked at other universities' websites and sites like The Huffington Post and BuzzFeed for ideas.
"We wanted something to serve the audience a little better, so we did a little research on what the audience looks for," said Tom Watts, lead interactive web designer for UC Davis strategic communications. "The website is keyed for prospective and current students, so we aimed toward a younger audience."
On the new site, students can find pages with information on admissions, educational programs and updates on campus life.
On the News & Information page, research news is now combined with university news. At the top of the page for each story are links to the UC Davis news site's top stories and the UC Davis Facebook feed.
Andy Fell, associate director of news and media relations, believes the website has a more attractive and modern look that will now truly represent UC Davis and all that it has to offer.
"We wanted a better website, one in line with a modern look and attractive front door for the university," Fell said. "The new website tells the story of UC Davis in a more engaging way. The school knows this is a great university, but now the world will know as well."
The team will continue to add new features to the site, such as features catered toward prospective graduate students.
Angelica de Jesus, a second-year civil engineering major, feels that the website has captured the essence of UC Davis.
"The website is so unique and eye catching now, [and] it has a cool opening video that is inspiring and a true representation of what Davis is all about," de Jesus said.
To explore the site, visit ucdavis.edu.
Written by: Demi Caceres – campus@theaggie.org