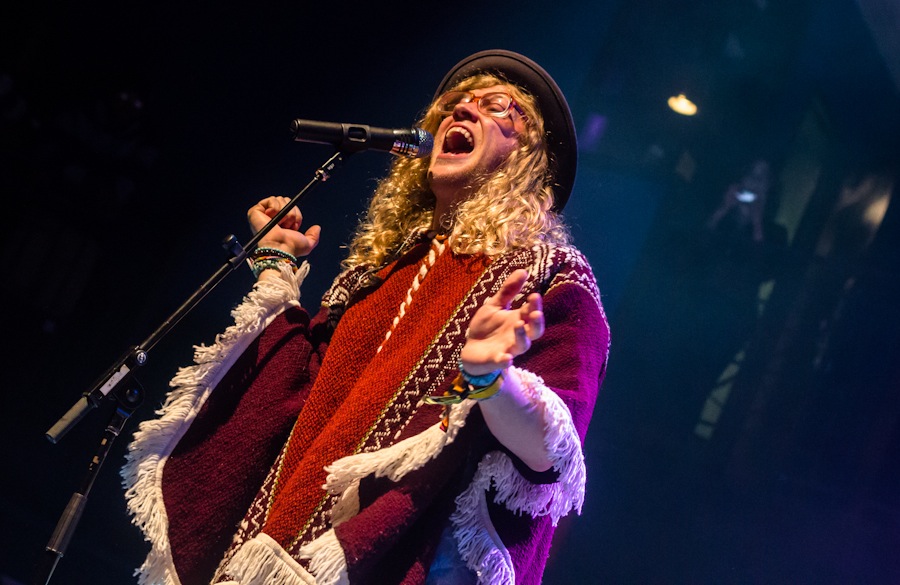 In no particular order, here are some of the least recognized — but most worthy — songs for your Valentine's Day playlist.
"When I Get My Hands on You" – The New Basement Tapes
This Valentine's Day, treat yourself to a musical phenomenon involving three amazing things: Bob Dylan, unreleased content and an unfathomable amount of love captured in very few words. The New Basement Tapes, an undertaking assembled by T Bone Burnett, is a project that has some of today's leading artists (Marcus Mumford, Elvis Costello and others) performing the never before released manuscripts of Bob Dylan himself. Did I mention musical phenomenon?
"Can't Help Falling in Love" – Haley Reinhart
Yes, this is the song from the Extra gum commercial. But it's worth a listen not for the lyrics, which are both commonplace and lack ingenuity, but for the haunting fluctuation of Reinhart's voice. You'll get chills at 2:32.
"Love" – Allen Stone
Though the title doesn't suggest its complexity, this song takes an interesting — and groovy — perspective on an old moral. "Treat others how you want to be treated" never sounded so sublime: "Love: what a reflection / Love: it's a natural fact / Love: every bit you create you get back."
"Julep" – Punch Brothers
Punch Brothers have to yet to release something that isn't borderline genius, so here is — with much justification — their most popular single. This song, more about the concept of time than star-crossed lovers, presents an interesting notion: where does love stand in relation to time? According to the magnificence that is synchronized mandolin, guitar, bass, violin and banjo, the two are irreversibly intertwined.
"Soul is Fire" – Elliot Root
If being told, "Baby, your soul is fire" isn't enough to get you going, the intensity of the chorus certainly will. This up and coming alternative group, having risen to prominence within the past year and a half, have released three EP's that will instantly become a staple in your day-to-day playlist. Krueger's voice is not one to be easily forgotten.
And for those who haven't been hit by Cupid's arrow, here are some more relatable tunes:
For the hopeful single: "Heartbreak Road" – Ryan Montbleau
This cover of Bill Wither's classic maintains the original's post-breakup optimism, but has a modern sound that resembles the likes of Allen Stone, Gary Clark Jr. and even Lake Street Dive. It's rare that a love song can spew advice without sounding trite, but Withers — and decades later, with the help of Montbleau — manages to accomplish this with ease. If you refuse to take your mother's dating advice, at least take Withers': "You ain't never gonna understand it / Till you've been all down in it."
For the hopeless single: "Lonely" – Anderson East
Self-pity never sounded this pleasant, thanks to an amazing horn section supporting East's gravelly voice. This tune brings raw human emotions to life: our sometimes-painful indecisiveness, our natural tendency to regret, but most importantly, our ability to evolve.
The gentle breakup: "The Mates of Soul (Remastered)" – Taylor John Williams
Upon first listen, with its sweet melody and William's smooth vocals, this song seems like a typical love ballad. But the lyrics are surprisingly (and might I add, hilariously) incongruous as we discover that this song from The Voice semi-finalist is actually about a serial heartbreaker: "Said I never believed in the mates of soul / so I never once claimed that I know / that you're the only one for me." If only breakups actually sounded this poetic.
The ugly breakup: "Baby Blue ft. Chance the Rapper" – Action Bronson
The lyrics can summarize the song's purpose on this list better than I ever could.
When you roommate starts dating: "Neighbor Song" – Lake Street Dive
When your roommate starts dating, well, you gain another roommate and Lake Street Dive perfectly captures this all-too-common college experience. For those who did not attend this group's performance at the Mondavi Center back in November, first of all, you missed out. Secondly, this song is unforgettable; Rachel Price has more strength in her vocals than the stage beneath her. Keep an eye out for their upcoming album, Side Pony, expected to release Feb. 19.
Written by: Ally Overbay – arts@theaggie.org