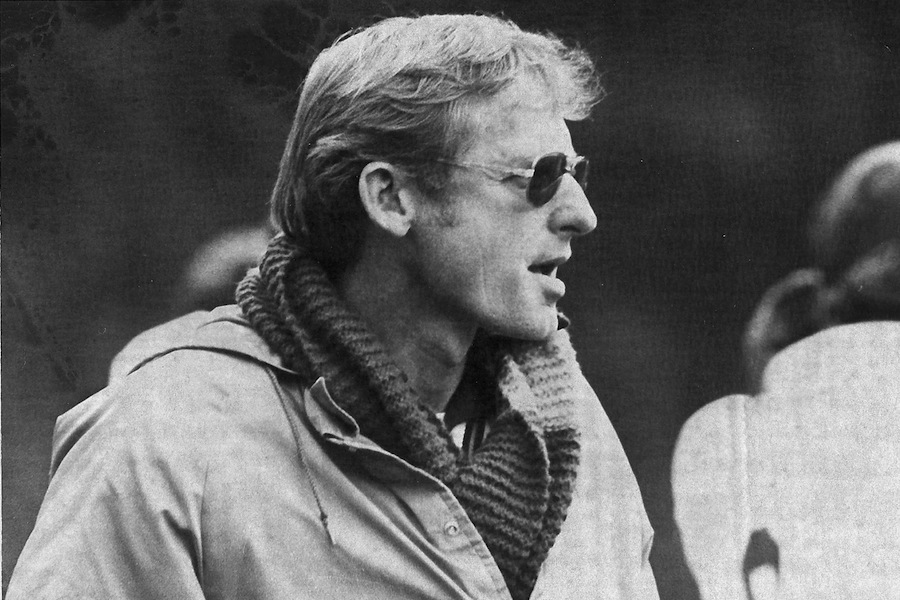 Past players, coaches reflect on the life, career of historic football coach Jim Sochor
"Aggie Pride," the schoolwide phrase that every UC Davis student uses or sees around campus, was coined by Jim Sochor, the man who coached the UC Davis football team to 18 consecutive conference championships and to the 1982 Palm Bowl. Mr. Sochor earned his respect from his team and staff and maintained it with proven and consistent success on the field. Of all the losses the Aggies have suffered (and, during Mr. Sochor's reign, there were very few), none was as saddening as the loss of Sochor himself after a battle with cancer on Nov. 23, 2015 at age 77.
A graduate of San Francisco State University (SFSU), Mr. Sochor began his football success as the quarterback who led SFSU to three consecutive league championships from 1957-59. He later became an assistant coach for the SFSU team, gained his master's degree in physical education and eventually came to UC Davis after completing his doctorate degree in education.
As head coach from 1970 to 1988, Mr. Sochor helped the Aggie football team reach new heights of success, boasting an overall 156-41-5 record over nearly two decades of work.
"He spoke with great conviction," said Ron Gould, the UC Davis football team's current head coach. "You were always captivated by the things that he would say […] the little remarks."
Chris Petersen, a former player and coach for Mr. Sochor at UC Davis who is currently the head coach for the University of Washington, said that, while he had to adjust to Mr. Sochor's presence and coaching methods, he has adopted many of them into his own coaching techniques..
"He never raised his voice to anybody, but you knew exactly when you disappointed him or hadn't done right," Petersen said.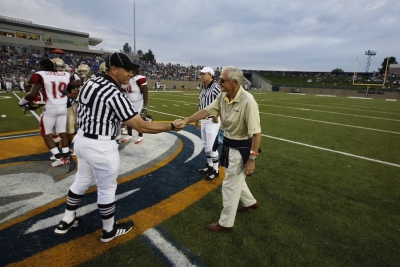 In a 2007 interview with the UC Davis Athletics Department, Mr. Sochor said that the core values of his teams were unity, trust and togetherness. His goal of changing the team's culture into a close-knit family became a successful method for the Aggies. His most famous rule was that the helmet, unless on a player's head, was never allowed to touch the ground at any moment in time.
Mr. Sochor coached 10 Aggies who went on to play professionally in the National Football League and had players and members of his coaching staff who also went on to become coaches, including Bob Biggs, who served as the Aggies' head coach from 1993-2012.
"My being his first quarterback, there was trust between us," Biggs said in a phone interview. "He trusted me as a player, and I trusted him as a coach."
Biggs played for Mr. Sochor and coached with him after his graduation.
"As much as anything, [I carried on] his organizational skills and his easygoingness," Biggs said. "He molded players not just as players, but as people."
The values that Mr. Sochor preached to his staff and team have resonated throughout generations and are repeated by Gould.
"I didn't know a lot about UC Davis in terms of the university [when I arrived to coach], but I knew a lot about Coach Sochor, a lot about his philosophy, a lot about how he did things," Gould said. "Talking to a lot of players who've coached under him, they just raved about him. They talked about a lot of different things: about team, about family, about togetherness and unity."
After his tenure as a head coach in 1988, Mr. Sochor served as UC Davis' athletic director until 1991. He then went on to become an offensive coordinator for the Scottish Claymores in NFL Europe in 1996 before retiring in 1998. Mr. Sochor was inducted into the College Football Hall of Fame the following year, and he was awarded the Ronald L. Jenson Award for Lifetime Achievement by the Positive Coaching Alliance in 2008.
"I had him come out and speak to the team a couple times, and they loved him," Gould said. "I had a hundred players just glued into him, they are all sitting on the edge of their seats, listening to him and he obviously got a standing ovation when he was done, but the players just absolutely adored him [and] had a tremendous amount of respect and admiration for who he is."
Even now, Mr. Sochor's lessons live on, as those who had witnessed and heard of him view his values as a proven foundation for success. The Jim Sochor legacy forever lives on in Aggie Stadium, as the team and university he glorified continue to play on a field in his name.
Written by: Veronica Vargo – sports@theaggie.org