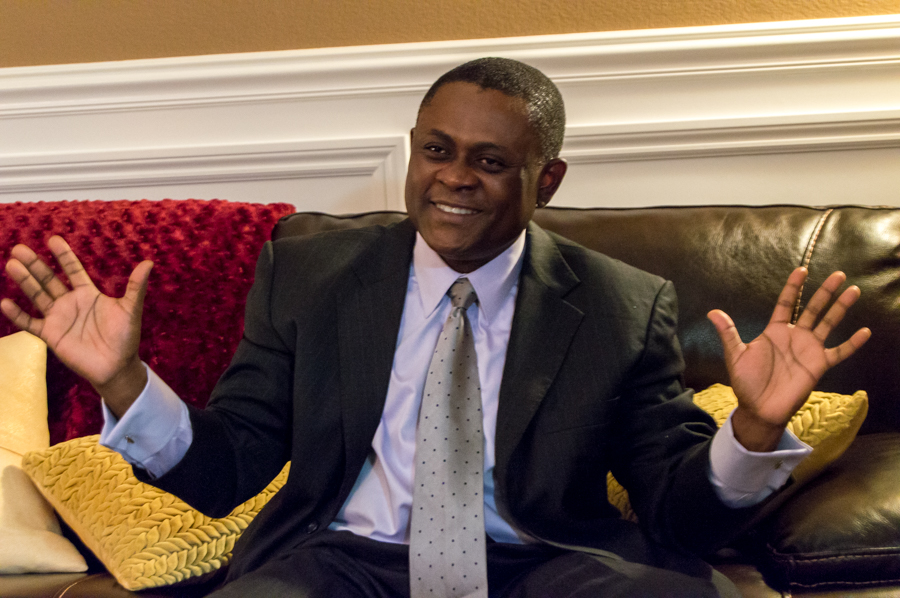 UC Davis professor Dr. Bennet Omalu discusses medical discovery, recent movie release about his research called "Concussion"
The National Football League (NFL) built its multi-billion dollar empire by providing widespread access to an exhilarating sport: football. It was an untouchable institution.
The NFL's invincibility lasted until a young Nigerian forensic pathologist discovered a disease, which he named chronic traumatic encephalopathy (CTE), rooted within the minds of some of football's greatest players.
That forensic pathologist was Dr. Bennet Omalu, the chief medical examiner and sheriff-coroner of San Joaquin County and an associate clinical professor of pathology at UC Davis. Omalu received his Doctor of Medicine (MD) degree from the University of Nigeria in 1991 and came to the United States in 1994. He currently holds eight degrees.
"When I came here [and] saw this disease, first I was surprised — I was shocked that no one else had seen it or described it," Omalu said. "I thought, honestly, that that was un-American."
In 2002, Omalu found the body of famed former Pittsburgh Steelers quarterback Mike Webster on his autopsy table. Webster had been suffering from depression, dementia and bone and muscle pain before passing away from a heart attack.
"There was something I was expecting to see: a brain that was damaged by repeated blows like you would see in boxers," Omalu said. "But when I opened up his skull, his brain looked as normal as every other normal brain you would see. So, in fact, I was embarrassed by that."
After sifting through medical literature, Omalu sent several pieces of the brain tissue for analysis. The results showed an abnormal buildup of protein within Webster's brain that was caused by repetitive sub-concussive blows to the head. This protein choked his brain of normal functioning and fundamentally changed him both as an athlete and as a person.
"Retired players were going crazy after retirement, and nobody figured it out," Omalu said. "That intrigued me, that something could be wrong here and people chose to look the other way. […] I chose not to keep quiet. [I] chose to use my voice, my education and my knowledge given to me by America to become the voice of the voiceless."
With the help of various other medical professionals, Omalu published a paper detailing his findings in the NFL-endorsed Neurosurgery journal. The NFL responded with a letter accusing him of fraud and demanding the paper's retraction. However, the NFL could no longer ignore the issue after the suicide of two more ex-NFL football players within a year.
"A concussion will give you a false sense of danger," Omalu said. "You may suffer one or two concussions in your lifetime, but you may suffer five thousand blows to your head. The issue is about exposure to repeated blunt force trauma of the head. And if the NFL admits that, they are pretty much admitting that playing football is inherently dangerous, which is what it is."
Even with papers and the commotion amongst NFL players, public knowledge of CTE was relatively restricted until 2013. Despite the NFL's best attempts to keep the matter under wraps, Sony Pictures Entertainment announced that it was producing Concussion, a major motion picture film based on Omalu's discovery. With Will Smith playing the role of Omalu, the film immediately put CTE and the NFL into the spotlight and under the nation's most critical eye.
"Already, this movie has made an impact," Omalu said. "Congress is already calling a mini state house of assembly and I don't think the risk of football has ever been discussed as much as it has since this movie came out, so it is instigating a change in thinking."
In 2015, the NFL put another preventative measure in place by introducing an independent certified athletic trainer (ATC). The spotter can stop the game at any time if they see a player with a potential concussion, who must then get the ATC's approval to continue playing.
UC Davis has adopted similar protocols and practices in response to the potential dangers that athletes face during play. Specialists are on-field during games to diagnose and evaluate head, neck and spine injuries that might occur over the course of a game.
"There's a lot of neck strengthening […] so that in a whiplash situation, you might be able to control your head a little more," said Tina Tubbs, the director of sports medicine at UC Davis. "I think the biggest thing that we can do is early diagnostics, correct diagnostics and doing a very thorough return-to-play program of making sure we're going through the proper stages and giving it proper rest."
Tubbs stresses that there are various ways of getting a concussion that don't involve contact with the head, such as whiplash from falling and getting hit near the head.
"It's very difficult to prevent a concussion," Tubbs said. "For a sport like football, it's not just a contact sport, it's a collision sport."
In an opinion editorial for the New York Times, Omalu wrote that children should not play high-impact contact sports, like football, until age 18. He said that it is the moral obligation of society to protect children and that no adult should be allowed to make a potentially life-altering decision for a child.
Although prohibiting minors from participating in high contact sports would be effective in managing the proliferation of concussions, this may be unlikely to happen anytime soon.
"For kids in the inner cities, [football is] their way out, and that's all they've been taught from a young age," said Shamawn Wright, a fourth-year sociology major and UC Davis football player. "There's no way you can really stop concussions from happening because it is so physical."
Growing up, Wright lived in a broken home that provided him little help through school; football was his chance at having a college education.
"I had to sacrifice my body and I'm okay with that because it's what I had to do to get my way out and provide for my future family," Wright said. "But if my kids don't want to play, then they don't have to. I'm not going to force them to because I don't want them to grow up with brain trauma."
As a former college football player and now the head football coach at UC Davis, Ron Gould believes that doctors are the only individuals qualified enough to make claims that young kids should not be playing high-impact contact sports.
"I think the most important thing, whether your kid is under 18 or not, is making sure that their coaches are teaching them the right way to tackle," Gould said. "You have to make sure that they are being taught the right techniques because the kids are so much bigger, stronger and faster than before, so the collisions are going to be much harder."
Football is a significant part of American culture, and many people have difficulty envisioning the sport's eradication. However, if the issue with concussions isn't addressed soon in the form of large-scale outreach and legislation, the number of athletes at risk for severe brain disease will only increase.
"America is suffering from a sort of intoxication with football," Omalu said. "What we are letting human beings do to each other is barbaric. That does not belong in the 21st century. […] We must let things belong in the past. Let us do things in smarter ways for our children."
Written by: Bryan Sykes and Lisa Wong – sports@theaggie.org