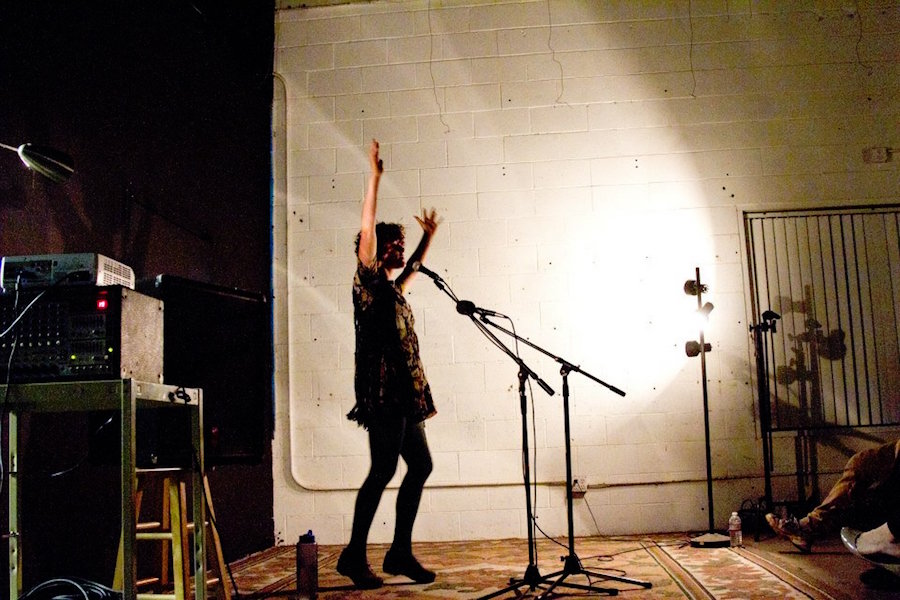 Become a storyteller at Third Space
This Wednesday, Feb. 10 at 7 p.m., the Third Space Art Collective welcomes the ShortsNLongs storytelling series back for its one-year anniversary.
ShortsNLongs is a series that meets once a month at Third Space and started a year ago as an open platform for people of all ages, backgrounds and abilities to come and tell a story.
Lisa Cantrell, the organizer of ShortsNLongs, said that they chose to set up storytelling events because they are easy for people to get involved in.
"Everyone can participate. Not everyone is a musician, not everyone is an artist that can exhibit, but every single person has a story and can tell it," Cantrell explained. "People like telling stories and people like hearing stories; it's something that everyone enjoys."
Since this month is ShortsNLongs' birthday, they're changing the event to celebrate.
"We're having a special event where lots of people who have spoken in the past year, the favorites, will tell another story. We're going to have five to seven storytellers, and four or five of them are familiar people telling a new story. And I think we're going to have some birthday cake," Cantrell said. "We also have a special announcement to make, that's going to help us build community and support Third Space!"
Their venue, Third Space, has long been a pillar of the artistic community in Davis, because of its commitment to freedom of expression.
"[Third Space] was just the obvious place to do it [because you] can potentially hold a lot of people and people can actually listen. That's why Third Space exists in this community is to hold events and bring people together," Cantrell said.
Even though the event is free, they do ask for donations to try and support Third Space to continue its community role of bringing people together at ShortsNLongs.
"Afterwards, people stay and chat.  [It is] often just people connecting in general, more than about the stories," said Truman Young, a professor of plant science, restoration ecologist and repeat performer at ShortsNLongs. "Most people tell great stories and they're so interesting, and it's nice to see people who have the courage to expose themselves. It doesn't have to be prepared or insightful, just important to you or memorable, and people want to hear you. It's a fun event!"
With such an encouraging premise, it seems like it would be easy to turn up and tell a story. Cantrell explains further that it's actually even easier than that.
"It's so human, every single person tells stories. When you meet someone, how do you describe to that person who you are? You tell them stories about things you did in high school, things you did yesterday, something you did a year ago, which tells people who you are. It's how we form our identities," Cantrell said. "I've said to a couple of nervous people that I'll listen to their story and we can work on it and smooth it out. We can help storytellers who don't consider themselves performers, because this is for everyone."
They typically have a theme, that co-organizers Beth Hopkins and Cantrell will decide together, and this month it is "Love, Lust, Lost."
"[Past] themes have been "Caught Red-Handed" and "Buses Trains and Planes", but it almost doesn't matter what the theme is, it's just to get people thinking," Cantrell said. "Most of the stories lean towards being humorous or surprising, but some are shocking or sad. Beth has told a story about her father dying.  Another person told a story about being depressed for a long time and how she came out of that. There's a good range I think".
Young is a repeat performer at ShortsNLongs, which is unusual, as most people will tell one story and listen to the rest. He decided that he wanted to use the space to improve his art as a storyteller.
"I learn by listening to other people's stories, and things they try that maybe don't work, and try and incorporate them into my stories. By telling them I practice them," Young said. "Usually the stories are personal, or sometimes traditional stories, so up till now I've drawn on things that have happened in my life."
Ed Lewis, a professional storyteller and retired early education professor, has performed at ShortsNLongs a number of times and is part of the National Storytelling Network (NSN). According to Lewis, the NSN is an organization that aims to preserve storytelling for the adult community and to train people to be storytellers in schools.
Lewis met Cantrell through the Sacramento Storytellers Guild, which she attended for some time before starting ShortsNLongs. He praised her creation of a storytelling event in Davis.
"Most people in the storytelling community are 40 to 80 years old.  I really enjoy hearing the stories from the younger generation and trying to keep that tradition alive," Lewis said. "ShortsNLongs is a younger crowd, and a great environment for everyone. Professional storytellers like myself will go to events, and it gives us a chance to practice."
He believes it's important to pass on the storytelling tradition to young people, to allow it continue to flourish and to grow people's' imagination.
"We get a lot of great media with television and movies, but when we see them the images are already put in your head. As a storyteller, it's my job to create really evocative images and for you to create your own pictures," Lewis said.
Check out the Facebook event for more information. ShortsNLongs can also be reached on their Facebook page or by email.
WRITTEN BY: Kate Snowdon – arts@theaggie.org