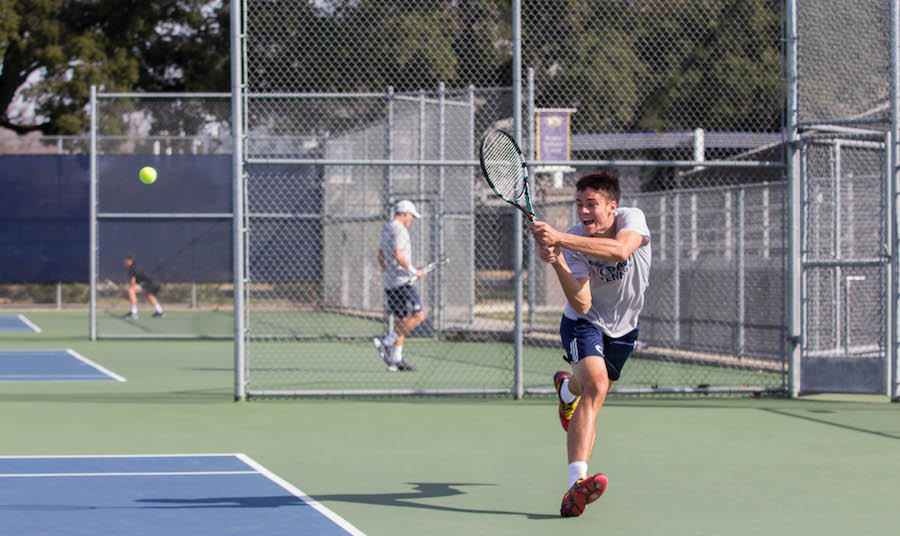 UC Davis men's tennis team 8-3 overall after 11 matches in 18 days
Immediately starting a season on the road is a tough task in any sport. This was no exception for the UC Davis men's tennis team, where the first week of regular season play consisted of three matches in four days against all top 50 opponents.
The season got off to a tough start for the Aggies, who came into the season ranked #57 by the Intercollegiate Tennis Association as they faced #18 Stanford and #8 USC, losing 4-0 and 7-0, respectively.
Luckily, the team got a tough win against #33 Pepperdine, with contributions from junior Bryce McKelvie and sophomore Tommy Lam. The pair got a doubles win and won their singles matches as well. The win helped the team get some confidence in the early stage of the new season.
"I think we competed well [in] all three [of the matches]" said Head Coach Eric Steidlmayer.  "To get the win over Pepperdine, [a] storied program, that's cool, really cool […] I think it does give you a boost of confidence."
In this week's play at Marya Welch Tennis Center, the Aggies went 4-0. In their matches against Hawai'i on Feb. 2 and the University of San
Francisco on Feb. 6, the men's team won 6-1 in both matches. And on Sunday, Feb. 7, the team shut out both Holy Names University and Sonoma State 7-0, in a double header. The team has a 6-1 record after losing to Abilene Christian at the end of January in Colorado Springs.
The Aggies are undefeated at home this season and even won a match that was scheduled to take place in Stockton. Instead, the contest took place in Davis against #72 University of the Pacific, whose court was under construction. The Aggies have now won 14 straight home matches, dating back to 2014.
The team has an exceptional home record, in part due to the more comfortable environment.
"Being home is the best," McKelvie said. "It's fun traveling, but with school and everything, especially playing at our own place, it's nice because I just get to go home and hang out."
In light of the team's recent successes, McKelvie was named the Big West Conference men's tennis player of the week on Feb 3.
"I enjoyed it," McKelvie said. "I've been playing pretty good so I feel like if I keep improving and keep working on things I'll be able to get some more awards."
McKelvie is the eighth men's player in the program's history to be honored with the award, and the first since Everett Maltby, who earned it in April of last year. After this week's play, McKelvie registered three more wins for a total of nine straight in singles competition.
After playing in multiple fall tournaments, the team took a two-and-a-half month break before starting back up in late January. As a young team the year prior, the Aggies have kept the same lineup, which has allowed them to grow close and battle for one another. Throughout matches, whether singles or doubles play, the players look over to cheer on their teammates. Encouragement is needed in a season that tests one's mental and physical endurance.
"If I was to say there's one [improvement], it's just the fact that more guys understand what we're about here," Steidlmayer said. "They learned last year that we're about improvement. We're about mental maturity and growing that."
As last year's co-regular season Big West champions, the Aggies want to keep the momentum and push for another title. Not only do they want to repeat their victory as conference champs, but they also want to find a way into the NCAA Division I Men's Tennis Championship. After facing tough opponents early on, the team has breezed through their schedule. The stiff competition forced the Aggies to push themselves to get better even when the weather did not permit it.
"Well, it's a challenge. But you know what, I'm really appreciative of my players because we basically lost only one day of practice to rain," Steidlmayer said. "If it's raining in the morning, we're practicing in the afternoon. If it's going to rain in the afternoon, we're practicing in the morning. And guys are finding a way to make that happen."
The team can enjoy a week long break, after playing 11 matches in 18 days. With the forecast looking nice for the upcoming matches, the Aggies will put some good work in this week, but are getting well-deserved time off.
The Aggies, now ranked 53 in the nation, look to make their sixth victory in a row in next week's Causeway rivalry match against Sacramento State on Sunday, Feb. 14.
Written by Michael Martinez – sports@theaggie.org