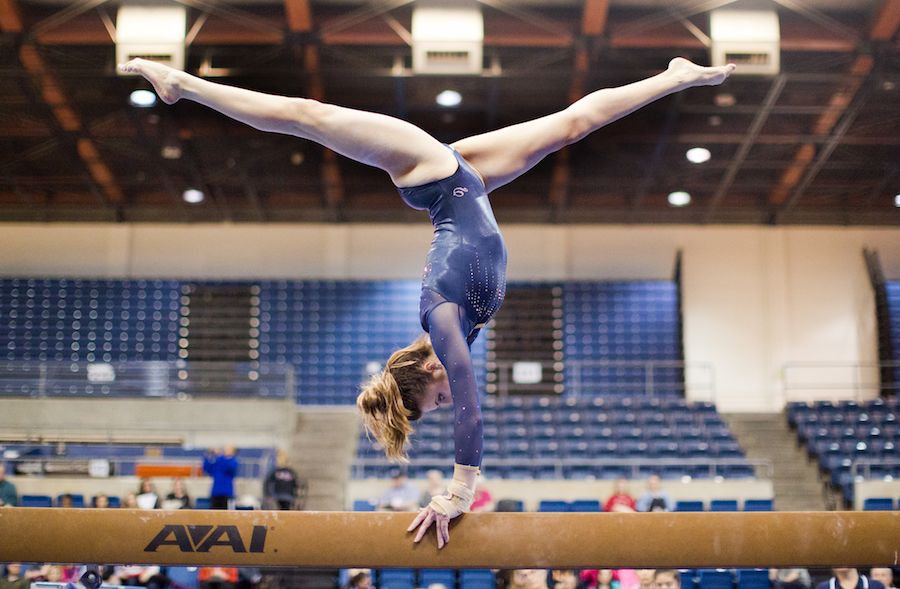 UC Davis defeats San Jose State University, 194.375 to 194.225
The positive energy was palpable in the ARC Pavilion during the UC Davis women's gymnastics meet on Feb. 5 against San Jose State University. With fellow UC Davis athletes crowding the stands, the Aggies were able to pull through with a slim victory, coming in at 194.375, just surpassing SJSU, who finished at 194.225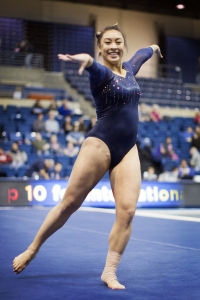 overall.
Sophomore Alexis Brown earned a win in three events, with an individual score of 9.825 on the vault, 9.900 on the bars and 9.825 on the
beam. Brown kept a positive attitude throughout the whole meet and stayed focused on each of her events.
"It was so exciting to see my teammates do so well and knowing that we can come back and fight even through adversity," Brown said.
Brown performed exceptionally in all of her events throughout the night. Her personal favorite was her achievement on the bars.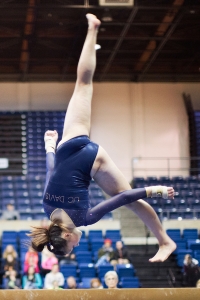 "My favorite part was when I stuck my dismount on the bars," Brown said. "I don't do that very often so I just started screaming right away, knowing I did my best routine."
Coming in second to Brown on the beam, senior Stephanie Stamates received a score of 9.800, and also excelled on the floor. Stamates' incredible and energetic performance on the floor was evidenced through her score of 9.850.
Senior Dani Judal participated in all events, doing the best on the bars and coming in with a 9.800, just behind teammate Alexis Brown. She earned a 9.700 on the vault, 9.275 on the beam, and a 9.775 on the floor, tying freshman Yasmine Yektaparast.
Yektaparast, who was named Newcomer of the Week by the Mountain Pacific Sports Federation at the last meet, came in behind her teammates on the vault with a score of 9.550. She inched past fellow teammate and freshman Kara Jones on the floor with a score of 9.775 to Jones' 9.750. Jones participated in three of the four events, tying sophomore Miranda Holder with a 9.725 on the vault, while losing some speed with a 9.250 on the beam.
Coach Lavallee has big plans for the team as they move forward.
"I'm not too worried […] and hopefully we'll start scoring up in the mid-195's and get to where we want to be," Lavallee said.
The Aggies will travel to Washington to take on the Seattle Pacific Falcons on Feb. 12.
Written by Iman Farahani – sports@theaggie.org