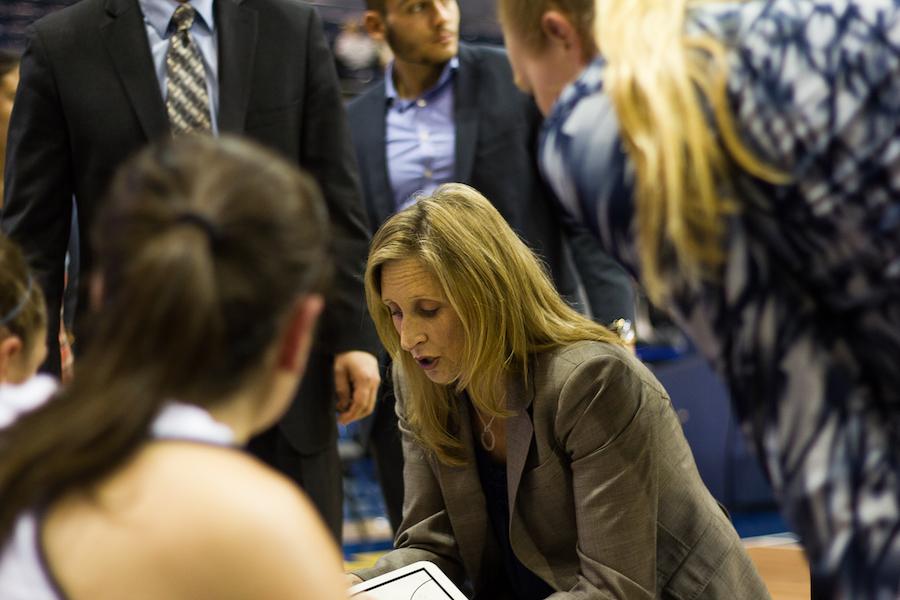 The Aggie sat down with women's basketball coach, Jennifer Gross
Jennifer Gross has dedicated a large part of her adult life to the UC Davis women's basketball program, and with her involvement has come a great deal of success.
During her playing career from 1993 to 1997, Gross led the Aggies to the most successful four-year span in UC Davis women's basketball history, winning 101 games in the process. Setting school records in assists, steals and three-pointers, Gross finished her collegiate career with a trip to North Dakota following a 29-3 season, for the Ags' first ever appearance in the NCAA Division II Final Four.
Becoming an assistant coach in 2004, Gross helped guide the Aggies to their first ever appearance in the NCAA Division I tournament in 2011, after their most successful season at the Division I level. The following year, Gross took over as head coach and again led the Ags into the postseason, earning a berth in the Women's National Invitational Tournament after a 17-12 season.
In high school, Gross played for perennial powerhouse University City High in San Diego, where she collected three Western League titles, a San Diego Section California Interscholastic Federation (CIF) title and led the Centurions to a state semifinal appearance. After finishing her high school career with back to back Western League player of the year awards, as well as all-CIF and all-state honors, Gross chose to venture north to UC Davis, which at the time was a small Division II program in the Northern California Athletic Conference.
"I still remember that moment, being in a national champion type of atmosphere," Gross recalled. "But it's funny because it's not the specific games I remember, or the amount of points I scored, or winning a particular game, but it was just the fun times I had with my teammates. I was really fortunate to build so many great relationships and some of my best friends today are people from that team."
One such teammate is current assistant coach Des Abeyta, who helped the Ags finish third in the Division II NCAA tournament in 1997 as a teammate of Gross. Abeyta is now back by Gross' side as UC Davis pursues a Division I title in 2016.
A constant theme of Gross' coaching style is the idea of community and the belief that the basketball team is not just a group of individuals
who share a common interest in a sport, but rather a family that goes far beyond the game itself.
When Gross was inducted into the UC Davis Athletics Hall of Fame in 2003, over 15 teammates showed up to share in her success. As head coach, Gross emphasizes the importance of relationships and connecting with everyone, and in doing so has created an atmosphere in which old players feel comfortable returning and new players immediately feel welcome.
"Personally I feel like I can relate to them, because I've been there. I've wanted it as bad as they want it. I've worked as hard as they've worked," Gross said. "But I also think if you don't have the relationships with the players to back that up, in the end it doesn't really matter. You have to be able to communicate openly and formulate trust and relationships. That connection is the foundation for a successful team."
The Aggies don't operate like most traditional Division I powers. Coach Gross recognizes that athletes come to UC Davis to compete, but also to get a top notch education. For example, in 2011, when senior guard and biological sciences major Hana Asano needed to take an anatomy lab, which was only offered on Wednesday nights (when the rest of the team typically travels to away games), Gross assigned an assistant coach to stay behind with Asano and fly out on Thursday mornings to meet up with the rest of the team, so that she was able to attend her lab.
Even in the recruiting process, Gross ensures that the coaching staff targets quality basketball players that are also quality people. Before extending offers to potential recruits, the coaching staff sits down with a prospect's family members and coaches to determine whether the athlete's character is the right fit for the UC Davis program.
"The things that drew me to Davis were the things that drew me back here as a coach," Gross said. "The program here is really special and it's unique in that there is a culture of recruiting really good quality people. There's a focus on the relationships and making sure that our players are having a great experience surrounded by awesome people."
The coaching staff itself is about as tight knit as it could be. Assistant coach Matt Klemin has been on board ever since Gross took the reigns as head coach, and before that had coached with fellow assistant Joe Teramoto while the two were in college. Gross later married Teramoto in 2010 when they were both assistant coaching.
"It's pretty awesome to come to work with your best friends and I think that spills over to our team. The relationships that we have, they see that and know that you can have fun but also care so much, and be passionate and work really hard at the same time," Gross said. "And I think that really helps with the family atmosphere we want. Our main goal really is to create that atmosphere for our program and I think we definitely have done that."
Even as spectators, fans can feel the sense of community that exists on the court below. Coach Gross has created an environment in which players feel comfortable both with one another as well as with members of the coaching staff. And this close family atmosphere has unquestionably translated into something tangible: success.
Under Gross' leadership, the Ags are off to an impressive 14-9 start in their 2016 Big West campaign, outscoring opponents by an average of 5.3 points per contest. Halfway through the conference schedule the Aggies are tied for second place and with ambitions for an appearance in the March NCAA tournament next month. There is reason for optimism given that the Aggies carry their best record in four years into this weekend's games.
Although this season's team motto is 'the time is now,' Gross represents the UC Davis women's basketball's future, not to mention a large part of its past.
Written by George McConnell – sports@theaggie.org