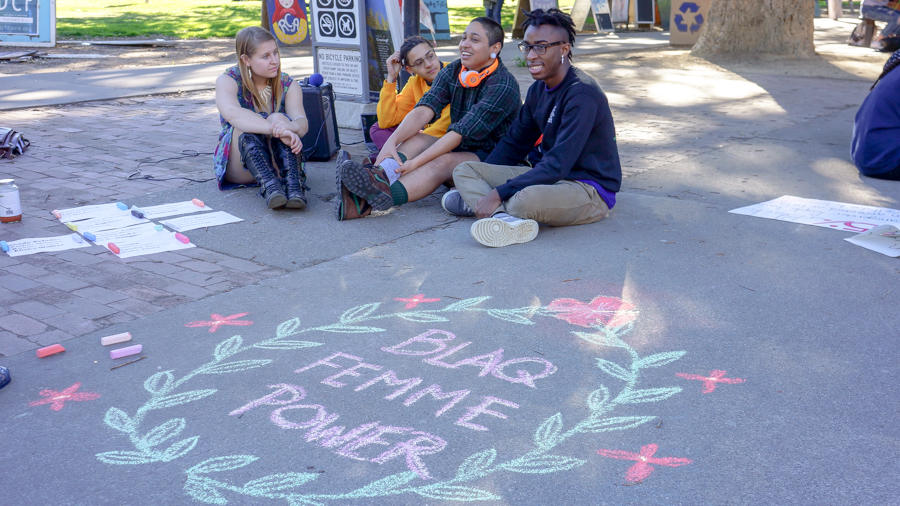 Teach-ins to address Black inequality at UC Davis
Davis Stands with Ferguson (DSF), a UC Davis club that challenges racial inequality, will be holding weekly teach-ins throughout February in honor of Black History Month. Held at the Memorial Union (MU) flagpole, these teach-ins aim to intersect structural and interpersonal experiences of violence that Black students face on the UC Davis campus.
Organized by fifth-year environmental science and management major Kyla Burke and sociology graduate student Brandon Buchanan, the weekly teach-ins address the lack of representation Black students experience at UC Davis.
"We wanted to do something to honor Black History Month," Burke said. "We wanted to focus on different issues and aspects of being Black that keep the count of Black students on campus so low."
According to DSF, the Black undergraduate population makes up only 2.1 percent of the UC Davis student body.
Since the first meeting on Feb. 1, the teach-ins have discussed topics including racism in the police state and Black queerness. Future teach-ins will discuss economic racism and injustice, tuition reform and solidarity with other communities.
Charlie Anderle, a third-year African American and African studies major and a member of DSF, presented on Feb. 8's teach-in on Black queerness and sexuality. Anderle shared their thoughts on the impact of Black representation.
"With Black folks being such a small piece of the student and overall population in Davis, I think it is important that we support one another in having our voices heard," Anderle said. "I hope that folks can take the opportunity to recognize what it takes to keep a community alive, to stay engaged in a struggle by holding one another accountable and to pour one's energy and resilience into something that is larger than one's self."
DSF has also recently published a list of demands that they want the university to implement. These demands include an ethnic studies requirement for undergraduate students, the abolition of campus police, the admission of more Black students to UC Davis and the creation of a UC Davis Afro-House for Black students. DSF believes that UC Davis fulfilling these demands will support a more welcoming environment for Black students.
Fourth-year English major Camille Iman, who participated in the Black queerness and sexuality teach-in, shared her thoughts.
"It's something that needs to be brought to mainstream conversation," Iman said. "I wanted to show up to show some support and get myself educated. I would say that showing support is an understatement; this is more of a solidarity thing."
The DSF teach-ins are open to the public and take place next to the MU flagpole. More information about the events can be found on Davis Stand with Ferguson's Facebook page.
Written by: Emma Sadlowski – campus@theaggie.org