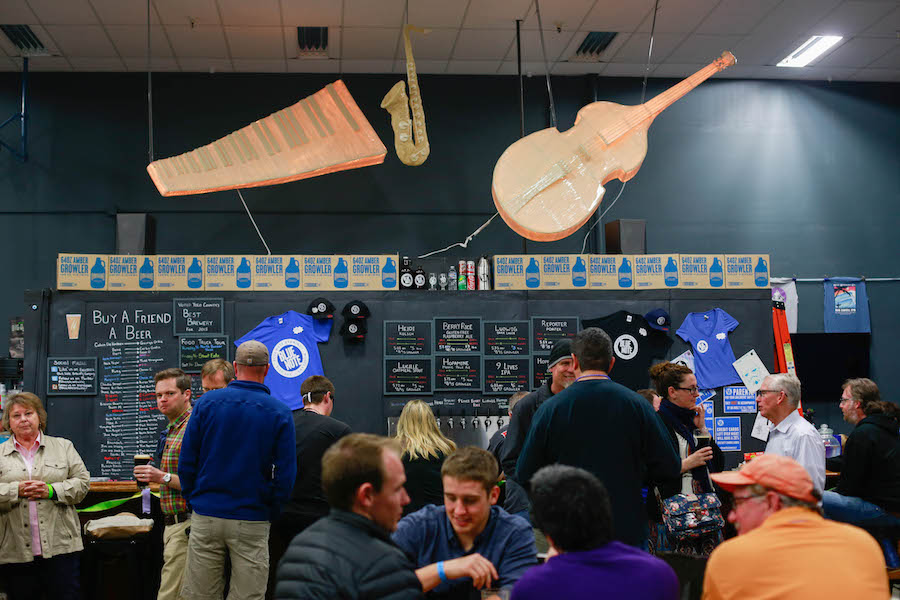 Yolo Land Trust, Blue Note Brewing Co. host fundraiser to help conserve local farmland
Yolo Land Trust (YLT) hosted a Mardi Gras party on Feb. 9 at the Blue Note Brewing Company in Woodland.  In honor of the holiday, the event included free mask decorating and barbeque from Buckhorn Grill Food Truck.
"We were looking to do an event in February, [and] Tuesday the ninth happened to be Mardi Gras, so it was just perfect timing," Conservation Associate for the Yolo Land Trust Taryn Cadena said.
YLT is an organization dedicated to protecting farmland and ranchland in Yolo County.
"We help to establish conservation easements on properties for Yolo County landowners. The conservation easements are in place forever and they're meant to keep that land farmable," Cadena said.
YLT benefits local farmers particularly. Since its establishment in 1988, it has conserved over 11,000 acres of farmland.
"We purchased a farm near Woodland over 20 years ago and when we bought it, we just wanted to put it into a conservation easement because we wanted to protect the land," said  Lynnel Pollock, an herb farmer who has benefited from YLT.
With the farm near a railroad and a highway, and in close proximity to Woodland, Pollock worried about people wanting the land to be developed. After several years, with help from YLT, she was able to conserve the land.
"Because we have been farming all our lives, we felt very strongly about protecting this land," Pollock said.
Michele Clark, executive director of YLT, hoped that the Mardi Gras event would engage the community and help people to recognize the importance of conserving farmlands, such as Pollock's farm, in Yolo County.
For every Blue Note Brewery pint bought at the Mardi Gras event, $1 was donated to YLT.
"All the money that we raise goes toward our mission of permanently conserving farms and ranches in Yolo County," Clark said. "We want people to learn more about the Yolo Land Trust […] gain a greater appreciation about how unique Yolo County is. In a lot of places, cities all run together. If you think about Yolo County […] you know the exact moment you've left Davis because all of the houses stop and there [are] farms."
Written By: Samantha Solomon – city@theaggie.org