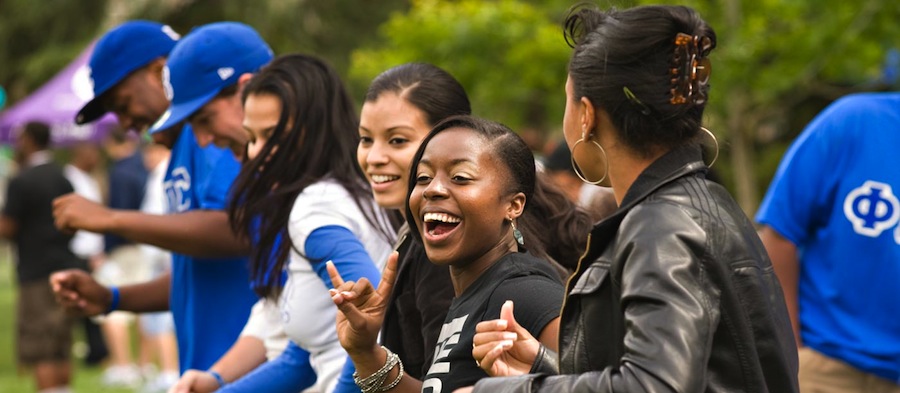 Black Family Weeks to celebrate black culture and raise awareness of African Diaspora's presence on campus
Black Family Weeks, a program run through the Cross Cultural Center (CCC), has started its annual celebration of the African Diaspora population on campus. The event started on Feb. 1 and runs through Feb. 19 with events such as cultural showcases, movie screenings and a multitude of inspirational guest speakers.
The program's theme this year is Unapologetically Black. Events are open to all and people of every background are encouraged to attend to get a sense of different African cultures and the issues many black people in America face.
This week's events will commence with a panel discussion of what it is like to be black while traveling. In addition, there will be a Nigerian dance workshop, a reading about Freddie Gray and the Baltimore uprisings and guest speaker, Bruce Smail, who will be telling his story of being a black, bisexual man with HIV.
Many different on-campus organizations make Black Family Weeks possible by contributing to the variety of programs planned for the next two weeks.
Danielle Soba, a third-year international relations major who served as co-coordinator for the event last year and is currently co-president of the Nigerian Student Association (NSA) believes that there is something for everyone to get involved in.
"There are so many programs that should spark at least one interest in students. All these programs focus on an intersection within the black community, and can be extended to other communities as well, that are crucial to discuss and address," Soba said.
Soba expressed her fondness of Black Family Weeks and how it is a vital event for the African Diaspora on campus.
"[Black Family Weeks] will always hold a special place in my heart. I will always genuinely care for the future of BFW because it is an important and necessary event for the black community here on campus," Soba said.  
Upcoming events, such as the screening of PBS documentary "Black Panthers," will highlight some of the issues that the black community still faces.
Second-year psychology major Mimi Johnson thinks events like Black Family Week are a great time for people to become aware of different communities.
"[Sometimes] we don't always get all the info from the news, so this [Black Family Weeks] is a great opportunity for people to become fully informed about issues that go on in the black community," Johnson said.
There are also events scheduled that explore the intersection between race and other identities. On Tuesday, Bruce Smail, director of the CCC, spoke of his experiences as a bisexual man living with HIV and how sexuality is viewed in the black community. Speakers like Smail provide good insight on how different communities view particular subjects.
Laura Brown, a third-year communication major, volunteers at the CCC and believes that everyone, not just members of the black community, should be invested in the topics that are being discussed during these weeks.
"We see almost every month on the news an injustice that has been done," Brown said. "Some of the things going on during Black Family Weeks will give people an opportunity to listen and learn about these issues […] We need to realize that these issues affect everyone," Brown said.    
Black Family Weeks will display events that not only showcase African culture, but also prompt people to think about the inequities in today's society.
The program will be running until Feb. 19. For more information, please follow the link.
WRITTEN BY: Krishan Mithal – arts@theaggie.org