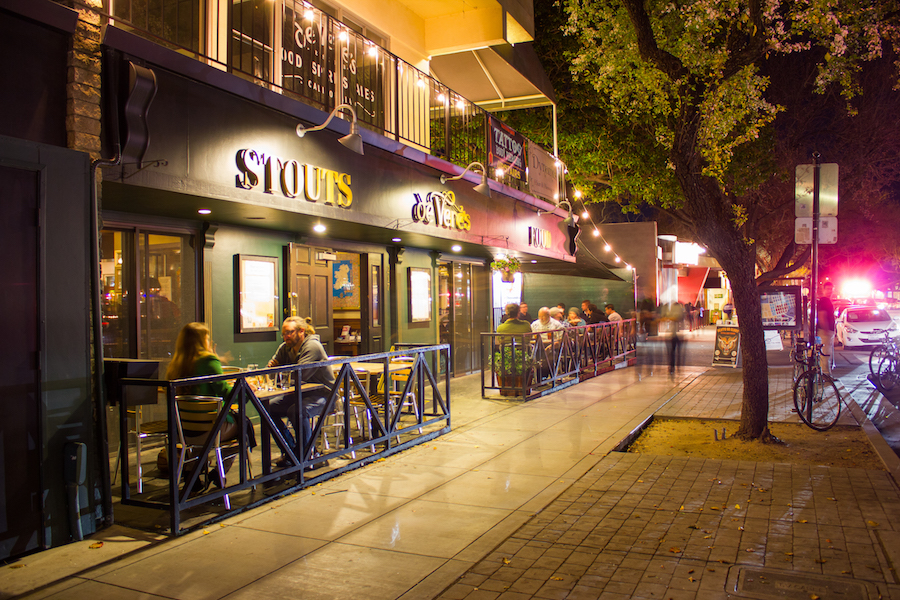 ASUCD sends out survey to gauge students' feelings towards Davis nightlife.
A rise in violent incidents in Downtown Davis has led the Davis City Council to consider new ways of keeping the Davis nightlife environment safe, with one recommendation for all downtown establishments to close at midnight.  
This past September, Downtown Davis was the site of a fatal stabbing at KetMoRee. In a staff report released by Davis Police Chief Darren Pytel, Assistant Chief Paul Doroshov and Assistant City Manager Mike Webb, the city found that the violent crime incidents around Downtown Davis entertainment venues, such as nightclubs and bars, have increased over the past five years, from 162 reported violent incidents in 2011 to 209 incidents in 2015.
"The KetMoRee incident was a crime that shook Davis quite hard," said Shaitaj Dhaliwal, ASUCD Executive Office chief of staff. "A death is nothing to go unnoticed. It is a safety issue and we want to help [the] Davis Police Department figure out ways to improve our students' nightlife safety."
In an effort to capture the voice of the study body for City Council, ASUCD President Mariah Watson, along with her fellow ASUCD leaders, issued a survey to the UC Davis student population asking a variety of questions on a range of topics from safety concerns to preferred bar closing times.
During the Davis nightlife discussion last Thursday, Watson shared that the overwhelming majority of survey respondents had expressed that they
preferred a 2 a.m. bar closure time, and that less than 5 percent of respondents reported wanting an 11 p.m. or midnight bar closing time.
"I think it's a little unreasonable for bars to close at [midnight]," Watson said.
According to Watson, since ASUCD is recognized as the official collective voice of the undergraduate student body, City Council will be looking to ASUCD to make recommendations on behalf of the UC Davis students.
"It is our hope that the survey will help City Council be steered in the best direction in regards to their measures on downtown," Watson said. "We're confident that our voices and opinions will be valued enough to not have something too drastic occur."
In addition to ASUCD, Chief Pytel is expected to present a recommendation before City Council for an ordinance that would require defined entertainment venues to have entertainment operating permits.
An entertainment permit would require establishments that have certain entertainment offerings — such as a nightclub — to meet additional security requirements.
"The entertainment permit would not allow the city to say, 'You cannot serve alcohol after midnight,'" said Diane Parro, chief innovation officer at the City Manager's Office. "However, if an establishment had certain concerns or certain instances that happened, they could get a requirement that says, 'You cannot allow new entry after midnight.'"
Parro explains that this is just a suggestion that is to be proposed and all the details are not yet established. In addition, Parro notes that City Council could also decide they do not like the suggestion, and could instead consider a zoning code revision.
"Were [the council] to choose a zoning code revision or a combination of permitting and a zoning code revision, then they could re-zone the whole downtown and say nothing downtown can be open after midnight," Parro said. "They have the power to do that. They could require a closure. So they cannot say, 'You cannot serve alcohol after midnight.' That's not in a city's purview — that's a state ability. But they do have the power to say, 'You cannot stay open after midnight' if they do it as a zoning code."
City Council will hold a meeting today where they will address the Downtown Davis nightlife issue. This meeting is open to the public and the audience is invited to give public comment at the beginning of the meeting. The meeting is scheduled to start at 6:30 p.m. with discussion about Davis nightlife slated to happen at around 9:45 p.m.
Students and members of the Davis community are invited to attend the meeting and share any thoughts, opinions and suggestions they may have with City Council. The meeting will take place at the Community Chambers located at 23 Russell Blvd.
For more information, visit cityofdavis.org.
Written by: Jennifer Puza – campus@theaggie.org