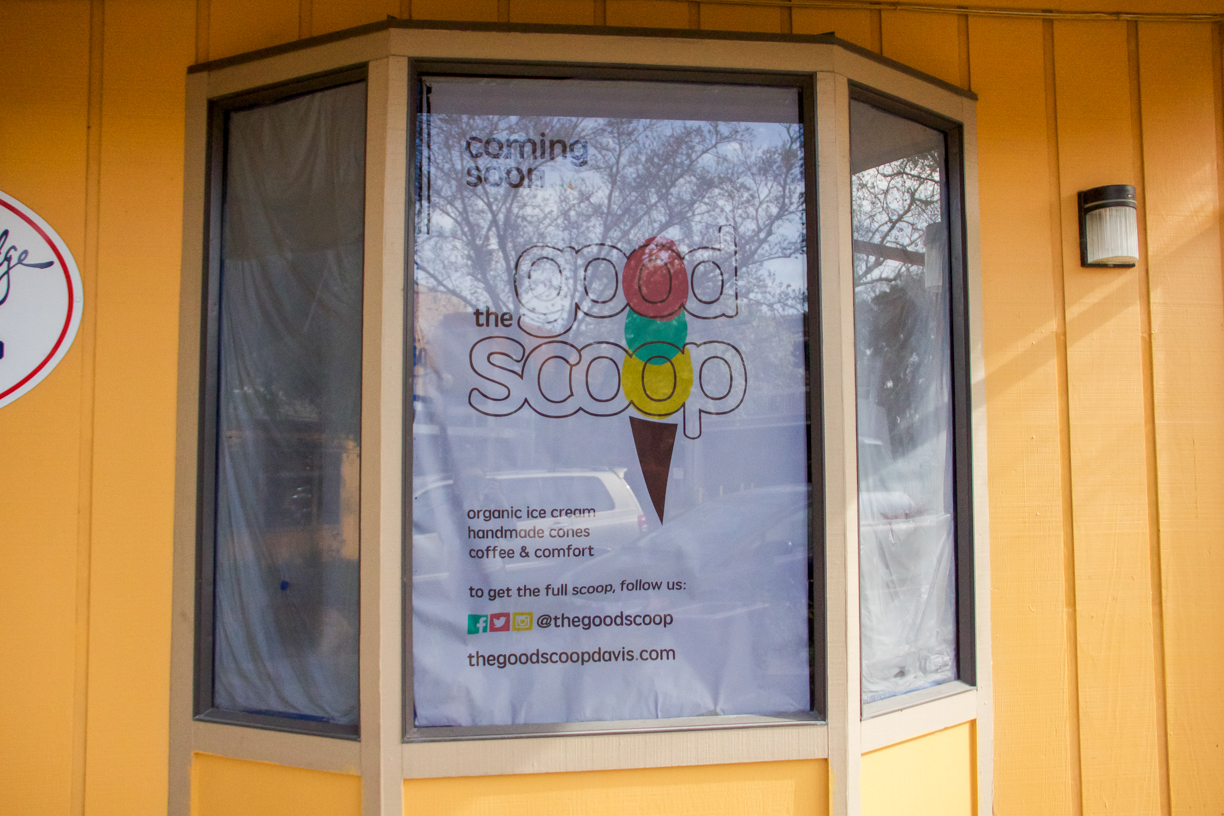 Family-owned business will bring Tara's Organic Ice Cream and Stumptown Coffee Roasters to Davis.
Sibling team Marnie and Stephen Layton will fulfill a lifelong dream when their shop, The Good Scoop, opens next month on 130 G St. in Downtown Davis.
Along with Stephen's wife, Azure, and their baby, Jackson, the family team aims to create an atmosphere in which friends can appreciate each others' company while enjoying Seattle's Stumptown Coffee Roasters and ice cream supplied by East Bay-based Tara's Organic Ice Cream.
Tara's Organic Ice Cream is created in small two-to-four gallon batches, uses no emulsifiers or stabilizers and is known for unique flavor options including avocado, saffron, sage, Turkish coffee and even Yerba Mate. Because Tara's uses seasonal flavors and spices, not all flavors are available year-round.
"We will have classic flavors including chocolate chip, coffee, strawberry and a few others, but we hope to have about six interesting flavors at once such as germanium and strawberry rose," Stephen said. "We will also carry Tara's signature classic and black sesame cones, which will be made fresh in the store."
Anthony Ruebner, the owner of The Good Scoop building, has attempted to bring Tara's Organic Ice Cream to Davis in the past, but was unable to partner directly with Tara's.
"Tara's uses creative ingredients and is organic and sustainable, so it's really popular here in the Bay Area," Ruebner said. "I've always wanted to bring Tara's to Davis, and I always thought it would be direct. Having Marnie and Stephen bring Tara's to Davis through The Good Scoop is better than I could have imagined."
Stephen also noted that The Good Scoop will accommodate special diets. For vegan customers, Tara's menu offers sorbets, lightly sweetened with agave nectar, which will be featured in the store.
For its coffee offerings, The Good Scoop is partnering with Seattle-based Stumptown Coffee Roasters. Organic pour-over drip coffee and bottled cold brews to-go will be available in addition to organic teas and boxed water. The Good Scoop will also feature Stumptown's nitrogen cold brew, which is brewed in a process that mimics Guinness beer.
According to Marnie, the team designed the The Good Scoop in order to create a community-based and student-friendly space.
"We will have 50 indoor seats and eight to 10 outdoor tables with room to expand. There will be a smaller dining area with booths designed for friends getting together, and a larger space with moveable tables and chairs that accommodate studying and working," Marnie said.
The Good Scoop will also have free Wi-Fi and extended hours for late-night customers. The shop will be open until 10 p.m. from Sunday to Wednesday and until midnight from Thursday to Saturday.
Stephen currently works as an environmental scientist and the Laytons are designing their business to be environmentally sustainable.
"Environmental values are very important to us," Stephen said. "We want everything to be compostable and we will be offering boxed water instead of bottled to reduce environmental impact."
In order to foster a sense of community at The Good Scoop, Marnie and Stephen will ask local artists to showcase their work in rotating art exhibits inside the shop. They also plan to partner with local bluegrass bands to have live music on weekends.
Finally, Stephen and Marnie are donating 1 percent of the funds from each scoop of ice cream sold to benefit World Bicycle Relief. This nonprofit organization provides bicycles to students, healthcare workers and business owners in Zambia and Zimbabwe. The Laytons' first goal is to provide 10 bicycles to the organization.
For more updates about The Good Scoop's grand opening, see them on Facebook or at their website http://www.thegoodscoopdavis.com/.
Written By: CAROLINE STAUDENRAUS – city@theaggie.org