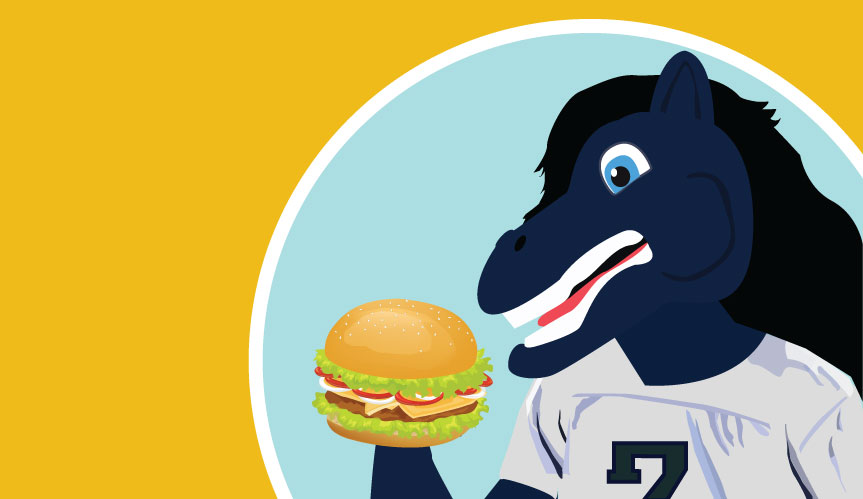 The dining commons are what you make of them. After a quarter-and-a-half of eating there every day, I'm sure the current freshman class has mixed feelings about the place. It's true, the food does get repetitive, but there is so much at the DC you may be overlooking. My favorite thing about the UC Davis dorm food experience is that while the food is generally mediocre with the occasional flashes of brilliance (I'm looking at you, steak night), there's an incredibly high ceiling of tastes you can experience. You just need the right attitude and a touch of creativity. So, without further ado:
The DC Secret Menu – Whether it's breakfast or late-night, there are options available to you that can put an average DC meal between a 6 and a 7.5 on the taste scale, and between a 5 and a 9 on the fun scale. Here are some tips and creations I recall from my freshman year:
Choco-waffles –

There's almost always something chocolaty in the dessert areas at 'Gundo.' Grab whatever cake/muffin/rice crispy you can find, grind it up with your (hand-sanitized) hands, and mix it in with the batter at the waffle making station.

Homemade Peach Pie Offshoot

– The DC often has cinnamon spiced peaches or sometimes pears. In case you didn't know, there's a microwave at each DC. Pop a peach in for 45 seconds then top with soft serve and bread crumbs (you're gonna have to toast some bread — which also brings me to my next item)

Better Panini

– The Panini station at Cuarto is a godsend. You'll find delicious cold-cuts of all varieties and good vegetable toppings that include eggplant. But fair warning: their spreads are pretty lackluster. To remedy this, go the salad bar and use chipotle ranch dressing or thousand island as a spread, top with Tapatio or Sriracha, then add grilled onions and/or mushrooms from the burger bar to your Panini.

Better Mongolian BBQ

– First off, the line is always worth it for Mongo. I got it for lunch 90 percent of the time my freshman year. For best results, pick up a Mongo bowl from the front of the line, then immediately go to the salad bar. Add whatever your heart desires. Spinach and shredded carrots are staples, but don't be afraid to try pasta salad or bok choy. Next, go to the end of the Mongo line and put the sauces you want in your bowl beforehand; that way, they cook into your Mongo. Now you're ready to enter the line. Don't be afraid to ask for triple chicken or tofu or double noodles (I've gotten quadruple before). Get to know Robert, the Mongo man. He'll cook yours better and make fun and interesting chit-chat with you whilst you wait in line.
The options are pretty much endless. Make sure you explore all areas and push boundaries. The staff is pretty indifferent to you and your DC experiments, so here are some tips to maximize your eating experience:
While indifferent, the staff is still pretty accommodating. If you only want the mashed potatoes on a dish, just ask for it. It's not worth wasting food and you'll get more of what you want by asking.

Look everywhere. Don't be afraid to mix ingredients from various stations. Ex. A lot of the steamed grains and vegetables near bistro or meats from other dishes will go great in your salad.

There's a "gluten-free fridge" in each DC. Inside is sliced turkey, almond milk and most importantly, ice cream that actually kind of tastes like ice cream. I'm not condoning that you use these ingredients, just know that they're there. You know, just in case.

Go to all theme dinners. I missed one, got severe FOMO, and still remember it to this day ☹.
A word to the eager and excited – If you reading this and suddenly finding newfound gusto for awesome ideas and food experiments to try at the DC, please be wary. Many of your experiments will fail. One time I put vegetable soup on top of my salad in lieu of dressing. The point is that you miss 100% of the shots you don't take. And when you hit your buzzer beater three-pointer (like a half soft-serve, half root beer float), it'll all be worth it.
Now you've got a friend in the dinin' business.
To reach JONAH VERSMAN, you can email him at jiversman@ucdavis.edu.