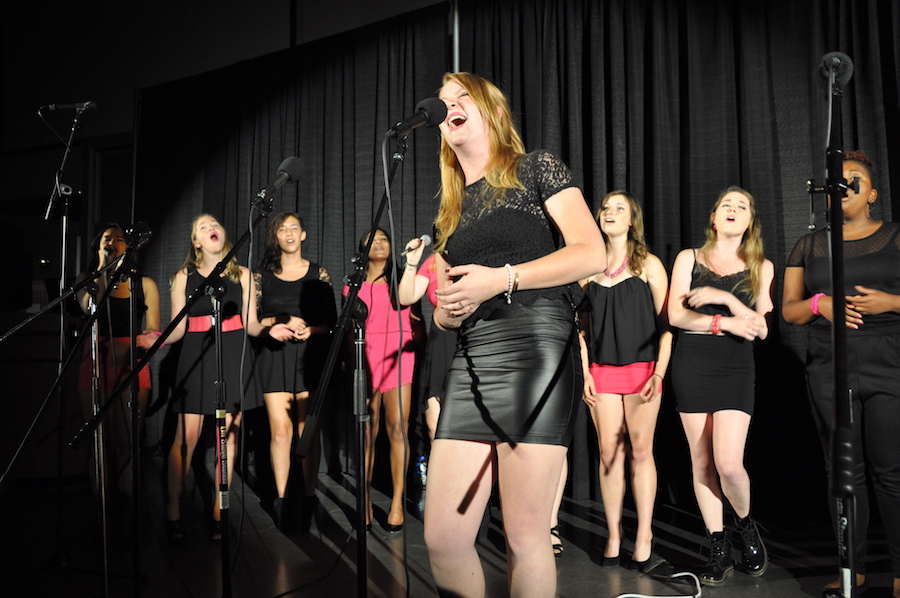 Spokes take 2nd in ICCA quarter-finals, headed to semi-finals.
The Spokes, an all-female acapella group on campus, took second place at the  International Championship of Collegiate A Cappella (ICCA) quarter-finals and earned themselves a spot in the semi-finals in Portland on March 19. The ICCAs is a collegiate a capella competition where groups from northern California perform songs they have arranged and choreographed. In the words of Lynsie Mason, a fourth-year animal science major and co-president of the Spokes, "[The ICCAs] are like real-life Pitch Perfect."
At the quarter-finals on Feb. 6, the girls dazzled the crowd with their astounding vocal arrangements and sassy, confident choreography. The Spokes chose a spectacular set list, performing "One Time" by Marian Hill, "Here" by Alessia Cara and "Diva" by Beyoncé. The Spokes took second place in the competition and are moving on; it's the first time they've made it to the semi-finals and they're stoked about it.
Emily Laskin, third-year biological systems engineering major and treasurer of the Spokes, described how it felt to take second place with a group of girls she's so close to.
"We [the Spokes] are all so close," Laskin said. "I'm actually best friends with all 13 of them, which is rare. To be able to get this far with a group of girls that I love and respect so much is unreal."
Anya Stewart, fourth-year political science major and co-president of the Spokes, also won the award for best vocal percussionist for her performance of "One Time." According to Stewart, the role of a vocal percussionist is to emulate the sounds of a drum set and keep time. Stewart said that she hadn't expected to win an award because she wasn't doing any sounds that were overly fancy or complicated.
"I was kinda, just, like, groovin'," Stewart laughed.
However, Stewart said that she was extremely excited that she won the award, a sentiment that was shared by Mason.
"It was so cool to see [Stewart] get that award because she totally deserved it," Mason said.
Laskin also explained why she was particularly proud of Stewart for winning best vocal percussionist.
"When you think of beatboxing, you don't think of a girl. You think of a guy who thinks he's really sick and spits out some beats, but she won over all the male beatboxers in the entire show," Laskin said of Stewart.
In fact, both groups that moved on to the semi-finals were all-female groups. Laskin commented that she was thrilled to see unbiased representation of women in music and explained why it's so impressive that both were all-female groups.
"People think women's groups can't have a full sound without bases. We can't hit those low notes. But we arrange our music to create a chord that sounds really full despite the fact that we don't have any low voices," Laskin said.
To stay up-to-date on the Spokes, check out their Facebook page, and make sure to see them perform at their annual spring showcase, Hellacapella, on April 1.
Written by: SOFIE BATES — slbates@ucdavis.edu