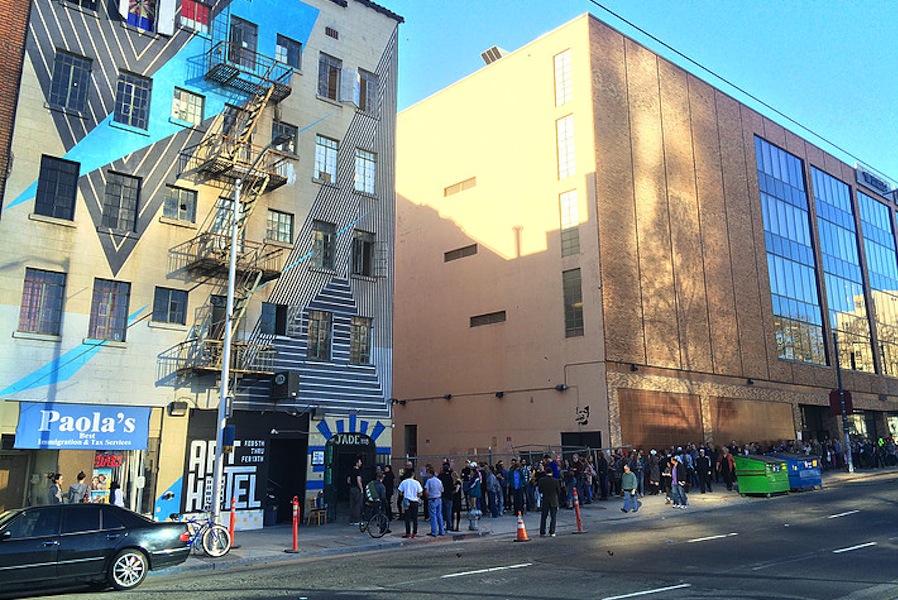 Art exhibition takes over abandoned building before demolition.
From Feb. 5 to Feb. 13, an abandoned and soon to be demolished hotel hosted its last event before its demolition later this year. The Art Hotel exhibition took place at Old Jade Apartments, located at 1122 7th St. in Sacramento. The exhibition was free, with over 90 artists taking part.
The idea for the exhibition came from a local artist named Shaun Burner, who was planning to paint a mural on the side of the abandoned building, but ended up being inspired to do something bigger when he saw the hotel's interior.
Cathy Kleckner, an art consultant in Sacramento who helped organize the Art Hotel, emphasizes that one of the highlights of the exhibit is that artists were encouraged to think outside of the box and to use mediums outside their comfort zones.
"We encouraged artists who were chosen to do something outside their portfolio […] For example one of our artists was a painter and he ended up doing something sculptural on the side of the building.  [This] typically wouldn't be possible in a museum or gallery setting so [this] really allows them to explore their creative process in a new way," Kleckner said.
Another important part of setting up the Art Hotel was funding. According to Kleckner, the project managed to collect about $20,000 in donations and raised an additional $10,000 on Kickstarter. Most of that money will go toward a stipend for all of the artists who contributed to the exhibition. Some of the funds will also go towards creating a book of photos from the exhibit to memorialize the artists' work.
One of the artists showcased at the Art Hotel is Annakatrin Kraus, a Berlin-based artist who helped design one of the exhibit rooms, The Codlea in Frame. She sees the exhibition as one of the biggest art events Sacramento has seen in recent years, highlighting the contributions artists make to the Capital.
"[The Art Hotel is] right behind the new arena for the King's and I know Sacramento is regenerating itself through that stadium but they can't ignore the artists […] If you look at big cities [like] New York, Austin and even Detroit […] it's almost impossible to live [in these places] now, because there are so many cool interesting things going on and the artists started most of that […] I hope that [politicians] will see the importance and attention the Art Hotel has gotten and it will help grow [the Sacramento art scene]," Kraus said.
According to Art Consultant Jennifer Jackson, the exhibit has been in the works for a while; artists have actually been able to install their eclectic works since January.
"We formed this group who have been working for about six months to put this together. Through all of January, the artists could access the building and they've been in there for months building all these pieces and installing their work," Jackson said. "It's mostly installations and mixed media. It's not your typical gallery exhibition where there are just framed pieces — it's very modern."
Written By: JUNO BHARDWAJ-SHAH – city@theaggie.org