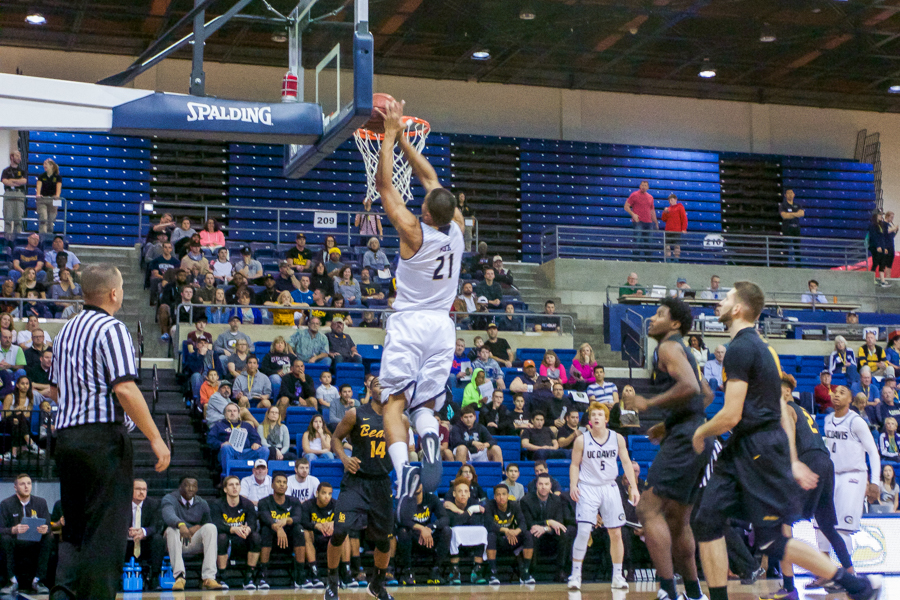 Missed opportunities in first quarter seal UC Davis men's basketball's fate in defensive game.
Looking to settle the score from an earlier loss to Long Beach State, the UC Davis men's basketball team hosted the Long Beach State 49ers on Saturday, Feb. 13. Unfortunately for the Aggies, history repeated itself as an early 49er lead proved too much to overcome. The UC Davis men's basketball team was able to tie the game twice in the second half, yet these runs were not enough, and the 49ers left with a 57-48 victory.
"I can't ask for any more fight from them," said UC Davis head coach Jim Les. "We've got to clean up some of our issues, but what they are giving me in terms of energy, effort and coach-ability, I'm not sure they can give me much more."
At the half, the Aggies had turned the ball over 15 times out of 21 total turnovers for the game. These 21 turnovers led to many scoring
opportunities and a combined 17 points for the 49ers.
The Aggies might not have had the offensive opportunities they were looking for in the first half, but they certainly had the defensive ones. Holding the 49ers to 25 points, the second-lowest total for any half by Long Beach this season, was critical to keeping the Aggies in the game.
"We were much better defensively today than we were at Long Beach. Just as a group, as a team, consistently, you know better defensively," Les said. "Where we need to get better is just our offensive execution, taking care of the ball. I think there, the one common denominator was we turned it over a lot."
The Aggies came out of halftime looking like a brand new offensive team. Senior forward Josh Fox lead the team on the first run of the second half, scoring six of the eight points, while junior guard Darius Graham added the other two.
Fox would not stop there. Hitting all eight of his free throws and half of his shots in the paint, Fox finished with a team-high 20 points, only the fourth time posting 20 or more points in a game throughout his collegiate career.
Freshman guard Siler Schneider also showed his potential. Leaving the game with five points, Schneider is now only three points shy of setting a freshman single-season scoring record. Currently holding 234 points in his debut season, Schneider is just two shy of tying recent alumn Josh Rickart's record. With five more games before the championship tournament, we may be looking at a brand new record holder in Schneider.
The Aggies will be taking their next games on-the-road, playing against Cal Poly on Thursday, Feb. 18 and UC Santa Barbara on Saturday, Feb. 20 at 7 p.m.
Written by Aaron Sellers – sports@theaggie.org