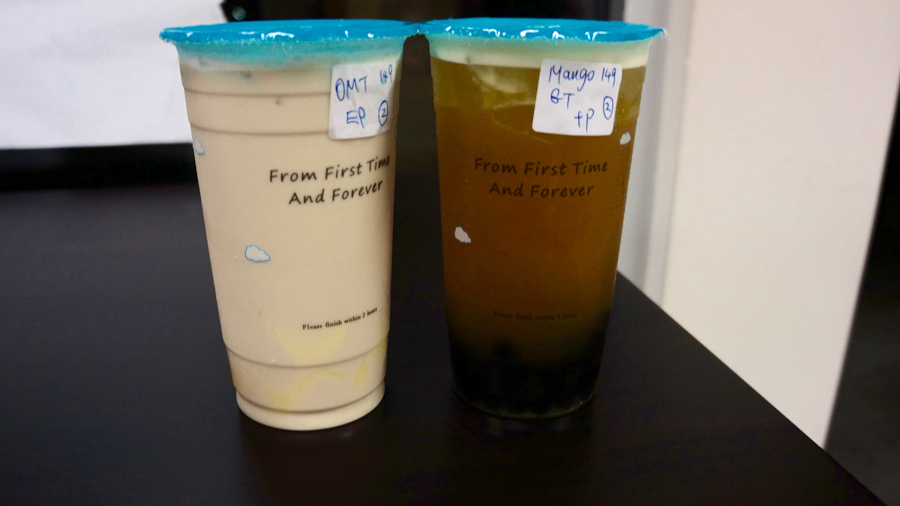 The boba frenzy hits Davis with 19 businesses serving the traditional Taiwanese drink.
Boba milk tea, a traditional Taiwanese drink, has recently made its mark in the City of Davis. Currently, 19 businesses in Davis sell boba, although most are not exclusively boba tea shops. Despite the high supply of boba, the sweet drink is more popular than ever.
Tony Lei, owner of the ShareTea franchise, first opened locations near UC Berkeley. Lei was confident that the tea shop would do well in Davis.
"We had great success there because we know both UC Berkeley and UC Davis have a huge Asian population," Lei said. "Since this is a Taiwanese tea shop, a majority of our customers are Asian, about 60 to 70 percent."
Lei explains that the boba culture has spread as vastly throughout Asia as it has in the United States. At ShareTea, he is able to recreate that traditional experience by ordering his products directly from Taiwan.
"If you walk down the street [in Taiwan], there is a boba place every minute," Lei said. "The tradition in Taiwan is the pearl, what we call the boba, which is a traditional dessert they have. One of the oldest and most traditional drinks in Taiwan is just plain milk and boba. In Mandarin, it's called zhēnzhū nǎichá."
Christine Bui, first-year undeclared student, is an avid boba drinker and purchases the drink daily. She started this routine because of the prominent boba culture back home in the Bay Area. She finds herself spending a lot of time at boba tea shops with her friends as a way of socializing.
"In NorCal, there's not that many places to go in terms of bowling alleys and movie theatres, so when I go and get boba with people it's for the social aspect," Bui said. "It's also an amazing place to study if you don't want to go to a coffee shop. There's something really special about a tea environment. First of all, it's not as loud, because it's not filled with as many machines. It's generally a lot brighter in terms of color scheme and atmosphere. It's just a nicer vibe, for me personally."
However, according to Bui, if you want to get quality boba, you need to go to a tea shop that exclusively specializes in boba.
"Davis is just starting out, so there aren't that many [boba] places that are great. Especially in San Francisco and San Jose, there's a lot of places that aren't even chains that specialize in specifically tea with boba, not necessarily the drink itself. So then [the drinks] are not made out of powder, which is what most places do," Bui said.
Marietta Martin is a fourth-year political science major who is studying at UC Davis this year only, since her host university is in Paris. Prior to moving to Paris for college, Martin lived in Singapore, where the local boba culture is simple and authentic. Even though boba is a lot different in Davis, Martin now buys boba once or twice a week because it reminds her of the great experiences she had in Asia.
"The first time I had boba it was in Asia, so they made it the traditional Asian way," Martin said. "It's much different [in Davis]. It's also much cheaper in Asia, because it's really nothing fancy, but here it's become something more expensive. Boba started out to be a very locally produced, but after a while, it picked up and became a brand."
According to Paddy Sham, owner of Sno-Crave Tea House in Davis, his store provides customers with a unique experience that they may not find in other nearby tea shops. Although Sno-Crave is next door to another business that sells both boba and Chinese food, this boba spot primarily offers an array of elaborate desserts, such as shaved snow, crepes, waffles and special honey toast. Sno-Crave also offers authentic Chinese teas served in tea pots and glassware.
"All our ideas come from and originated in Taiwan," Sham said. "Compared to other tea shops, we serve a lot of traditional teas that you won't find anywhere else. Teas like dragonwell, ti-kuan-yin, pu-erh and osmanthus are not typical inside of a couple other tea houses."
Sham explains that although he has recreated a traditional Taiwanese dessert and tea shop experience, his philosophy with Sno-Crave is to appeal to a younger crowd through a lively yet relaxed ambiance.
"There are dessert shops [in Taiwan] that are pretty famous that do [desserts like ours] and do similar drinks as well," Sham said. "If you take a look at the way we remodeled and the representation of our music, it's more for the young crowd and for a place to hang out. All the while we serve all these different teas that a lot of people like."
Although the boba culture in Davis is still emerging compared to other well-established boba locations in the world, the drink is still highly desirable among all; each tea house and restaurant in Davis has something different and special to offer.
Written By: SHIREEN AFKARI – city@theaggie.org