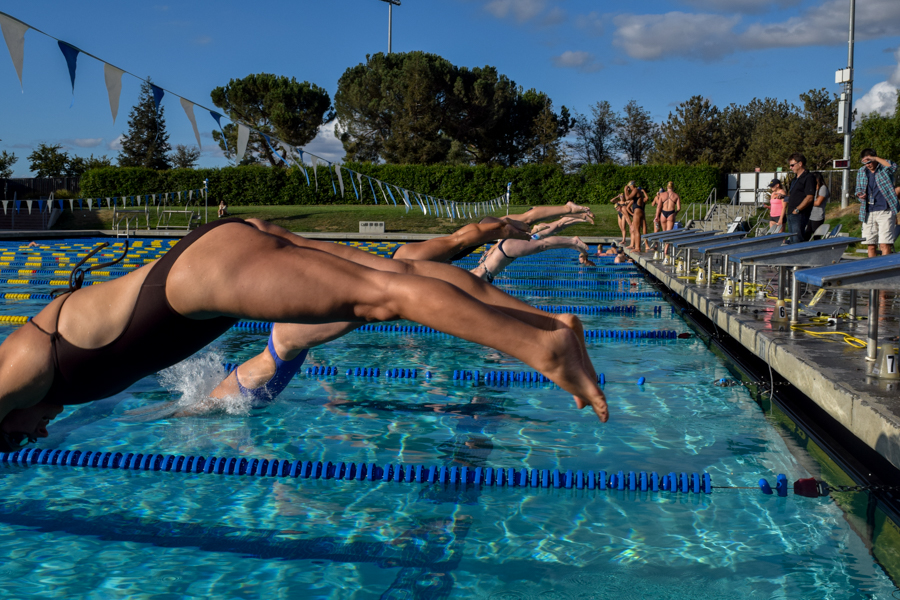 UC Davis swimming and diving team places first in conference championship, following victories in 2011, 2013, 2014
The UC Davis swimming and diving team took first place at the Mountain Pacific Sports Federation (MPSF) Championships over a four-day long competition. This is the fourth championship win in six years for the Aggies, continuing an impressive trend for the team.
On the first day of the MPSF Championships, the Aggies placed third, finishing third in the first two relays of the week. With a season best in the 200-yard Medley relay, sophomore Aislinn Dresel, senior Hailey Ferko, junior Hilvy Cheung and sophomore Courtney Schult finished at 1:41.76. In the 800-yard Freestyle relay, Cheung, freshmen Mia Facey and Iris Brand and junior Kirsten Brand finished with a time of 7.19.64.
On the second day of the Championships, the Aggies earned a total of 253 points and established a big margin over Hawai'i and various other competitors. In the 50-yard Freestyle, Kirsten Brand hit the preliminary heat with a time of 22.97 seconds and finished the day in third place, with a personal best of 22.92. This makes her the third UC Davis swimmer ever to break the 23 second mark in the sprint.
Kirsten Brand also helped set a school-record time of 1:31.68 in the 200-yard Freestyle relay along with Cheung, senior Brittany Rojo and Iris Brand, putting UC Davis at a 253-236 advantage over second place Hawai'i. Rojo earned a career best time of 23.53 for eighth place in the final 50-yard Free and now ranks 10th in that event in UC Davis history.
As for the diving competition, senior Lucy Lafranchise won fourth place with a score of 285.75, falling just short of her own school record. Earning 66 points, senior Audrey DeNeffe (243.45), junior Serena Yee (239.55) and freshman Jessica Fernandez (227.60) placed sixth through eighth. Sophomore Angelina Proshak (244.25) and freshman Shaifali Goyal (241.90) took the top two spots in the consolation finals.
Winning another 37 points from the 200-yard Individual Medley, Facey finished sixth overall (2:02.75), and juniors Elise Roberts (2:03.07) and Cheung (2:03.07) got seventh and eighth place respectively. Coming in at fourth place and contributing 15 points, senior Lexy Troup got a time of 4:53.51 in the 500-yard Freestyle, her season best.
The third day of the MPSF was a victory for UC Davis, especially for freshman Solie Laughlin, who won two MPSF titles in the 400-yard Individual Medley and 100-yard Backstroke. Laughlin had a career best time of 4:14.80 in the 400-yard Individual Medley and a time of 54.50 in the 100-yard Backstroke.The Aggies finished first with 512 points, and Hawai'i and UC Santa Barbara trailed far behind them.
The 400-yard Medley relay of Laughlin, Ferko, Cheung and Kirsten Brand ended with 3:40.34. Freshman Eva Chung came in eighth place with a time of 4:27.06 in the 400-yard Individual Medley. Cheung got second place in the 100-yard Butterfly (52.73), with Facey (54.43) in fifth and Rojo (55.29) in eighth place, together contributing 42 points.
Ferko, junior Elise Roberts and Iris Brand were sent to the 100-yard Breaststroke final, for a combined total of 44 points, with Ferko finishing in fourth place (1:03.08), Roberts in sixth (1:03.28) and Brand in seventh (1:05.06). Diver Lucy Lafranchise earned fourth place with a 283.35 on the three-meter board, with Yee in seventh place (262.95). With a total of 54 points, Goyal, Fernandez, Proshak and DeNeffe took the top four places in the consolations. At 1:50.34, junior Kristen Brand placed fifth in the 200-yard Freestyle.
The fourth and final day of the championships brought definitive victory to the Aggies, with Cheung and Laughlin earning individual conference titles. The Aggies brought home a victory with 735 points, surpassing second place Hawai'i's total of 673 points. Laughlin won the 200-yard Backstroke, setting a personal best time of 1:56.64. Chung placed eighth in the 200-yard Butterfly at 2:04.77, and Rojo (2:05.22) and Ramos (2:06.13) contributed a total of 39 points for the win.
Goyal created a school record in platform diving (216.35), and Proshak came in eighth (193.70); their diving provided a total of 43 points. In the 100-yard Freestyle, Facey finished in third place (50.45), and Kirsten Brand set a personal best in the preliminary round (50.48). Ferko set a career-best of 2:18.05 in the 200-yard Breaststroke consolations.
The NCAA Zone E Diving Championships will begin in Colorado Springs on March 7, and the NCAA Championships will commence on March 17 in Atlanta, GA.
Written by: Iman Farahani – sports@theaggie.org