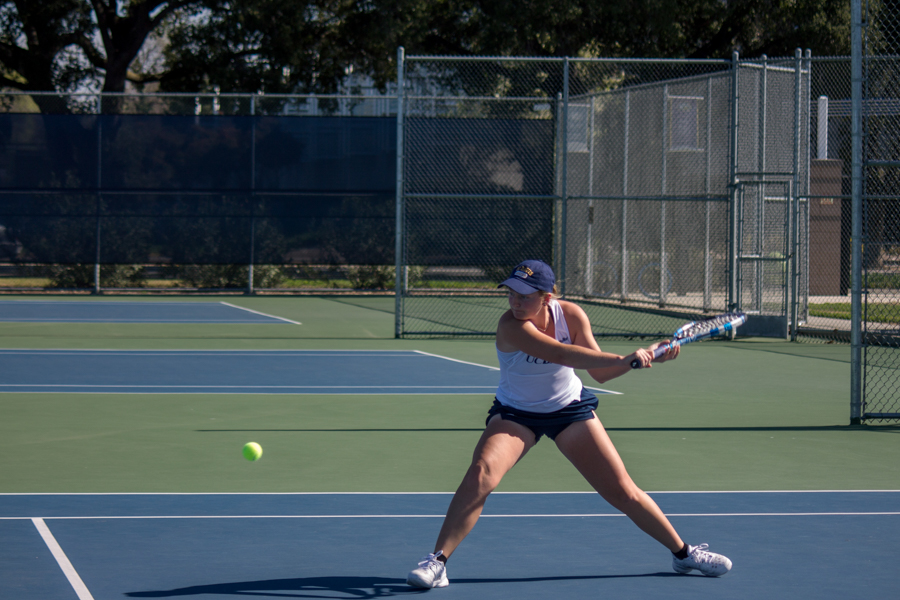 Aggies take on Cal State Fullerton and Sacramento State
After weeks of being on the road, the women's tennis team was back on familiar ground for Saturday and Sunday's matches.
On Saturday, Feb. 20, the Aggies played Cal State Fullerton, hoping to extend their eight-match win streak against the rival Titans. Last year, they narrowly missed a loss to the Titans, to whom they had never fallen, but staged a comeback when four singles players won their matches. This year, the the two teams faced off again on the Aggies' home turf.
Cal State Fullerton overpowered UC Davis in all three doubles matches, winning them the doubles point, but the Aggies surged back with two singles wins. Playing in the number one position, sophomore Lani-Rae Green defeated her opponent in straight sets, 6-3, 6-3. Number two singles player sophomore Jessie Lee also defeated her opponent in straight sets, with a score of 6-3, 6-0.
The Titans gained two more points in the singles matchups, but freshman Isabella von Ebbe won in a three-set match, 3-6, 6-3, 6-4, to earn another point for the Aggies. With both teams at three team points apiece, the deciding factor was UC Davis junior Frederique Sleiffer's match against Karla Portalatin. A close tiebreaker in the second set, the Titans acquired their first win against the Aggies in Division I history. The Aggies' record became 4-5 overall.
Sacramento State came to UC Davis on Sunday, Feb. 21, to challenge the Aggies in a Causeway Cup dual. Last year UC Davis
narrowly beat the Hornets 4-3, and hoped to replicate the results.
The team won one of the three doubles matches, thus losing the doubles point to Sac State. Lee, the number three singles player, got the first point for the Aggies when she won her singles match 2-6, 6-3, 6-2. Senior Tiffany Pham followed suit with a close straight set win of 6-3, 7-6 (7-5). Von Ebbe also won her match in straight sets, 6-4, 7-6 (7-2), and increased her number of wins in the season to 5-0.
However, the Hornets beat the Aggies in three singles competitions. The matchup concluded with an overall score of 4-3, a tight
loss for the Aggies.
Starting Saturday, Feb. 27, the Aggies go on the road again for three matches and will return to UC Davis to finish off their season with the remaining eight.

Written by: Julia Wu – sports@theaggie.org