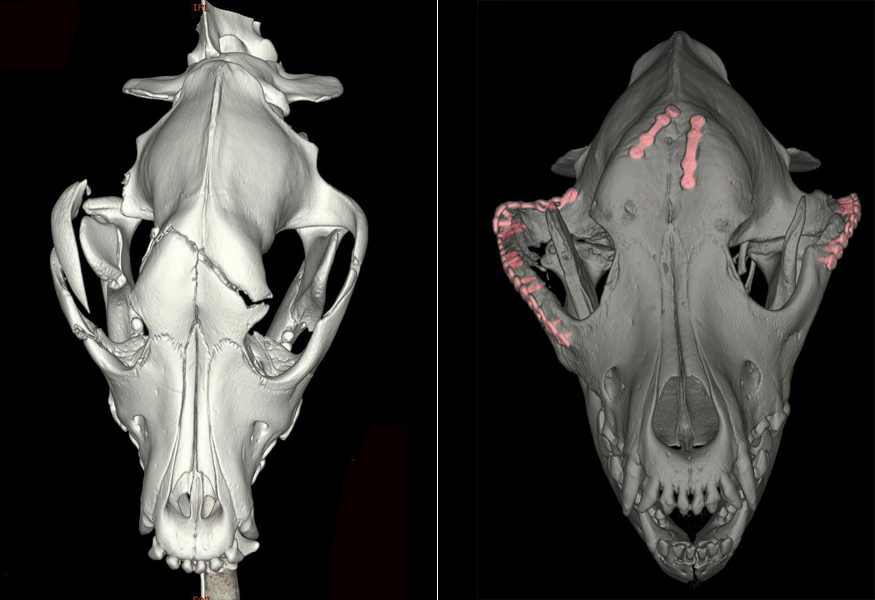 Eight-month-old dog recovers post-intensive surgery
Eight-month old Rottweiler Ziba was brought to the UC Davis Veterinary Hospital after being hit in a car accident four months ago. She suffered extensive injuries, including several fractures to her skull, brain swelling, leak of brain fluid to her nose, lack of oxygen to her brain and blindness in her right eye.
Because of Ziba's young age, veterinarians at the UC Davis Veterinary Hospital were able to perform a five-hour reconstructive surgery on her skull and jaws.
Boaz Arzi, assistant professor at the veterinary hospital's Surgical and Radiological Science Department, said that he and the other surgeons at the hospital had never witnessed so much animal trauma at the hospital.
"We knew she was in bad shape," Arzi said. "She sustained maximum head trauma."
All faculty, staff and residents at the hospital were involved in this extensive surgery.
"The surgery was not simple," Arzi said. "It was complex. It took many hours, took many faculty and staff [and] it was a multidisciplinary effort. Many departments helped out."
The team reconstructed Ziba's skull and jaws by closing the fractures with titanium mini-plates and screws, which were positioned to re-establish the normal anatomy of the bones and joints. After about two weeks, her sutures were removed and she showed overall improvement aside from her blindness. A month later, wiring from the surgery and two broken teeth were removed and Ziba was able to eat for the first time since the injury. She remained on "crate rest," but was allowed short walks.
On Feb. 5, the veterinarians examined Ziba again, reporting that the fractures were healing properly and that there was no evidence of infection. Ziba is still blind in her right eye.
Dr. Peter Stroem, a resident at the School of Medicine who worked on Ziba, hopes that she will continue to improve over time.
"I think that Ziba will have a good quality of life," Stroem said. "Unfortunately, due to the injuries on her brain, Ziba is always as risk of developing seizures, but her general mentation will likely be as it is now […] As of now she seem to be very comfortable with the current physiotherapy implemented in her post-operative treatment plan."
Second-year animal science major Lora Kileki believes only a veterinary hospital as great as the one at UC Davis could successfully perform a surgery this difficult.
"UC Davis is known for being a great vet school, one of the best in the world actually," Kileki said. "So I'm not surprised that UC Davis was capable of doing something as extensive [as] this. That's why I am so happy being here."
Written by: DEMI CACERES – campus@theaggie.org