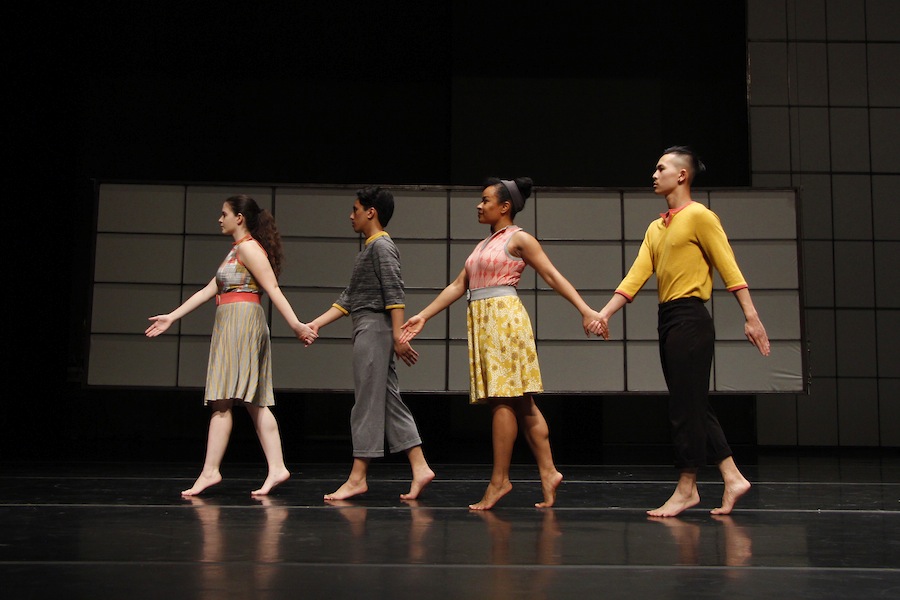 Department's poignant winter production features diverse cast
UC Davis' Department of Theatre and Dance will be putting on a production entitled Time Is Passing By, produced by John Jasperse, a renowned choreographer and UC Davis' Granada Artist in Residence. The Artist in Residence program brings artists from around the country to campus to produce their work in collaboration with UC Davis students. The production opens Thursday, Feb. 25, and will run until Feb. 28. The second run will be between March 3 and 6.
Jasperse's Time Is Passing By is a dynamic dance production that ruminates on the passage of time and the links between the past and the present. Jasperse describes the show as one that pulls from Western art history and dance history, but will be understandable and accessible to audience members regardless of their familiarity with these themes. Jasperse encourages audience members to connect to the production by allowing their minds to freely associate with the performance, much like they would when listening to music.
The cast is comprised of 11 people, including undergraduate students, graduate students and community members. Rebecca Dolan, a third-year animal science major, feels that the diversity of the cast is one of the strengths of the production.
"We all come from different backgrounds, different majors, have different ages and different ethnicities, which are all reflected in the piece," Dolan said. "What is beautiful about the cast is that we, as very different individuals, come together to make a whole moving unit. We all work fairly well with each other and have blended together to form an extremely well-rounded cast."  
Daniel Ferrer, a third-year dramatic arts major and dancer in the production, is particularly excited about the experience of performing in a dance piece.
"I've only ever worked on a production of this scale as an actor, so diving into an art form where the articulation of an idea is done through the body, as opposed to the words that one says, is an exciting experience for me," Ferrer said. "I hope to engage the audience with the experience that I have personally felt through the production and generate excitement in them."
Jasperse explained that although the production is centered around the passage of time, he hopes audience members will be able to interpret the piece individually.
"In all of the work I do, I aim to create a space of questions that invites people to think about the issues that the piece explores on their own terms rather than telling people what to think," Jasperse said. "Perhaps the work makes people reflect about time and the passage of time in their own lives; that is something I hope for."
Audience members can expect to enjoy a dance piece that is not centered around characters or plot, but experience and emotion. The diversity of the cast and the talent of John Jasperse will surely be reflected in the production, ensuring that the audience will be able to connect with Time Is Passing By in a different way than many other theatre or dance productions.
Time Is Passing By opens on Feb. 25 at Wright Hall Main Stage Theatre. Tickets are $15 for the general public and $10 for students. To purchase tickets or for more information and showtimes, please visit http://arts.ucdavis.edu/seasonal-event/time-passing.
WRITTEN BY: Sara Williams – arts@theaggie.org