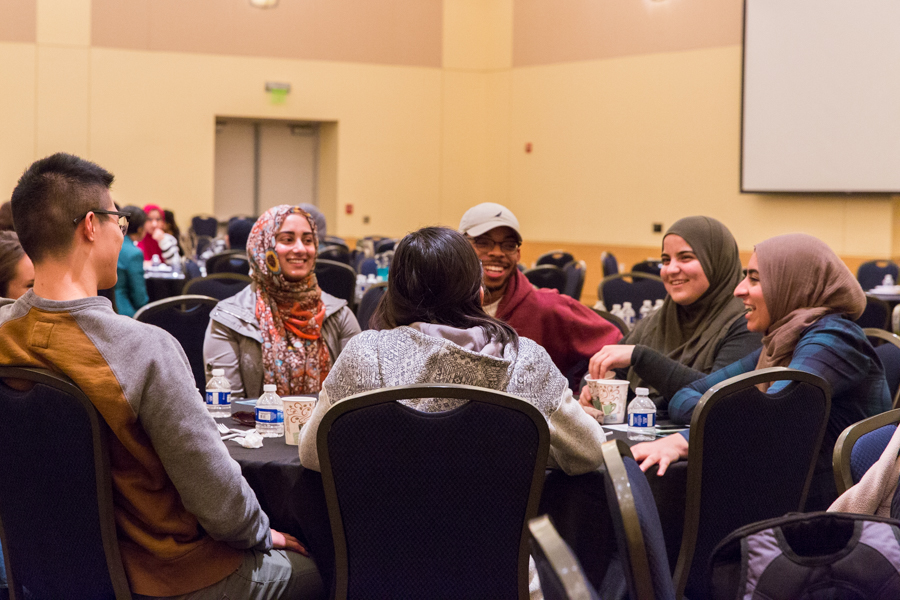 UC Davis students invited to fast for a day with Muslim community and share their experiences
The Muslim Student Association (MSA) invited the UC Davis community to participate in a day of fasting last Tuesday, Feb. 16 at the ARC Ballroom in an effort to initiate interfaith dialogue and build bridges between different Davis communities.
Fast For a Day is an annual event that MSA usually holds during the month of Ramadan, when Muslims are required to fast for 30 days. However, Omar Awad, third-year psychobiology major and president of MSA, explained that since Ramadan will be during the summer this year, MSA wanted to open up the event to the Davis community this quarter. Starting the event before the long, hot summer days arrive would make it less difficult for students to try fasting for the first time.
The Fast For a Day event, which was attended by approximately 100 guests, including several ASUCD candidates and former democratic assemblywoman Mariko Yamada, began with an introductory presentation where attendees learned what fasting means and symbolizes in the Islamic faith. Afterwards, attendees ended their fast in the traditional way of eating a date and drinking water. Once the fast was ended, attendees were invited to help themselves to a buffet dinner and share their fasting experience with one another.
According to Awad, one of the goals of Fast For a Day was to promote interfaith dialogue among the Davis community, because MSA believes that
there are a lot more similarities than differences between the Islamic faith and other religions. In addition, Awad said that the media has portrayed certain religions in ways that may not be true; to address this, MSA hopes to reach out to local organizations and invite them to their events to build dialogue and understanding.
"It's been tough for Muslim students on campus, especially with the recent spike in Islamophobia, and presidential candidates saying things about us," Awad said. "We're your classmates, we're your fellow friends, we're your co-workers, we're your doctors. We're as integrated into American society as any other religion and any other faith, so just come talk to one of us if you have any questions. Just come speak to one of us, we'll be more than happy to answer it."
One attendee, Vishal Chakraborty, a third-year computer science and engineering and philosophy double major, shared his thoughts on the similarities he saw between his own faith, Hinduism, and Islam.
"I think one thing that I realized is every religion prescribes fast in some way, and this is a wonderful way of showing that we all belong to the same religion in the whole — which is humanity," Chakraborty said. "It's just showing that we're all the same and probably shouldn't be fighting or investing a lot energy in saying 'you are this, and you are that' and 'we are better than you' and just be ourselves."
Fasting is one of the five pillars of the Islamic faith, and this spiritual act requires that devotees abstain from food, drink and other desires from dawn until sunset. While fasting was voluntary for this event, according to Ammar Shahin, Imam at the Islamic Center of Davis, the reason for fasting is to follow a command they believe came from their lord.
"When we really fast, it's creating that self-conscious," Shahin said. "We're trying to gain what we call piety — it's to fear God. What he ordered, we must obey whether people see us or they don't. This is the main point of fasting."
In addition, Shahin explained to attendees during the event that fasting is not just giving up food and water; it also involves abstaining from evil sins.
"The Prophet says if a person fasts all day long but back-bites someone, or curses someone, or insults someone, then God does not need his fasting," Shahin said. "If you're going to be able to stop your desire — meaning you want to eat, you want to drink — if you're able to stop that, then you are able to stop other things too. This is the practice of fasting […] So if somebody is fasting and they're talking bad about someone, or they're making fun of someone, or they're back-biting someone, or they're saying a word they shouldn't be saying, or they're insulting someone, we tell them, 'What are you doing? This is not the point of fasting.'"
Although the Fast For a Day event is over, MSA will continue to work with the community to build understanding, communication and support.
"We want to have a mutual understanding so that when there is some sort of crisis, or when there are hard times or fun times, we're there for each other," Awad said. "We hope to be able to be there for other organizations and other faiths as well."
Written by: Jennifer Puza – campus@theaggie.org